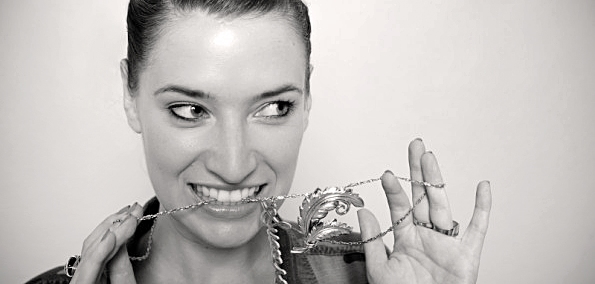 Photography by Still1
I first introduced DJ Dopeshoes to you beautiful Earmilk readers last month and was elated by the warm welcome she received. My rookie stalking skills could only dig out so much information on DJ Dopeshoes for a follow up article. So, after upgrading my stalking tools, I finally got in contact with Dopeshoes and had a blessed opportunity to be able to extract an exclusive interview with her. It's a very insightful Q&A into the world of DJing, pizza, technology and everything else, but her ATM pin number. Enjoy! 
EARMILK: First off, you have a very interesting moniker. What is the origination behind the name 'DJ Dopeshoes'?
DJ Dopeshoes: Ah. It originally comes from painting shoes. It was around the same time I had started DJing and was trying to come up with a DJ name. Anyhow, the first pair I did, I gave to a friend of mine and she said, "Oh! You're DJ Dopeshoes!!" I told her never to say that again, because it would catch on, and it was stupid. Anyway, she passed away a few months later, and after that the name didn't seem so stupid anymore. She was the type of friend that would have been at every one of my gigs, so this was my way of having her there. People always love the name, so she definitely knew better than I did.
EARMILK: It is a very dope DJ name and she definitely was the wiser in that argument. So, prior to being DJ Dopeshoes were there any names on the list that you were going to go by? Say, DJ Firefighter? DJ Brushfire, DJ RoofOnFire or anything with fire in it?
DJ Dopeshoes: DJ Campfire? Alas, no. I briefly thought about being DJ b48, because I couldn't practice after 8pm, or my neighbors would get mad.
EARMILK: I could see a DJ b48 and DJ R2D2 collaboration happening.
DJ Dopeshoes: Duuuuude. RJD2 was my friggin' idol around that time. Whoops. You said R2D2.
EARMILK: Haha that was a typo.
DJ Dopeshoes: Maybe all three of us could work something out.
EARMILK: Speaking of idols, who were some of your idols and influences that got you into DJing?
DJ Dopeshoes: Ummmm, Vinroc for one. He has this 90s hip hop mix that is mind blowing (blanking on the name of it right now). DJ Shadow definitely.
EARMILK: Where were you at the time when you first heard Vinroc and/or DJ Shadow? And how was your reaction on first listen?
DJ Dopeshoes: I had just moved down to San Diego. So these things had already been out for some time. Years, actually. But hey, better late than never. We all come to things at our own pace, which for me happens to be a little on the slow side. Anyhow, for some reason, I had Vinroc's mix on tape, so that was just a matter of "Whawhaaaaaaat??" and rewinding obsessively, trying to figure out exactly what it was he was doing. With Shadow it was Endtroducing, so that was a similar reaction, minus the rewinding. With that album, I don't touch it 'til it's done. That's a front-to-back, cover-to-cover listen.
EARMILK: Prior to being introduced to the Vinroc and Shadow tapes, was becoming a turntablist even on your radar?
DJ Dopeshoes: I had gone to a couple battle/exhibition type things and was always really impressed. It wasn't something I honestly thought I would ever learn. And let the record show that I still haven't.
EARMILK: So you're originally from Seattle?
DJ Dopeshoes: Yes. I am from Washington. Renton specifically, but few people outside of the Pacific Northwest know where that is.
EARMILK: Alrighty, so from Renton you move to San Diego and were introduced to the inspirational Vinroc and Shadow mixes that piqued your interest into the DJ world. How long after hearing those tapes did you attempt the DJ craft?
DJ Dopeshoes: Ok, well, technically I had already bought turntables when I moved to San Diego, so I suppose I couldn't say that Vinroc and Shadow first piqued my interest in DJing, but they got me excited about what it was I was learning to do. They inspired me to really dig in, you know, showed me what the possibilities were. But, truth be told, I bought my turntables maybe 6 months before moving to San Diego. Didn't have the slightest clue what to do with 'em though.
EARMILK: So is it safe for me to assume that you were an in-your-own-home-only DJ prior to moving to San Diego?
DJ Dopeshoes: Yes, you could assume that, if that means having your turntables set up on the floor of your living room. Don't know how I thought I was going to DJ, sitting criss cross apple sauce?
EARMILK: Do you remember your first gig, how you booked it, where was it at and what was on your playlist?
DJ Dopeshoes: My first gig was at a Mexican restaurant called Tio Leo's. They were having an art show and I was just playing weirdo beat stuff, trip hop, that sort of thing. Except I did work in a Stevie Wonder song, can't remember which, but I had it in my mind at the time that every time I would DJ I would play Stevie Wonder. Kind of a signature thing. I love me some Stevie.
EARMILK: What year was this Tio Leo's gig?
DJ Dopeshoes: 2005, I think. It's funny, after the gig, I remember saying to a friend of mine (also a DJ, and the one who got me the gig), "That was so awesome! And I love knowing that every gig is just going to get better and better!" To which he replied, "Ummm…sure."
EARMILK: Ha! So after that inspirational reaction from your DJ friend did you go out and frequently gig out in the San Diego scene?
DJ Dopeshoes: Not frequently, no, not right away. I didn't really start playing regularly until later that year, when my friend, and basically big brother, Charlie Rock invited me to be a part of a new Friday night he was starting in the Gaslamp District, called Soul Sauce. That was probably the real start of things, as far as me meeting people and really getting into the hip hop scene in San Diego. We did that night every Friday for three years or so, so I credit Soul Sauce with being the night where I really cut my teeth, so to say. I learned a lot from that night. It was the first time I was in a "party-rocking" scenario. You know, that's a skill set you can't really develop in your bedroom.
EARMILK: Piggybacking on your "party-rocking" statement, can you describe the feeling when you first looked up from your turntables to witness a herd of people rocking to a DJ Dopeshoes set?
DJ Dopeshoes: Oh man, unbelievable. It's probably the same exact feeling I get when I look up and see that now. It's just incredible. I can't stop smiling. I remember one of the first times I successfully "party-rocked." It was on New Year's. My sister was there on the dance floor. She teared up. Honest to God.
EARMILK: Being a female, did you feel any awkwardness or harsh vibes coming from your male DJ counterparts?
DJ Dopeshoes: The only awkwardness I would say is the awkward tendency toward having to refer to me a "female DJ." As in, "This is Dopeshoes, she's a female DJ." I'm standing right there. I'd like to think this person can tell I'm a girl. But some people are just so committed to that term. To differentiating us.
EARMILK: Have you ever had a bad experience that you KNEW stemmed from you being a DJ that is of the female gender?
DJ Dopeshoes: Well, I've been hassled about my image here and there, pressured to present myself in a "sexier" way. That's always unpleasant. It bothers me less with time though, because I've never listened and never regretted it. That's just other people's ideas of what works. And it does work for some people. It's just not me. It's not a system I really want to play into.
EARMILK: How do you respond to such requests?
DJ Dopeshoes: I used to get more angry. This is not to say that I don't still get angry, but I've learned that it's just talk. As I said, a lot of people think that it's necessary for a woman to sell her "sexy" side to be successful. I am not one of those people. So, generally now I just let it go in one ear and out the other. I also don't make a habit of working with people that push that mindset. Luckily, there are plenty of people out there that don't buy into that. Those are the people I tend to surround myself with.
EARMILK: Do you see any difference in how DJ's of the female gender get treated or pressured in the west coast compared to the east coast?
DJ Dopeshoes: Well, I'm hesitant to make many generalizations, but I would say that overall there has been less emphasis on my gender over here on the east coast. I mean, it's New York, they're less impressed by just about everything here, so the fact that I'm a girl who DJs ain't really all that special. It's great. I honestly think that's all it is really, it's exposure to something. I've had people come up to me and say that I am the first girl DJ they've ever seen. Literally. So I suppose, in that case, it would be a bit noteworthy. But the more of us there are, the more people see us, the less of a shock it is, the less attention it gets paid. That's the goal, really. Not to be seen as female DJs, but just DJs. Period.
EARMILK: So that last answer obviously hints that you are living out in New York now. When did you make that trek?
DJ Dopeshoes: I came out here in August of 2010, and pretty much because I'd been planning on it my whole life. I'm one of those cliché New-York-o-philes. I grew up watching it in movies, hearing about it in songs. I always knew it was where I needed to be. There was really no way around it.
EARMILK: Was being a DJ a deciding factor in moving there also? Or say, if you were Dopeshoes the professional pizza maker, would you still have had the same gusto to pack up and leave for New York?
DJ Dopeshoes: Well, yeah, the pizza is awesome here. I may have come here sooner if I was a pizza maker. But seriously, anything that I happened to be pursuing, it would have brought me here. This place has been calling my name since I first became old enough to recognize my own name. Anything I've ever been interested in—music, writing, art, dance, film—it just seemed like if I really wanted to do it, and do it big, it would happen here. And the city itself seemed like a challenge. I'd always been a shy, sweet thing, sitting quietly in the corner, so New York was the ultimate trial by fire.
EARMILK: Seems like that trial by fire treated you well. I stalked my way into finding out that you also write for New York publication Time Out New York and you also work at Turntable Lab. For someone's who hasn't lived out in New York for too long, I think it's safe to say you accomplished a lot in such little time. Do you think you're more motivated now that you're living in the city that "has been calling my name since I first became old enough to recognize my own name"?
DJ Dopeshoes: Haha, possibly. There's probably a bit of "now's the time" going on. But I think there's also just more opportunity here. I think, if you're willing to work, you can do one whole hell of a lot in this town. And things move very quickly here, because pretty much everyone is willing to work. After all, that's why they're here.
EARMILK: The latest mixes I've heard from you I believe you were still living in San Diego (that I'm aware of anyways). These were Get On The Good Foot, Instant Funk Vol. 2. and Bad Things Come in 3's: Vol 3. Gradually your mixtapes have moved from a Hip Hop/Soul feel to more of a Disco/Funk vibe. Since these mixes are a year old, I'm curious to find out where that road has taken us listeners. What does a DJ Dopeshoes set sound like now-a-days?
DJ Dopeshoes: Get on the Good Foot I actually made shortly after moving to New York, which I think explains why it sounds a bit different from the others.
EARMILK: Did your integration into the New York scene help shape your sound into a more disco feel or were you feeling this progression even before your move to the city?
DJ Dopeshoes: I had been getting more and more into funk and disco during my last couple of years in San Diego, but coming to New York opened me up to house music. Working at Turntable Lab has also played a definite role in that, because that's largely what we peddle is underground dance music. I spent most of my life resisting house music, because as a kid, house music just meant that someone remixed my favorite hip hop song and ruined it. But it's funny, it's all about your perception, what you pick up on in the music. Since I went from funk to disco and now to house (basically chronologically through the genres), I can hear these funky, soulful sounds that I was overlooking before. But yes, moving to New York was probably the best thing for me as a DJ, because it enabled me to break out of some molds, some walls I had put in place for myself.
EARMILK: If only we could send the Dopeshoes of 3 years ago to visit the Dopeshoes of current. In that silly hypothetical realm, what would you say to Dopeshoes of 3 year ago that shook her fist at house music?
DJ Dopeshoes: I'd probably just smile at her and chuckle, knowing that she would open her mind when she was ready. That sounds mad cheesy, but it's really how I feel. Sometimes we're just not ready.
EARMILK: On our initial contact we were talking off record about your most recent venture into music production. On your Soundcloud page I see you've released two remixes with your production credits. Will we be seeing any more releases in the near future? Are you working on any more releases as we speak?
DJ Dopeshoes: Yes, definitely. That's really been my goal all along, producing. It's the reason I even started DJing. I'm beyond excited to finally be digging into it. I'm working on a few things right now, with any luck they'll be ready for other people's ears soon.
EARMILK: Since you're a woman that has dived and worked with many genres, what can we predict for a Dopeshoes production? We know some of your influences in the DJ world. Who are some in the music production arena?
DJ Dopeshoes: Pink Floyd is a big one. Their use of space, theatrics, dynamics, emotion, I mean damn. I feel like they were really pursuing the full capabilities of music, it's full potential. Listening to their albums is like watching a movie, it's so visual and narrative. I've almost walked into traffic listening to their stuff. DJ Shadow was and is a big inspiration for me as well. I mention him as an influence for me as a DJ, but mainly because his production inspired me to become a DJ in order to expand my knowledge, to become a better producer. Jamie xx is a recent one. Funny enough, he has actually inspired me as a DJ lately, even though I don't think he's been DJing very long. It all feeds into each other really.
EARMILK: I've always wondered how much more dynamic musicians like Pink Floyd, Doobie Brothers, Hendrix and others of their time would be if they had access to today's technology. Do you think technology in music is hindering or improving the new age musician? i.e. innovations such as beat nudging, preset VST instruments and Serato.
DJ Dopeshoes: I don't think it's necessarily doing either. Or, more accurately, I suppose it's doing both, as it always has. Here's what I think: These new technologies are making things easier, as in the process is easier. I mean, there's no more tape splicing, it's not necessary to manually blend two pieces of vinyl together using the pitch control, and so on. But the creative demands are the same. You still need to DO SOMETHING INTERESTING. Sure, you can use the technology as a crutch, but if you do, well, you probably weren't going to make anything all that interesting to begin with. I can't think of any self-respecting producer that would use a stock plugin or sound, without at least manipulating it a bit to make it their own. On the flip side, look at Bjork. I mean, she's using apps to design entirely new instruments, which allow herself and others to create music is completely new and different ways. It's awesome.
As for DJing, I personally love the feeling of manually beat-matching each song, but I don't feel compelled to demand that every other DJ does that. If you want to use beat-synch, go right on ahead. The important thing is that we invest ourselves in our crafts creatively. Make it our own, add to the conversation. Make sure that we don't leave things the way we found them, that sort of thing.
That being said, I think there is something to be said for a gestation period. You know, the time that you had to spend in your bedroom struggling to mix two songs together, or learning chords on your guitar. I think some developments and lessons and ideas can only come with time, so if anything, I'd say the danger is rushing things. We live in a pretty fast-paced world overall, and music is not spared. Just because a person can start DJing or producing in say, a half an hour, doesn't mean they should. But I think anyone that is really serious about making music or DJing will put in the time and effort necessary to make something worthwhile. For anyone else, it may just be a passing fad, and there's really no harm in that. Go on and have some fun. It's music, that's what it's there for.
EARMILK: What's your take on digital, vinyl and even DJs who don't use turntables during their sets?
DJ Dopeshoes: In a nutshell, I say to each their own. However you like to DJ, for whatever reasons you like to DJ that way, go 'head. I switched over to Serato a few years ago and haven't regretted it, though I am happy that I learned on vinyl. It's just a skill I'm happy to have. In recent times, I've asked myself if it's necessary to keep manually beat-matching, given the technology these days. But, for now, I always come back to the fact that I genuinely love the feeling of doing that. I like sliding the pitch around, I like grazing the platter and gently pushing the label, it's part of the experience of DJing, it's part of what I fell in love with. But the way I see it, at the end of the day, if you're showing people a good time, and if you're doing it in a way that sounds unique—that sounds like you and not every other DJ—then I could really care less what materials you're using to do it. But try not to have your laptop in your face.
EARMILK: Seeing that it's 330am in the morning in New York and I'm sure you have some sleep (or early morning superhero'ing) to attend to, please tell the Earmilk audience about any upcoming projects, publications or live shows they can look forward to in the near future.
DJ Dopeshoes: I have a new mix that I'm finishing up, which I'm excited about, delving deeper into the disco and house vibes. Working on some new remixes and whatnot, so stay tuned for those. In the meantime, I've got my monthly party with DJ Tkat, every last Thursday at Trophy Bar in BK, and I'm at Il Bagatto in the Lower East Side every other Wednesday, plus some other events in the works...
EARMILK: And can you please tell the lovely people how you can be reached for booking or just for general stalking purposes?
DJ Dopeshoes: You can reach me through my website: djdopeshoes.com, or you can follow me on the Twitter @djdopeshoes.
EARMILK: Mega thank you for this exclusive interview **applaud with hats flying into the air...and one mustache trimmer**. To say the least, your answers are very insightful and I'm sure the Earmilk masses will enjoy this. One more question though: Lemonade was a popular drink...but is it still?
DJ Dopeshoes: It still is.