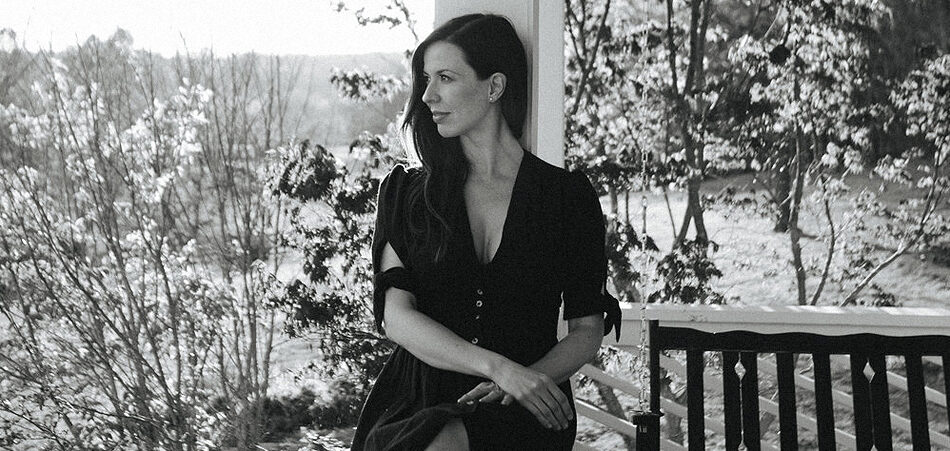 Joy Williams' latest full-length studio venture opens on a familiar sound: toe-tapping, and then a minor-keyed, bluesy rhythmic guitar strum. When I first heard these in conjunction with Williams' crystalline voice, she was in a different band, called The Civil Wars. Like most other millennials, Williams first wove her way into my ears from the hugely popular first soundtrack for The Hunger Games. That seems part of another era. Right now, Joy has just had a baby. "Poppy is my daughter's name," she tells me over the phone. I can hear her pride. "I seem to [release albums and have children] in tandem," she laughs. 
Williams is in Nashville, a place she has lived for almost twenty years. The California native is gearing up to release Front Porch, an album that evokes plenty of connotation even before you hear any of the music. The front porch: historically speaking, a place where Southern women go to talk, gossip and commune with one another; humanistically, the first place your feet touch when you return home after a long day. You could say Joy Williams has had a long day. And you could say Front Porch is a version of returning home. Before the release of Venus, her first solo venture after The Civil Wars, Williams' father was diagnosed with terminal cancer. "When I wrote Venus, I had left Nashville and returned, with my shoulders down, to Venice Beach in California," she says. "I was mourning the implosion of the duo, and I went out to the west coast so that I could do music and be able to be just a stone's throw away from my dad, any time he was in and out of the ER. It was a heavy time! I was still a relatively new mom, and the making of Venus was a process of exorcising my demons." And then, as if the universe were trying to deliver one final blow, Williams' father passed away. 
Venus was decently received, perhaps a little more electronically oriented than her listeners might have been used to, but she is still extremely proud of it. "Once my dad passed away, I kind of looked around and thought 'what am I still doing here?' I felt like that chapter had closed...we'd never sold [the house] back in Nashville, while we'd been busy buying the other house in Venice Beach. I said to Nate, my husband, 'I just want to go home.' And I had not called Nashville home until that point, although my address had been in Nashville for eighteen years," she says, with a little laugh. "That's what Front Porch really feels like to me. It's me sinking into who I feel like I am in this season. I'm able to see the rainbow in the dish soap bubble instead of wishing I were somewhere else. There was a deep kind of reckoning that had to happen for me to get to that place of return." Williams is, I think, the warmest person I have ever spoken with. I should have guessed, considering "warmth" is the chief feeling Front Porch attempts to convey. "[I thought] it might be really wonderful to just sit on a stool and sing these songs down without trying to make them perfect, but...as if I was just having a conversation." Front Porch is a simple and straightforward album. "I think songwriting is a lot like conversation. It just depends what kind of conversation you want to have that day. And some days it feels really easy to write something that's jubilant—is that a word?" she stops mid-sentence. It is, I say, and her infectious laughter makes another appearance. "I was like 'did I just bullshit a word in the middle of an interview?'"
One of the greatest achievements of Front Porch is that it doesn't allow instrumentation or complicated harmony to distract from Williams' near-perfect vocal. Its conversational tone is due in large part to the honesty of its creator: Williams is devastatingly articulate and delightfully forthright. It would be easy for her to talk around my questions if she were keen to avoid answering any; artists often do that. I breach the subject of the intense Civil Wars breakup briefly and only once, conscious that it has been painful and also discussed ad nauseam in the recently past years of her career. But I'm curious. I want to know how a person comes back from a fairly public break like that with the kind of perspective Williams seems to carry. "Hmm," she says, almost too softly for me to hear. Afraid I had ruined our easy rapport, I nearly beg her to forget everything. But before I can speak, she breaks the silence. "Let me sit with that for a moment. If you hear quiet, it's not because the phone cut out." After an intense pause, Williams says simply, "I think I finally learned the deep importance of listening to and trusting my own instincts." There's another long pause, during which time I thank my lucky stars that Joy Williams is Joy Williams. We have established a new rhythm: still honest, no more careful or closed off, but measured and introspective. In discussing "Preacher's Daughter," the track on Front Porch that Williams wrote about her father's passing and their relationship, waves of emotion are audible in Williams' voice. "I actually sat down with Ryan Adams in his studio, trying to write about my dad [while he was alive]. And all we got was a single chorus. He said 'Joy, I hate to say this and I don't want it to sound cruel, but don't think you're going to be able to write a song about your Dad until he passes away.' And he was right."
Williams began, of all things, as a gospel singer. At seventeen, she signed her first record deal and was singing exclusively religious music, which she left behind as her world views began to shift. "I wanted to write really honestly about my relationship with my Dad, because I grew up in a really conservative household...when my dad started the slow process of passing away, it was like his soul started concentrating. The conversations that we had were healing ones I thought I'd never have with my Dad." Religious imagery is present throughout much of Front Porch, but it's always spun just-so. "'Preacher's Daughter'" is an ode to the ache, and the deep love I still have for my Dad," she says. This album certainly seems to allude to the notion that Williams has come full circle: in the time span of the creation of a single album, Williams has lost life and gained it, an idea reflected in the most poignant line on Front Porch: "I see his smile in the son that I have now."
Front Porch is out worldwide on May 3.