"a piece of my soul, straight from me to u. i hope that it makes you feel something."
The above message accompanied the release of Giraffage's full length label debut Too Real on Counter Records October 22. The Bay Area beatmaker strikes a minimally serene yet impactful chord on the brilliant record, one of 2017's standouts. Too Real for me has been solace, therapy, escapism – a means to reconcile with an increasingly troubling world. I had the distinct pleasure of chatting with Giraffage himself (aka Charlie Yin) before a recent set in New Orleans, several dates away from wrapping his Too Real Tour alongside Sweater Beats and Wingtip.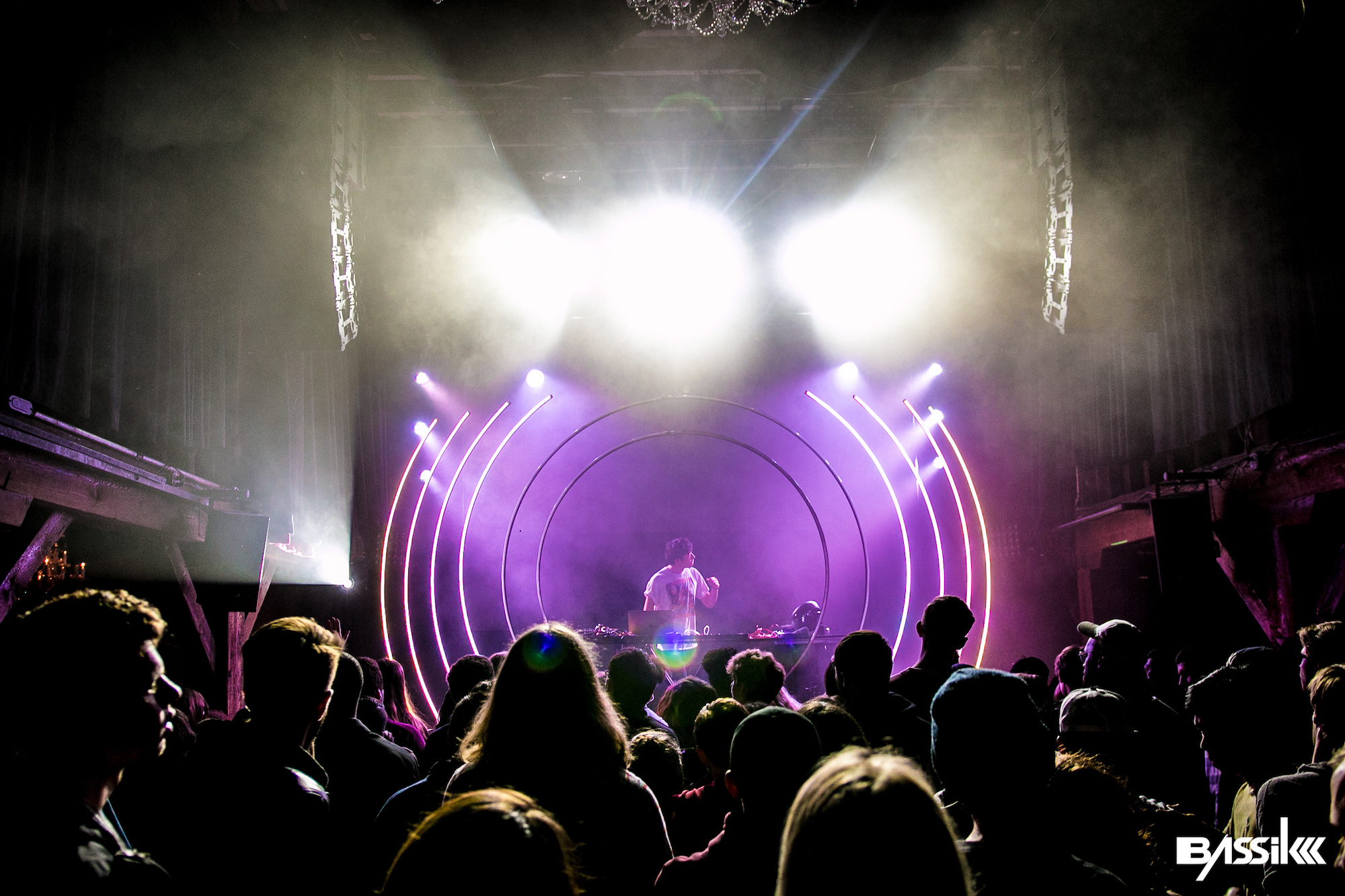 As 2017's contrived pop-electronic machine barrels to a bitter end, I appreciate Giraffage's unique sound and masterfully crafted beats more than ever. Standing heads above his contemporaries, Yin makes ethereal electronic at its absolute best. The one-time bedroom producer has occupied this space for several years, with a signature style which orbits a slaw of genres: melodic trap, future bass, ambient/downtempo, R&B, synth pop, and dream pop, without ever getting too cozy with any one genre. "I kind of just make music for myself," said Yin. "I feel like everyone has their own story to tell, so everyone has the capacity to make music that just sounds totally different from anyone else, because everyone grows up with different influences."
Following his graduation from U.C. Berkeley in 2011 (with a 3.9 in political economics, no less), Charlie Yin began producing under the moniker Giraffage, self-releasing an EP, Pretty Things and a full-length, Comfort. His breakout 2013 hit "Feels" caught the attention of industry tatsemakers and the blogosphere, and the enduring 2014 EP No Reason (Fool's Gold) gained him widespread critical acclaim. An opening stint on for Porter Robinson's massive Worlds Tour made him an EDM household name.
While categorically electronic, Too Real draws more influence from live alt-rock than it does dance music. This inspiration is a definitive nod to the Giraffage of yesteryear, playing guitar and drums throughout high school. "I was in a shitty garage rock band freshman year of high school. We were pretty much just trying to rip off the Strokes." His metalcore guitar slayer days came later. "I think just growing up and being in bands, that's definitely shaped the way I create music to this day. Throughout this entire process of writing Too Real, I was listening to a lot of bands that I listened to back in high school and kind of getting my mindset back into that state. So, yeah, I was listening to a lot of the Strokes and Interpol and a lot of indie rock bands." The artist's landing page in announcement of the album is a deeply satisfying homage to 90's kid online culture, guestbook, visitor counter and all.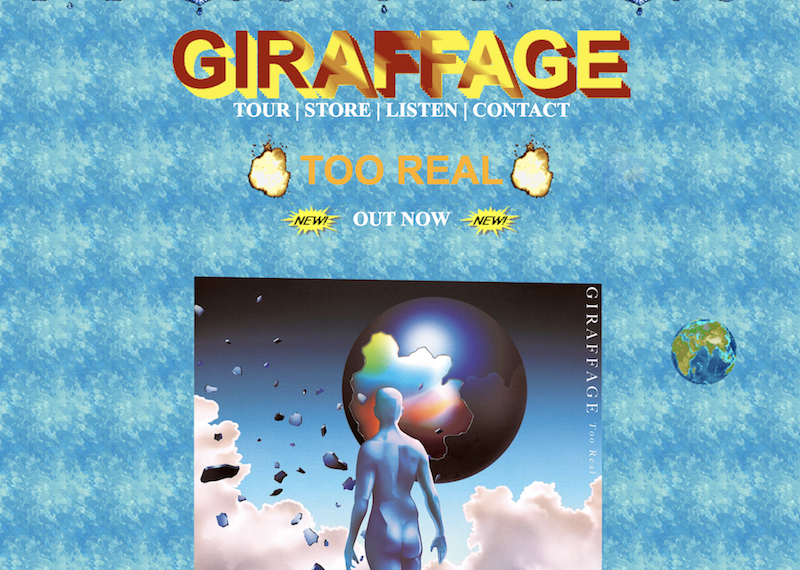 Long established as lord of the ethereal, Giraffage sends the listener on a tranquil journey throughout Too Real. "The albums I grew up listening to… [they] kind of form a narrative going through each song, and so I guess I tried to do that with this album." One of Too Real's most potent strengths is its subtle majesty. It's a quiet storm of emotion, accessing deep evocative crevasses of sound with dainty melodies and surface-level lightheartedness. "I tried to keep it more stripped down than my usual tracks. Yeah, I kind of took a less-is-more approach. I used a lot of analog hardware instead of just slapping 20 reverbs on a chain in Ableton or something. I definitely tried to just keep it simple and go back to my roots a little bit, used a lot more hardware, and not overthink things."
Letting it flow effortlessly is a winning formula for Giraffage. Too Real and all of Yin's music has a decidedly dreamy quality. I asked Charlie if he had an active dream life or colorful imagination responsible for birthing such fanciful sonic explorations. "I have really crazy dreams…. vivid-ass dreams. A lot of times I think I did something in real life but I actually just did it in my dreams, and I legitimately get so confused because I thought I actually did that thing. So I feel like that definitely shaped the way my reality is. Yeah, dreams are fucking weird to me." Coasting through Too Real is very much akin to a serene stroll through a nebulous pastel dream space, and it's satisfying to know the artist also taps into those hazy feels. "I feel like a lot of music just happens in the moment and so yeah, definitely dreams kind of could possibly play a subconscious part in me coming up with weird melodies and stuff."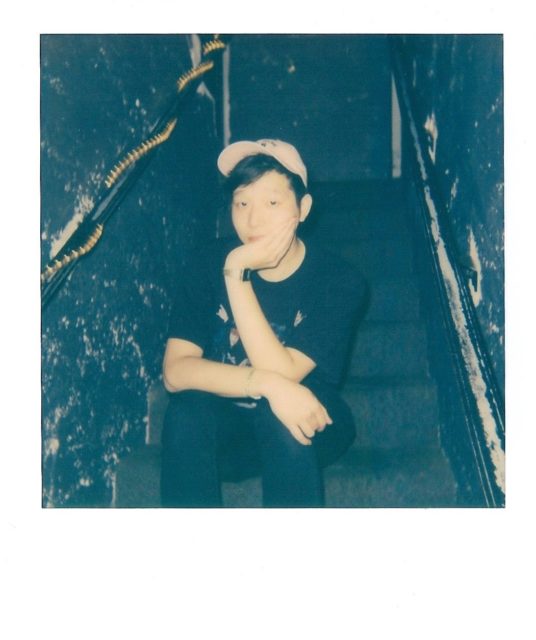 Call it serendipity or blame my insatiable wanderlust, but I currently find myself coasting at 40,000 feet approaching San Francisco (Charlie's hometown) as I finish this piece. In planning my trip I'd been fantasizing about the maritime wonderland, and it turns out SF's aquatic culture is the stuff of Giraffage's dreams as well. Though he's recently getting ready to relocate to Austin, he called the Bay Area home for the majority of his life. "I think being there, because I lived really close to the water, my music is definitely heavily influenced from my surroundings and whatever I input into my body. So I think just being next to the water and smelling fresh, ocean air every day… Yeah, that definitely shaped the way I make music."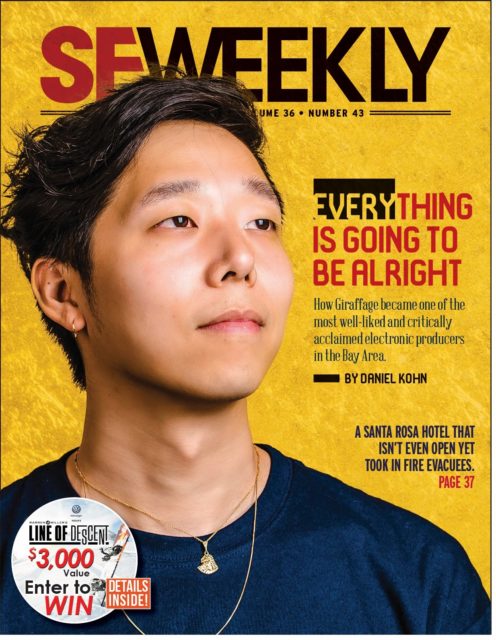 In case you haven't given Too Real a full spin yet, a wholesome visual option exists to watch Charlie play with dogs while the entire album streams. You read that right. While better quality audio surely exists, the experience of sound bathing in the record's easygoing euphoria whilst your boy Giraffage befriend a bevy of furry friends is a truly serene experience. 
Connect with Giraffage: Facebook | SoundCloud | Spotify | Twitter