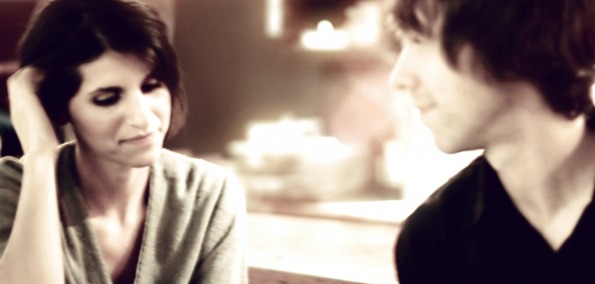 Floating above the competitive music scene of Brooklyn is a duo, Evagelia Maravelias and Brian Wenkebach. The pair goes under Elika to produce "electrogaze." This is a genre we should all be familiar with, especially after the rise of M83. Therefore, if you throw Anthony Gonzalez (M83), Ladytron, Keep Shelly in Athens, and School of Seven Bells into a blender, the stimulating outcome makes Elika.
Elika has been making music since 2006 and in March of this year, they are releasing Always The Light via Saint Marie Records. Always the Light is a compilation of ten glorious songs. Beginning with "Stay Beside Me"  and ending with "A Year Alone", the album takes you on an emotional journey from their powerful sounds. Each track starts with an ascension of electronic instrumentals and deep within the song, there is a translucence of heavy, smothered synths. Maravelias' voice is sweet but at times, it is haunted by dissonant waves. "No One Gets Lost" is the epitome of Elika's dark pop reference.On another scale, "Never Touch The Sky" , "Waiting Room" and  "A Year Alone" create a surreal entrance into the world of digital instrumentals. Elika's formation of music and lyrics are beautifully melancholic.
Download:
ELIKA - No One Gets Lost
As big fans of "electrogaze", we are premiering the second track of Elika's Always The Light. It is titled "We Had It All" and well, it gives evidence that Elika has it all. "We Had It All" begins with a shuffling pace that gets distorted by synthesizers after every utterance from Maravelias. Then after 3:40, the track is broken down with an eerie overload of scatchy electronic vibrations. This song is a channeling through all the electrifying elements of shoegaze. Please feel free to enjoy it below.
Download:
ELIKA - We Had It All