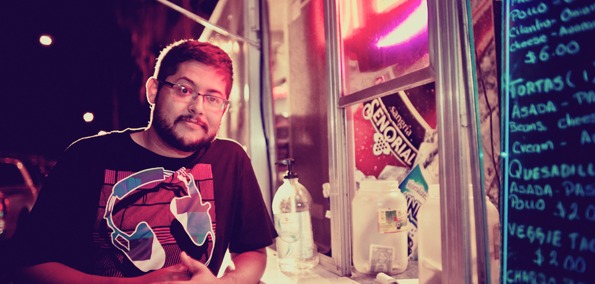 My early expectation for Ernest Gonzales's third LP, the first I've actively checked out, was based upon the chilled-out, perfect-nap-worthy track "The Prudence of Evolution", which we posted as a part of our Daily 2% feature a little while ago. That track, the opening track for the album Natural Traits out January 17 on Friends of Friends, is restrained, mystical, twinkling beauty. It does employ a really nice build-up and a lot of multilayered sounds, but all-in-all, it's a pretty relaxed piece of music. It makes sense for Gonzales's works under his real name to have a different feel to them than his glitchy instrumental hip-hop/dubstep under the name Mexicans With Guns, but I think I expected too little of him; this album is much more than another LP to add to my sleep music rotation.
03 When Synchronicity Prevails
Stream: Ernest Gonzales
 - When Synchronicity Prevails
There is no sampling involved in this album, it's all a lovely blend of digital and analogue instrumentation brought together by a middle school teacher/writer/Exponential Records label-owner. It's almost a bit strange to see these ambient, sparkling sounds laid over beats that are nothing to scoff at. With heavy percussion holding up every track, this album is extremely difficult to classify, but it definitely delivers as a unique, intimate piece that's appropriate in a variety of situations.
Stream:
Ernest Gonzales
 - Beneath the Surface
Much like Friends of Friends labelmates Shlohmo and Salva, this album is not easily sorted, employing tropes from glitch hop, minimal house, ambient, and everything in between. Tracks vary in pace, but also blend seamlessly together -- it's easy to mentally gloss over the transitions and forget that this is a collection of separated tracks and not the soundtrack to some sort of whimsical journey. Try playing it quietly as you work, or blasting it with the bass at full volume, or letting it lull you into the most capricious of dreams. You can stream the entire album on HypeMachine now or preorder the album on Bandcamp.
alyce@earmilk.com / @notalyce / tumblr
Tracklist:
01. The Prudence of Evolution
02. The Sentimental Sea
03. When Synchronicity Prevails
04. Peaks & Valleys
05. Beneath The Surface
06. The Heroic Lives of Particles
07. The Scattered Thoughts of Raindrops
08. The Voice of Fate (I Love You)
09. In The End
10. When Synchronicity Prevails (DNTEL Remix)