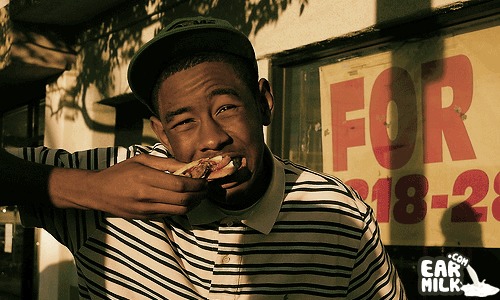 "Fuck yeah, I'm having a moment!" Tyler the Creator exclaims after getting up from behind the keyboard of another jam session with the bad boys of Bad Bad Not Good. In the words of our own Jahn P., you better fucking recognize. OFWGKTA's gang leader is trying his hand at jazz and proving he's pretty damn good at it. Today, he and the BBNG boys covered "Fish", off OFWGKTA's album Goblin, marking the second day of the OFWGKTABBNG collaboration.
Tyler the Creator x Bad Bad Not Good - "Fish" Cover
Yesterday, they released footage of their session covering "Seven" from the album Bastard, which had Tyler rapping over a villainous jazz-hop version of the track's beats.
BBNG first released their version of Odd Future's work in April of this year and speculating from my very scientific Twitter metrics, the hip hop artist and jazz musicians have been dreaming up an in-person collaboration since then.
Tyler the Creator x Bad Bad Not Good - "Seven" Cover

It seems as though more music melding is on the horizon and we'll be among the first to bring it to you. But just so you know, if you're not already following BBNG or Tyler on Twitter, you're missing the f*ck out.