Nashville-based indie songwriter and rock artist, Ron Gallo has released a jazzy new track called "Easter Island:" the latest teaser for his upcoming LP, Peacemeal. The track and the rest of the project come from a tumultuous time in his personal life–after being forced to leave Italy and his wife to wait out visa issues, Gallo found himself in a unique iteration of relatable confinement. Despite the frustrating behind the scenes emotions, the resulting material still finds a way to feel light and productive. Ron described the inspiration for the track with saying, "Easter Island" is about wanting to be anywhere but where you are, but also deep down knowing that everything I'm looking for is already here."
The track is a major stylistic departure from the indie rock and jangly guitar riffs utilized in much of Gallo's discography: "After years of talk, I finally went full jazz on this one mixed with some 808 stuff at the end and I guess I'm almost rapping for the first time? Which just happened  –  I recorded all the music then held the paper with the lyrics, pressed record and this is what came out the first time. This stream of consciousness is felt in both the delivery and the content of the track in impressionistic lyrics like, "I don't want to be the flowers I want to be the vase." Gallo runs through major cities and destinations, ruminating about their mystique and potential impact on his life all while finding them out of reach. Ultimately though, he concludes, "I know no matter where I go, I take myself with me." 
The video mirrors this sentiment: one continuous shot following Ron drifting around, illustrating his thoughts, and eventually watching him run off, taking himself wherever he needs to be in that moment. 
Peacemeal is set to release October 9th through New West Records.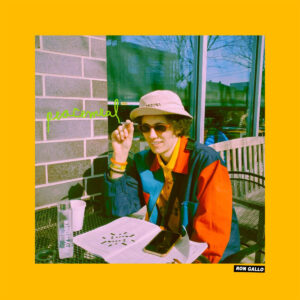 Connect with Ron Gallo: Instagram | Twitter | Facebook | Website