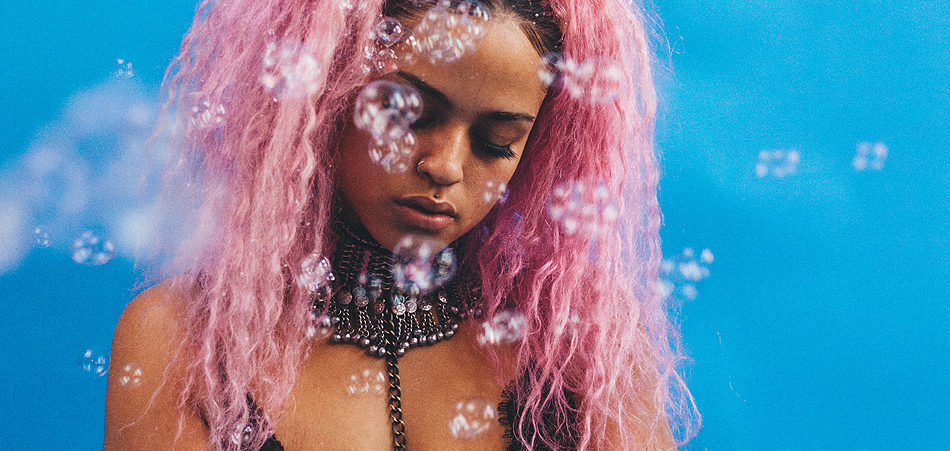 When you first cross paths with Luna Loxx there's no doubt you will be caught in a reverie of colourful emotions. Deep, mysterious blues juxtapose with rose pastels to make a world of euphoric vibrations. Feelings are the essence of who she is. It's the very thing that drives her music, and it's the inspiration for her latest release, "Buttercup," which we are very proud to premiere.
I first discovered Luna Loxx in 2015 with the release of her first project, Verde, an enigmatic record that stings like a scorpion and soothes like cool waters. After a three-year hiatus, Luna is back stronger than ever and ready to conquer. Luna is a Scorpio by nature that treads in silence, but when she comes to the ocean's surfaces - you had better steady yourself for a tsunami. Luna induces powerful waves simply with her presence. EARMILK managed to catch Luna during one of her creative mixing sessions at her New Orleans studio over the phone. We got the scoop on her new music, synesthesia, and living in the city of emotions.
An old soul new world creative, Luna is an artist whose particular style of music isn't one that can easily be placed in a box. Perhaps that's why we collectively decided that the best way to describe her genre is simply "Emotions." She frequently sites colours and feelings as her main inspirations. Everything, from her outlook on life to her sound is heavily viewed through a lens of constant empathy. "I do it for love and for feelings. I do it for the people who can't express their emotions. I want to give all of those emotions with my music; the happy, the sad - I want to connect with everybody. I just want to feel and be felt," she remarks.
Her new song, "Buttercup," the first peek of her upcoming project, Blü, is a quintessential example of what it means to be engulfed in a myriad of feelings driven by sonic influences. Its rich colours, magnetic charm, and intrinsic mystery draws viewers in for a good time. "The reason why I wanted to create these visuals is because when I write or when I sing, I see colours: blues, purples. That's what I hear, that's what I see, that's what I feel. I wanted it to be welcoming. There's pinks, neons, I wanted it to feel more electrifying, I wanted it to go from a softer palette to more bolder colours - I wanted there to be a balance. The edginess with the softness - that's who I am. I wanted to show who I am with these visuals. I think I did a good job with that, and also maintaining my mysteriousness in a way." Mystery has always been synonymous with Luna's nonconformist style and unorthodox taste for sonic adventures, though she is slowly starting to shed her perplexity. With "Buttercup," she has proven capable of marrying dark, grimy beats with lighter-toned messages of love and happiness.
Luna speaks about the creative storyline behind "Buttercup," tying it in with the aura of her own unique personality. She explains the imagery in the video for us: "So there's a guy, he's a gardener, minding his business tending to mother nature, and we want him, so I send out two beautiful women who hypnotize him with their charm and aura. There was really no pressure for him to come, but we made him. This kinda represents me and the women that I stand for; we pull people in. He kinda wakes up in this room, doesn't really know where he's at, and he finds his way out. It's like a whole new world, he can't even be mad. We're all just having fun - it's all good vibes."
It's basically "forget how you got here, you're here now." That's kinda how I feel, just letting the universe take me wherever. He let the universe take him to this place, and maybe he didn't get there by love, but he got there regardless. I wanted the visuals to be a good time."
A good time is exactly what Luna is all about. Even over the phone, her voice beams with light and love. Speaking on the inspiration behind "Buttercup," she states, "With 'Buttercup,' I was in a place where I really couldn't promise myself to anybody anymore. I wanted to show that I could still be fun and still give love - but in a different way. In a more playful way, And with the video - I didn't wanna feel so loveless. I wanted there to be feels of joy."
Being vulnerable with her emotions wasn't always easy for the reclusive singer, but being from New Orleans, a city bursting with creatives, helped a bit. Thankfully, she is backed up with the support of  United South, a creative collective that is making waves in Louisiana and beyond. Born and raised in a city that was flushed out by water, it is ironic that the very inspiration for Luna's upcoming project is water. "I come from a city of emotions. The underwater city. So naturally, there was no way that my music couldn't be so emotion-based. Everything we do in New Orleans is a feel and that just carries on to our music. People from NOLA are truly a different breed. The life that's poured into our soul before we're born it's undeniable. NOLA isn't all peaches and cream, but the people and our souls... God made us just a little bit different, so our music is a little bit different. If Katrina didn't happen, there are so many people that wouldn't have crossed paths. I just believe everything happens for a reason. Blü is just how I am. It's definitely water-based. Water-based emotions; it's what I come from, what I am, what I wanna be. It's just me. I am, Blü."
Be on the lookout for Luna's next project, Blü, set to release early next year.
Follow Luna: Facebook | Twitter | Instagram | Soundcloud