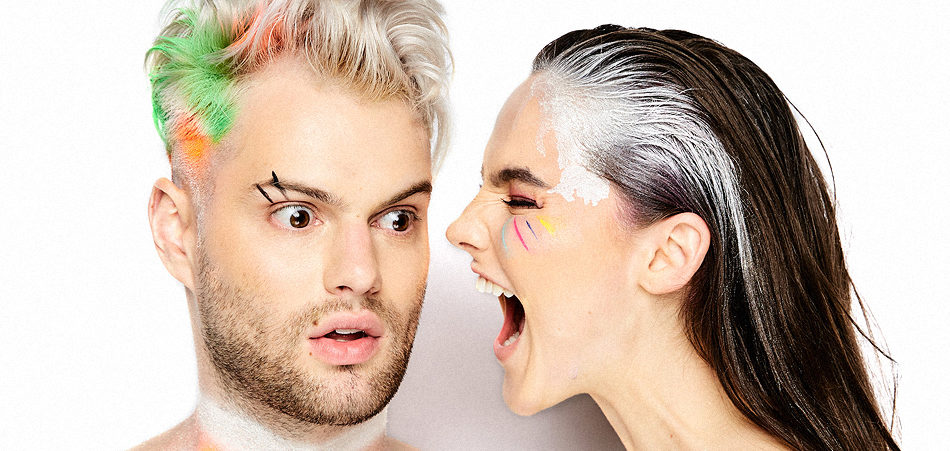 Directed by Phillip Lopez, "Benadryl" opens up fans to a more vulnerable side to the NYC duo SOFI TUKKER. Described as a "cryptic break-up song," this latest track and video offers a mystical and intimate look into the group.
"Being in a relationship that you shouldn't really be in anymore is a lot like taking a Benadryl: it puts you in a kind of distracted, dreamlike stupor in which it's hard to focus. This song is about getting out of that Benadryl-Like trance." SOFI TUKKER
"Benadryl" comes from SOFI TUKKER's debut album Treehouse, which has been one of the most explosive collections of dance music to be released in quite some years. Each track pulls from such different elements of various cultural dance sounds - either electronica, bossa nova, house, pop, Berlin techno, Ibiza beach party, really anything that gets your heart pounding and your feet moving. So we find "Benadryl" a truly intimate display of the band's deeper musicianship.
While it's not easy making banger after banger, this group manages to continuously inject moments of sincerity throughout each of their dance-floor ready electro-pop hits. "Benadryl" moves forward with that notion and provides a sense of reassurance during an era when many electro acts sound increasingly baroque, with producers racing to blend more R&B and tech-house music.
In "Benadryl" SOFI TUKKER delivers that signature steady bounce that keeps your hips swaying back and forth, while boldly bringing the vocals to the forefront of the track to create a mystical soundscape that keeps you mesmerized from start to finish.
In addition to making Grammy-nominated songs like "Drinkee", the group maintains a strong sense of conviction by giving visibility to social justice causes they're passionate about, raising over $20K for Planned Parenthood on their last tour through a partnership with PLUS1 to donate $1 from every ticket they sold.
On their newly announced fall North American tour, SOFI TUKKER will continue to partner with PLUS1, this time to support The Trevor Project's work providing crisis intervention and suicide prevention for LGBTQ youth. At every headline show this fall, fans will be able to learn about local efforts serving the LGBTQ community through a partnership with The Ally Coalition, a group of allies in the entertainment industry partnering to strengthen a network of LGBTQ organizations by engaging fans and directing resources to fight for LGBTQ youth. Check out the full tour dates below:
7/24: Tallinn, Estonia @ Club Hollywood
7/25: Vilnius, Lithuania @ Summer Terrace
7/27: Moscow, Russia @ Park Live Festival
8/11: Budapest, Hungary @Sziget Festival
8/12: Buftea, Romania @ Summer Well Festival
8/17: Kiewet, Belgium @ Pukkelpop Festival
8/17-8/19: Biddinghuizen, Netherlands @ Lowlands Festival
8/30: Vancouver, BC @ Celebrities Nightclub (Animal Talk DJ Set)
8/31: San Francisco, CA @ Audio (Animal Talk DJ Set)
9/1: Seattle, WA @ Foundation (Animal Talk DJ Set)
9/3: Hillsboro, OR @ The Electric Picnic
9/8: Berlin, Germany @ Lollapalooza
9/9: Copenhagen, Denmark @ Vega
9/10: Hamburg, Germany @ Docks
9/11: Cologne, Germany @ Live Music Hall
9/13: Milan, Italy @ Circolo Magnolia
9/14: Zurich, Switzerland @ Harterei Club
9/16: Manchester, UK @ Gorilla
9/17: London, UK @ Koko
9/18: Amsterdam, Netherlands @ Melkweg
9/19: Paris, France @ Cabaret Sauvage
9/21: Ithaca, NY @ Cayuga Sound
9/23: Las Vegas, NV @ Life Is Beautiful
9/27: Sacramento, CA @ Ace of Spades
9/28: San Luis Obispo, CA @ Fremont Theatre
9/29 - 9/30: San Diego, CA @ CRSSD Festival
10/1: Tucson, AZ @ 191 Toole
10/4: Dallas, TX @ House of Blues
10/6: Austin, TX @ ACL Festival
10/9: St. Louis, MO @ The Ready Room
10/10: Nashville, TN @ Basement East
10/11: Columbus, OH @ A&R Music Bar
10/13: Pittsburgh, PA @ Club Stage AE
10/16: Toronto, ON @ Danforth Music Hall
10/17: Albany, NY @ Lucky Strike Social
10/18: Mashantucket, CT @ Foxwoods Casino
10/21: Norfolk, VA @ The NorVA
10/24: Atlanta, GA @ Terminal West
10/26 - 10/28: New Orleans, LA @ Voodoo Festival