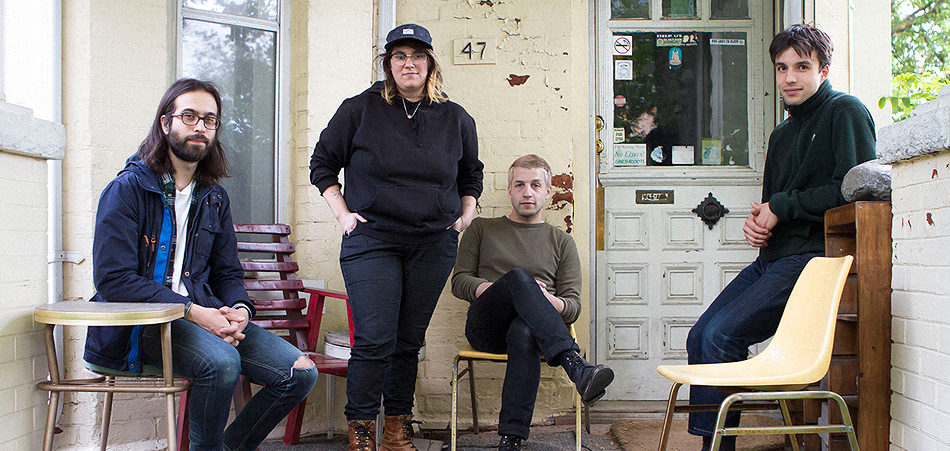 Toronto noise pop quartet Fake Palms have been kicking major ass since the release of their self-titled LP back in 2015. Their ST threw a slew of ideas at listeners and critics, carrying a sound that blended noise pop, indie rock and garage rock into boundaries and feelings of post-punk and no wave. But since then, they've been focused on not only harnessing the craft of Fake Plams, but creating their own lane. Inspired by 60's psych music, Fake Palms refocused their sound with heavy emphasis on harmonizing vocals and minimalism, while also adding layers to expand their sound into broader territories and add texture and depth.
Last Friday, Fake Palms released their second full length, Pure Mind. Produced with the help of Josh Korody (Weaves, Dilly Dally, Fucked Up) and Graham Walsh of Holy Fuck, the album seems strikingly distinct, something deeper than Fake Palms have delved into before with more punchy, attention-grabbing demeanor. One of the standout tracks from the album is "Holograms," which EARMILK is proudly presenting the music video of today.
Animated by artist Jared Sales, "Holograms" shows a frenzy of walking 3D models going through some bizaare visuals. Hear le Riche command his vocals over a stream of assertive guitars and a gliding rhythm section. Thoughtful, yet dreamy, the video compliments the track well.
Check out Fake Palms' Pure Mind today via Pleasence Records/Buzz Records. Order the vinyl over at the band's official Bandcamp.