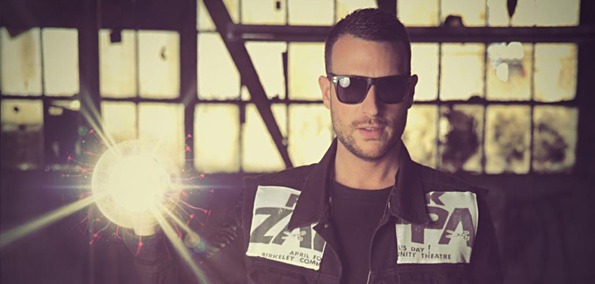 Don Pepijn Schipper, better known to the dance world as Don Diablo, grew up in a small Dutch village near the German border where you could count the population on two hands. Although he grew up relatively isolated from a music scene, he was exposed to outside forces at a young age. Finding influences in the likes of Frank Zappa and Tom Waits, as well as the man he was named after, Don van Vliet a.k.a. Captain Beefheart. However, it wasn't until his first exposure to acid house that his his ears and eyes welcomed in the electronic music world.
Today we find Mr. Diablo donning more than one hat; producer, musician, DJ, singer, writer, and record label boss. While taking some time off Don is now on a mission to rediscover his dance roots. He has been keeping himself busy the past few months, hot off the release of his latest collaboration with Kelis and Alex Clare  "Give It All," the track has seen its fair share of internet buzz. He has also been working on a brand new syndicated radioshow called "Don Diablo's Anarchy Anthems" and he is currently prepping his mysterious 'Hexagon' live show, a motion censored DJ performance. On top of all that, he is in the studio cooking up new material for his debut album coming out on Columbia Records UK. Today he gives our Earmilk readers a very special mix as well as some insight into his life from childhood to the present day. Enjoy! 
[soundcloud url="http://api.soundcloud.com/tracks/90047511" params="" width=" 100%" height="166" iframe="true" /]
Earmilk: Don first off, thank you for taking some time to chat with the Earmilk community. Let's start off with your first experience with music?
Don Diablo: My father named me after an American artist called "Captain Beefheart" whose real name was Don van Vliet, so you could say I grew up with a diverse range of music thanks to my father, who was also into bands like Roxy Music, The Residents and The Pixies. One day, when I was still a little boy, he came home with a tape filled with early ACID house. I immediately got hooked on the hypnotic repetitive grooves that were on the tape with the big yellow smiley on the cover.   
EM: I know you grew up in a small Dutch village and the music scene was non-existent can you tell me how that has played a role in your life?
DD: It was a good thing and a bad thing at the same time. It was hard to find likeminded people and ways to entertain yourself outside the house, so forming a band wasn't really an option if you wanted to make music. This quickly drove me into the direction of electronic music, because you could basically be a whole band by yourself. It's safe to say that I spent most of my childhood behind my computer, driving my parents nuts with loud music 24/7, experimenting with all types of music.  
EM: Who were some of your early musical influences?
DD:  I used to be a big Queen fan, I have all of their albums and still think Freddie Mercury was one of the best performers that ever lived. Later on I got inspired by acts like The Chemical Brothers, Air, Aphex Twin, Laurent Garnier, The Prodigy, Squarepusher and Groove Armada...besides Daft Punk obviously, who probably influenced everyone making electronic music nowadays. 
EM: You've come a long way since your first record deal at only 14 years old, can you tell how your style has evolved? In your own words how would you describe your current sound palate?
DD:  My state of mind has always been the biggest influence on the music I make, like for instance when I made "Hooligans" with Example. I was in a very weird place when I made the instrumental for that record. Working on that track in the studio was basically a way to release some aggression that I had built up inside. My upcoming single "Give It All" is also highly influenced by a recent, life changing, event in my life. 
Music is still very personal to me, which might not always be the quickest path to success but at least it shuts up the voices in my head. Sonically I think you will always be able to recognize a Don Diablo record by the way I program and process my drums, synths and vocals.
EM: Can you tell me about your decision to go to school for journalism?
DD: Before I got into music I always wanted to become a filmmaker, visuals were actually my first love. Even though deep down inside I knew that I was always going to be in the music business I still thought it was important to get an education on the side, to broaden my knowledge. I chose journalism because eventually I want to make documentaries about people and events that have inspired me throughout the years. 
EM: Dance music has continued to evolve everyday; can you tell me your thoughts on the current dance music scene? How has it changed in your eyes? How about your thoughts on it finally taking off in America?
DD: I think it is great that nowadays there are so many great opportunities, so many new festivals and a bigger target audience, including America. This really inspires my to work harder and think bigger. Unfortunately it has also become more like a business. A lot of the records are sounding the same and a lot of the DJ's are playing exactly the same records in their sets. 
Besides that there are a lot of DJ's out there working with ghost producers who are making 100% of their music, which seems a bit weird to me. On a more positive note there are a lot of exciting new producers coming up and a lot of things have also become a lot more professional, so all in all I think we have some exciting times ahead!  
EM: You just dropped the super hot track "Give it All," can you tell me about the collaboration with Alex Clare and Kelis? How did that come about?
DD:  While I was working on the instrumental I had the idea to create these different sections within the record, which would all be little parts of a bigger story. In my head I wanted to merge three totally different worlds in one song. I thought it would be a cool idea to combine a producer from mainland Europe with a male singer/songwriter from the U.K. and a female R&B vocalist from the States, so it became a bit of a project. I wanted the guest artists to have a recognizable sound and I needed them to tell a personal story in the verses. 
I basically had two names on the top of my list: Alex and Kelis. Getting them to actually record on the record was easier said than done obviously, especially since Alex's "Too Close" single was in the Billboard Top 5 when we approached him. But it all came together in the end and I am really proud of the end result. It was also quite an adventure shooting the video in London, Amsterdam and Los Angeles. Oh and another cool thing is that the hook was co-written by Labrinth. 
EM: You have a radio show coming out, could you tell us more about that project?
DD:  I recently started a monthly podcast called "Anarchy Anthems" which will soon become a syndicated radio show. It is basically one hour of mainstage mayhem, mixed by yours truly. I treat the mix as if it is one big track, making edits of most of the songs I use in the mix. I also try to find records that you probably won't hear in every set, but are still highly effective dance floor weapons, which at times is quite a challenge.   
EM: You are currently working on the 'Hexagon' live show; can you share any details about that? What can we expect, when will it be launched?
DD:  I have been working on a new visual show with a company based in L.A. called "V Squared Labs" who are also responsible for the Skrillex and Amon Tobin shows. The show will be built around the legend of a computer called "The Hexagon" which mysteriously disappeared in the eighties. I will be doing a few tryouts the next couple of months and the idea is to officially launch the new show in October during the Amsterdam Dance Event. I am really excited about it because I think it will definitely bring something new to the table. 
EM: What else are you working on these days? When can we expect more new music?
DD:  I am working on my first full length album, got a few cool collaborations coming up and I will be dropping a string of dance floor tunes this year as well, starting off with a release on Axwell's Axtone label called "Starlight (Could you be mine)" which should see the light of day before the summer.  
EM: Any final words for our readers?
DD: Thanks you all for your ongoing support and hope to see you all soon somewhere on this planet!