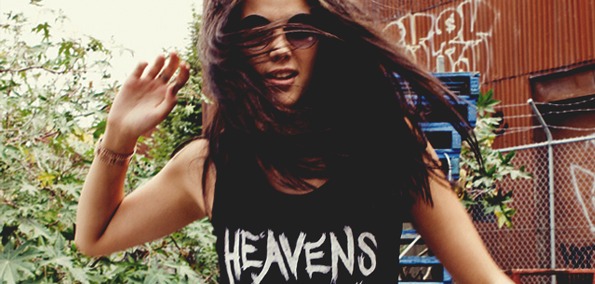 Downtown Record's Downtown Festival is coming to New York next month. What's that? Oh, it's a like a mini CMJ but with bands that are actually worth seeing and actually worth the nervous anxiety of missing someone's set because of bad show coordinating. Downtown Fest is kind of amazing this year. They recently published the schedule for May 10th and 11th with set times and venues. It's something along the lines of Fat Tony, Earl Sweatshirt, Ryan Hemsworth, Antwon, Branchez, Sky Ferreira, Teengirl Fantasy, Palma Violets, Beach Fossils, Nguzunguzu, Kilo Kish and Kingdom all on one night (4/10) and Diiv, Purity Ring, Inc., Autre Ne Veut, Trash Talk, Ratking and Mr. Muthafuckin Exquire on the other (4/11). Are your jaws dropped yet? I know.
What's even more incredible is Downtown Fest will only be in various venues of the Lower East Side. This means you can drunkenly crawl from one act to another within 15 mins. If you didn't already get the feeling of how excited I am, I made a playlist for you. Listen to it below and grab yourself a ticket or five --be the cool guy here and bring your friends.
Also, if you're not in New York, Downtown Fest will come to you. They'll be traveling to Philadelphia, Toronto, Boston, Los Angeles, Denver, and Las Vegas so no need to have feelings of missing out. Follow them on the internet for more details on that. 
[soundcloud url="http://api.soundcloud.com/tracks/79087317" params="" width=" 100%" height="166" iframe="true" /]
[soundcloud url="http://api.soundcloud.com/tracks/80264639" params="" width=" 100%" height="166" iframe="true" /]
[soundcloud url="http://api.soundcloud.com/playlists/2949795" params="" width=" 100%" height="450" iframe="true" /]
[soundcloud url="http://api.soundcloud.com/tracks/78184108" params="" width=" 100%" height="166" iframe="true" /]
[soundcloud url="http://api.soundcloud.com/tracks/81239563" params="" width=" 100%" height="166" iframe="true" /]
[soundcloud url="http://api.soundcloud.com/tracks/78151523" params="" width=" 100%" height="166" iframe="true" /]
[soundcloud url="http://api.soundcloud.com/tracks/76989671" params="" width=" 100%" height="166" iframe="true" /]
[soundcloud url="http://api.soundcloud.com/tracks/67546070" params="" width=" 100%" height="166" iframe="true" /]
[soundcloud url="http://api.soundcloud.com/tracks/81823156" params="" width=" 100%" height="166" iframe="true" /]
[soundcloud url="http://api.soundcloud.com/tracks/24698653" params="" width=" 100%" height="166" iframe="true" /]
[soundcloud url="http://api.soundcloud.com/tracks/82865881" params="" width=" 100%" height="166" iframe="true" /]
[soundcloud url="http://api.soundcloud.com/tracks/60445219" params="" width=" 100%" height="166" iframe="true" /]
[soundcloud url="http://api.soundcloud.com/tracks/75136216" params="" width=" 100%" height="166" iframe="true" /]
[soundcloud url="http://api.soundcloud.com/tracks/50973127" params="" width=" 100%" height="166" iframe="true" /]
 [soundcloud url="http://api.soundcloud.com/tracks/78086794" params="" width=" 100%" height="166" iframe="true" /]
[soundcloud url="http://api.soundcloud.com/tracks/74913382" params="" width=" 100%" height="166" iframe="true" /]