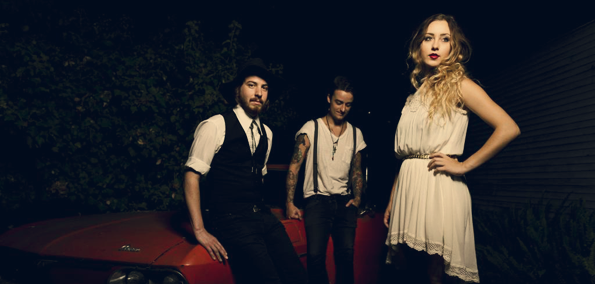 The Indie culture of today seems dominated by Folk, any variation of Surf Rock/Pop, and female-lead vocals—the latter acting as a sort of new kid on the block.  We've had our share of feminine leads in the past, many of whom still run vibrant in the present such as Cat Power, but in the past few years specifically there's been somewhat of an explosion of the female lead. This breakthrough is split between the exuberance one can bring to an electronic anthem and the captivating beauty a female presence renders in the fuzzy world of Indie talent, an ethereal bond with the listener that many male vocalists fail to scrape the surface of.
DWNTWN showcases the lighthearted, wooly Electro/Pop that the falsetto of a female presence blends with perfectly, protruding from the alarmingly typical Indie Electronic scene of today with independent originality. Extending from their latest EP The Red Room, "Stood Me Up" entangles a more appeasing side of DWNTWN's abilities with the same strident repose of its counterparts, exhaling the relative disparity of rebirth through broken love via the mitigating coos of lead singer Jamie Leffler. While the corresponding video (Directed by Jeremy Johnstone) doesn't do an ambitious job of explaining the song, it provides a visual stimulant that accompanies the melody appropriately. Besides, the song requires little to no explanation as the lyrics come as straightforward as any, and when judging the video for it's sole purpose—that of dispensing optical entertainment that a track by itself is incapable of—the video is a job well done.
[soundcloud url="http://api.soundcloud.com/tracks/67323005" params="" width=" 100%" height="166" iframe="true" /]
A self proclaimed "Synth Folk" band, DWNTWN is hard to pigeonhole genre wise. Their early works were mostly comprised of folk demos, and as their music has expanded over the past few years they've delved in variations of Pop, New Wave, Electronic, and even Americana. While "Stood Me Up" sits pretty on the Synth Pop pedestal, this infectious blend of frizzy synths and poppy electronics is far from their only offering. As of May last year, when Kitsuné picked "See My Eyes" for the Kitsuné America compilation (which hit #1 on the French and top ten on the worldwide charts), it became clear that there was a future brewing for the small LA based trio. This momentous occasion became indicative of fruitful things to come, and after a successful EP release and further exposure, the band is setting off what should be a big year for them with a handful of stops at SXSW in March. Light on the ears, ignorant to miss—all in all, DWNTWN seems a group worth following, and closely at that.