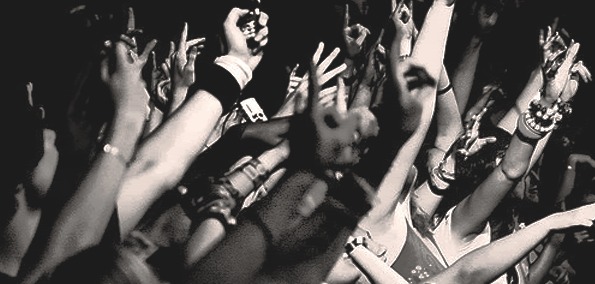 On the way into the London Forum in Kentish Town, my friend and I passed several tickets totes selling tickets to the Miguel show with opening performer, Daley, a soul-stirring newcomer who is lighting up the UK R&B scene. Unaware of the night I was in for, I looked over at her cynically and mumbled, "Well, I guess it's not going to be a packed venue." She nodded her head in agreement. When we arrived around 7:30 pm, The Forum was probably only 25% full. No later than 8 pm when Daley appeared on stage were my ears ringing with the sound of screaming teenage girls, greeting the object of their affections. "We love you Daley!" they cried and wailed that ubiquitous "Ahhh!!!" By now, the venue was completely full. Daley's trademark mohawk was even more spectacular close up. A young lady behind asked her companion, "How does he manage to keep his hair in place like that?" It was a bloody good question I contemplated for a moment. Could it be gel? Perhaps he just has very thick, natural hair. Daley settled in nicely, basking in the attention as he crooned Maxwell's comeback hit "Pretty Wings".
After breaking into the mainstream in 2010 with his contributions to the Gorillaz hit, "Doncamatic," which he helped to co-write with Damon Albarn, Daley's career quickly shot upward with various record deals. But here, on this night, he took a moment to express his gratitude being included in such a major tour with Miguel, before proceeding with the remainder of his set. Off his mixtape, Those Who Wait, he flexed his pipes singing "Game Over" and "Love Lost" before treating fans to a few contemporary R&B classics like the popular Frank Ocean tune "Thinkin Bout You", Usher's "Nice and Slow" and "Climax". The crowd was ecstatic. Daley's voice may be gentle, but it does not lack in strength. His ability to hold a note and break out the falsetto notes is matched by his impressive ability to work the stage like a pro. His performance wasn't full of any over the top theatrics, just oodles of cool, unadulterated soul and delicate grooves. "Broken" was performed and Daley announced it would be his next single. While I liked the song, I felt as though if it were remixed into a dance beat and given the 'David Guetta' makeover, it could reach it's full potential easily breaking into the UK top 10, possibly number one. The hook is infectious, the beginnings of a dance anthem methinks. 
Daley ended his set with his two most recognisable tracks: his duet with former Floetry singer, Marsha Ambrosius on "Alone Together" and "Remember Me" which was the highest charting single, featuring a collaboration with long time pal and fellow singer/songwriter Jessie J. Overall, Daley gave a stellar performance. Listeners still undecided about this musician would be ill-advised to make any negative judgment calls without first seeing Daley live. Earnest, down-to-earth and exuding a subtle electricity, Daley comes to life on the stage. These days, while it seems as though labels hand out record deals to just about anybody, Daley is a definite treasure -- a genuinely talented artist who has earned his deal. It was a great show, convincing enough for me to cop his next release and anticipate his next live performance.
Miguel's set was up next. Having grown tremendously in his own musical career, Miguel is a performer, in the fullest sense of the word. He leapt on the stage donning a red shirt with matching trousers, complimented by a black leather jacket. He started to sing but the apparently, the screams were not loud enough. "Oh, no. No. No," he said in disbelief. "Ok. We're gonna do this again. I'm gonna go back. I didn't see you. You didn't see me. I'm gonna come back out and we're gonna try this again." It didn't seem possible but the second time around, the fans even crazier. Miguel belted out a stream of tracks including his signatures "Sure Thing", "All I Want Is you", "Teach Me", and "How Many Drinks". He concluded with the bedroom-wall-breaking, "Adorn".  Right down to the splits and the hustle, Miguel's performance was obviously heavily influenced by the late James Brown. He spent a considerable amount of time gyrating on the floor much to the pleasure of the approximately 2,000 adoring fans.
I reckon you can tell how much a superstar an artist is by their light show, and Miguel's lighting was nothing short of spectacular. At the end of the night, fans walked away as excitable as they were when they arrived. Miguel and Daley are a pair formidable pair. All in all, the entire show was frickin' awesome.