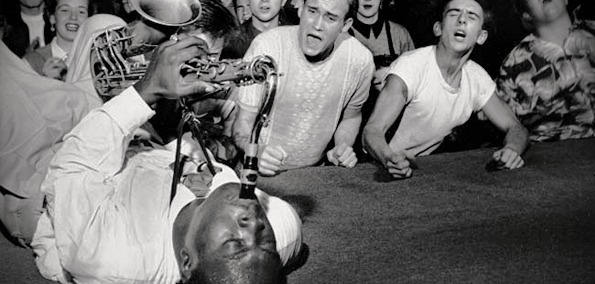 Mr. Moods
and Erik Jackson
Mr. Moods and Erik Jackson are two constantly active beatsmiths who I can barely keep up with. With each of their own side projects and collaborations with one another, they have quickly become two producers who I have to put on hold quite frequently to make room for others. But they're long overdue for their re-introduction, and what better way then to start things off with their latest collaboration, Sur La Route Du Jazz. 
Fans of beatstrumentals and nu-jazz should be watering at the corners of their mouths right about now. As you might have guessed, this dynamic duo approached this album with a jazzy view. They used a variety of live instruments to create that inexplicable, sophisticated sound that you will hear throughout the album.
The instrumentation includes jazz drum kits, trumpets, guitars, saxophones, and groovy upright bass. I've always enjoyed their collaborative projects, and Sur La Route Du Jazz is no different. They guide you hand in hand through a magical journey through the wonderful world of quality beatsmithing, producing, and sampling. They provide a near perfect balance of classic beats and jazzy aspects with a healthy use of the creative license. "Alone In My Basement With My Instrument" is a fantastic example.
Alone-in-my-basement-with-my-instrument--EM0912
Play:
Mr. Moods - Alone in my basement with my instrument
You'll hear that slow, rhythmic beat layered over with an improvised style sax and sampled vocals. The contrast between the rock-steady beat and the aloof style of the sax ironically pull the song together for one amazing auditory experience. Throughout specific points of the album, they'll bring you back to reality with his characteristic feel good tune with that special, secret sauce. 
Sur-la-route-du-jazz--EM0912
Play:
Mr. Moods - Sur la route du jazz
And for the hell of it, they'll throw you curve balls like scratchy, interludes, intros, and outros lasting no more than a minute and tunes that are quite unexpected given the background of the two.
Smiling-face-(with-Lr-60)--EM0912
Play:
Mr. Moods - Smiling face (with Lr-60)
Au-revoir-(outro)--EM0912
Play:
Mr. Moods - Au revoir (outro)
Sur La Route Du Jazz is by no means ground-breaking, but it's an album of high quality beats with nu-jazz and experimental elements. The album is an overwhelmingly chill project that you can listen to while you get your beauty rest, in style of course. Congratulations, you are one step further from that boring music world you currently live in. And what is a better motivation for your departure than naming your price?
Support a brother, or save your chump change for another day.