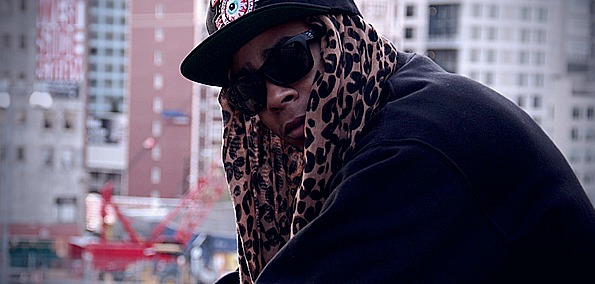 Keyboard Kid 206 is a name you may or may not know, but there's no doubt you've heard some of his "based ass beats" if you've been listening to the likes of Lil B, for whom he's been serving as resident producer. If you dig the hip-hop influenced, trappy electronic music of Araabmuzik or the hazy, blissed-out sounds of Clams Casino, chances are, Keyboard Kid 206's beats will hit the spot. His first official release, The Transition EP, was released May 6 on Donky Pitch and is available for purchase on their Bandcamp. He's also had a few beat tape releases on his own that have received attention from some esteemed music publications.
In our interview below, we talk about how he got into music, how working with a rapper is different from working on his own, how his family and roots influenced his musical taste, his lack of a formal musical background, and which rappers and electronic producers are influencing him now. Before you forge ahead, feel free to snatch up track "TheMost" from his latest EP for exclusive download below!
Download:
Keyboard Kid 206 – TheMost
EARMILK: Your current claim to fame is as Lil B's resident producer. What made you want to start releasing your own productions?
KK206: Well for me, being an artist as well and not really being one to rap, I definitely still wanted to be able to express who I am as an artist, second and foremost as a person, to the world. I feel like my instrumentals tell a story on their own and can stand as music in their own right. I personally liked listening to just instrumental music and I knew I couldn't be the only person who was feeling this way. So I just took a chance and started self-releasing "based" instrumental tapes, as I like to call them. Seems like it kinda worked.
EM: What's the process of working with a rapper like? Is it a lot different from making tracks for yourself?
KK206: I feel like when you hear somebody rap, you're getting his or her story or perspective moreso. When you just hear the music and let it breathe, you hear it as the composer intended and a lot of my music is made to just listen to it and reflect… take it in… dance… whatever and however you want, and to me that's purely what the art should be about. That's what makes it fun for me. To let people paint their own picture with the music.
So I guess to answer your question further, for me I enjoy working by myself more. When you work with rappers they want to try and mold your sound. I like to work freely off inspiration. But at the same time, when you work another artist and things just click and you're vibin', you can make magic and that can be just as fun.
I find there to be no particular formula, especially in the Internet age. The best songs I have made are with my friends that I have developed a working relationship with over the past few years. I just send them stuff I think or know they will like. These are homies from the MySpace days, like Lil B and Main Attrakionz, others as well, but we all have been like-minded from the jump. That's how we all met anyways, trying to find others who were like us.
EM: What was the first music you listened to that you got really excited about?
KK206: Man, I'm not gonna front, the first music I heard that I got really really excited about was Kanye West. It was his beats when I didn't even know they were his beats, like "Through the Wire" changed my life probably as much as it changed his. Well, not quite, haha, but it was that defining moment when I heard my inner self speak, when I made it up in my mind that I was gonna try and be the best producer. Haha, I wanted to be better than Kanye from then on out because to me he represents success, him and Pharrell, being known all over the world for hip-hop productions. I don't think I was that hype on anything I heard before that. Nothing that made me really want to dedicate my life to music, even though I wanted to make music since I was a kid, if that makes sense. So until I meet Kanye imma shout him out every time, cuz I mean,  just seeing how determined he was man! Like how Lil B looks up to Lil Wayne, I look up to Kanye.
EM: How did you get into producing music? What's your musical background?
KK206: For me producing kinda just happened. I was always into music growing up, I just never had the money to really have drums or anything big equipment wise. I also wasn't in a position where I really had anyone around me that was into the music business or scene. So kinda how I mentioned earlier, I was about 16 or 17 when I started getting into the Internet more heavily, learned about downloads and all that good stuff. Around the same time, I heard Kanye West's "Through the Wire", and I made up my mind and was really at that point just determined to prove that I could make dope sample beats. Somehow, after hours of trial and error, probably days, I got a cracked version of FruityLoops 2.0 and just spent my summer trying to learn it. Man, I remember making terrible beats, but every now and then I'd get a good one where I really got what was in my head out. I shared it with my friends and they were like, "you're getting good man, you need someone to rap on these," so I started looking for rappers to give beats to. Lots and lots of trial and error and just learning from the ground up, and I'm still learning everyday.
No musical background technically. I really taught myself everything along the way.
 EM: What do you listen to in your spare time? What albums have you been digging lately?
KK206: In my spare time I listen to Based God of course! But nah, really I do listen to Lil B a lot, I work with him but always have been a fan of his music. I listen to Clams Casino, Main Attrakionz, newly produced Kanye stuff, A$AP Rocky, Western Think, Milli Mars, Metro Zu, SpaceGhostPurrp, Ab-Soul, Schoolboy Q, Nacho Picasso… really lots of the new kids coming up with this new underground. More people I haven't mentioned I'm sure, I listen to Zomby, Mele, Lunice, so much good music out there!
I couldn't possibly explain all that I listen to. It's a mash up of hip-hop to rock to techno, grime, electronic… cloud… based… bollywood, soul… I really am just a child of music, I love it! Just depends how I'm feeling. Truthfully there is no album I can say I definitively have been digging lately. It's more of a mash of the artist and genres I mentioned.
EM: What kind of tools do you use for your production?
KK206: As for tools I've got my laptop, some monitors, some Beats by Dre, an Akai MPD26, FruityLoops studio and Ableton Live.
EM: What tips or advice would you give to budding producers or those who want to start producing beats?
KK206: The best advice I could give to them is just start, just start and keep going. It takes time, lots of time. Study a person you look up to, but also be original. You gotta have your own sound. People may not like your first beats but you gotta share it, show friends and family first. They may not like it either, but you're not an artist unless you share it with the people, that's what my mom told me growing up.
 EM: How do you start producing a song? What's the mental process like for you?
KK206: For me I gotta be comfortable, gotta dedicate some time where the only focus is music. I can't have people around distracting me from the music, you can be around but it's gotta be music going on. When constructing the beat, it depends on what I'm doing, but I like to get a main melody going most of the time, either with the sample or some synths. Then I build around that. Other times it's purely something in my head, I'm like i gotta have my drums do this and I start with the drums. I attended a music conference J Henny from "Tha Business" put together, and Macklemore, a rapper who was on XXL's freshmen cover this last year was there speaking, and he said "sometimes I'm just a conduit." That's how I feel sometimes, it just comes out, and when it's done I'm like, "how did i do that?" Kinda spiritual when making music almost.
EM: Did you always live in Seattle? What musical scenes do you think affected what you do?
KK206: I was actually born on Oahu in Hawaii at Tripler Army Medical Center. My dad was in the Navy, and when I was about 3 my family moved to the Bay Area in California.
I lived in Cali until I was about 6, my parents split up, then me my mom and my siblings moved to south Seattle. I lived right off Juneau and MLK Street in Martin Luther King apartments. When I got to high school, we moved further south to Federal Way. During summers growing up, I would go back and forth to Dallas and visit my dad. I definitely think that the down south music had a lot to do with my sound, liking heavy bass and fast snares.
My dad always listened to more rap and my uncles, I remember riding around listening to 2Pac with my uncle in his convertible, playing "How Do U Want It" hella loud on the 15's. One of my uncles, Kenny, lived in Cali and he had an Impala drop top with 4 15's. I remember listening to music in his car riding around Cali too, when I was young one summer visit. I love bass.
EM: Who are the most innovative producers or scenes out there right now in your opinion?
KK206: Man, I would definitely say the #based scene combined with the cloud rap scene and that new trill-trap combined are definitely helping shape rap in the states right now. Just heard of the movement #been #trill, that whole sound that collective is bringing is what I think the future sound is. Trill/trap/cloud/dance music, like a nice combo of all those, would kill it! I think it's something I've been creating without knowing it. But I look at producers coming up like Clams Casino, Beautiful Lou, Lunice, Harry Fraud, Friendzone, people that've been doing it, people like Zomby, Hudson Mohawke. Diplo is huge and I look up to him and a few others… these are guys on that curve right now making stuff I enjoy. But I'm really hype for the new emerging underground rap scene in the states and the whole U.K. electronic scene intrigues me a lot.
EM: Do you have any plans for live shows in the near future? How do you think you'll approach those?
KK206: I've got shows coming up, definitely some bigger ones in my hometown: Capitol Hill Block Party, PAX videogame conference in August. Just seeing what else comes soon, I really want to get over to the U.K. to meet some guys doing it big that been showing me love on Twitter, maybe do some shows with them, guys like Mele, Sinden, Zomby, just to name a few. Lots of stuff coming into development since all this is relatively new to me.
I really want to develop more visual components to accompany my music in the future to enhance to listening experience, but I got some dope ideas everyone will just have to stay tuned and follow me on Twitter, or do whatever they gotta do to stay in the loop, I'm just getting started… so watch close!