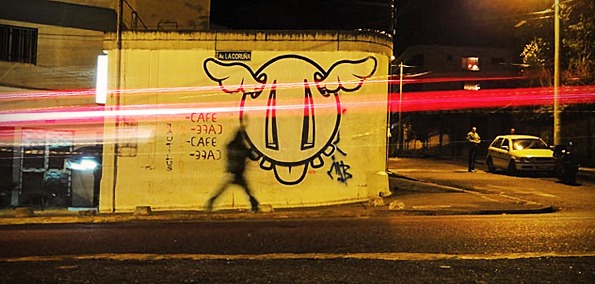 Some of you may remember one of my earlier posts about DistriKt. I have been in contact with him ever since and now he has returned. This talented producer is back in gear with his latest album Exploration completed on April 20th. After the tireless efforts of mixing, editing, and mastering each track, he gave me the opportunity and the pleasure to be one of the first to fully experience his creation. Chris Owen goes by DistriKt/DistrKt Productions. Hailing from West London, this 24-year-old took to heart the styles of music he listened to when he was 12 years old, including UK grime, UK garage, dubstep, drum & bass, and hip-hop. The most prominent influences you can hear in his tracks are reggae, hip-hop, jazz, and soul. As for artists, he takes some influence from J Dilla, DJ Premier, Slum Village, Shy FX, and other MCs/rappers.
What I found extremely interesting when getting to know him is that most of his inspirations reside from his own creations in his studio, as well as samples that he chops and crops. With his 6-7 years of experience in sound engineering, it was only natural that he would segue into electronic music production. Another thing that is interesting about DistriKt is that he doesn't want to stick to one genre. Every track he makes, he aims to make a new, unique sound rather than being limited to one style. On top of that, he wants to be remembered through the vibes he resonates through his tunes instead of a mere label. When he does listen to music, it tends to be underground hip-hop and non-commercial dubstep. He looks up to artists such as Caspa, Subscape, Burial, and Von D.
DistriKt brings overwhelming talent that's making ripples even all the way across the Pond. So ladies and gentleman, here is an Earmilk Exclusive first look at his debut album, Exploration.
After getting to know DistriKt, I finally understood why he made this album the way he did. I'll try my best to select stand-out tracks that genuinely define DistriKt as a producer. In the album there is no consistent genre, but that doesn't matter. It was the sheer uniqueness and creativity that made a stone-cold impression in my ear. One such track is "Waterfall."
"Waterfall" is a glorified trip to the abyss and back. Mixing an oxymoronic "modest," heavy downtempo beat with ambience, it sends me into a strange state of mind. One half of me wants to dress business-casual and enter a dimly lit bar with a cigar. The other half of me wants to lie down on a grassy hill and watch the stars twinkle like they're interpreting the song itself. Using only a few layers in the entire song, DistriKt seems to give us the impression that making this song was a cake walk. An overall beautiful piece that is straight up my alley. 
Download:
DistriKt - Waterfall
The next track that really got to me was "Reach Out." This track is probably one of my favorites in Exploration. Quickly taking the #1 spot for my most repeated song, "Reach Out" is a bumpin' tune. This song is one of a kind and I'll tell you why. In my first half of my college career, I was a fine arts major. One of the artistic tools and devices we constantly describe and implement is tension. In my opinion, he has successfully incorporated a visual aesthetic theory into an audio file. "Reach Out," stripped down to its core, is just a classic downtempo rhythm. However, there looms that pulsating, affected beat you would commonly hear in typical dubstep songs. However, it's subtle. The beat changes tempo, like it's trying to convert itself into a drum & bass tune, but this lingering and haunting bass keeps the song in check. In addition, an echoing sound loop plays throughout the duration, giving the listener yet another element to decipher. Electronic producers need to take note of DistriKt's ability to stretch, manipulate, and fit genres on top of each other. 
Download:
DistriKt - Reach Out
DistriKt is well experienced in collaboration work on top of his solo game. A great showcase of his collaboration technique is "Aiit." This track was produced by DistriKt and his good friend NemZ. Given that they solely collaborated on this song through Skype, the yielding result is phenomenal. The track has a very faint hint of reggae if you listen closely in the beginning seconds of the track. It is then brilliantly turned into a dubstep-esque style track. That "DistriKt" feel if you will. I forgot to mention that he doesn't even know what to call his style sometimes, and that's what he strives to do. For simplistic sake and for his sake, I'll just loosely coin this as chilldub. I'm sure I'll use this term for his future work.
Download:
DistriKt and Nemz - Aiiit
His remix game is also top-notch. He remixes works of virtually unknown artists to huge-named artists such as Ludacris. Ludacris needs no introduction and you've gotten a feel for what DistriKt is all about. Just seeing this remix track "Lights" got me all fired up. DistriKt transformed a track by Ludacris into a 4 minute dub-dance hand thrower that will surely sway you to favor the remixed version more than the original and make you a fan of Ludacris even if you aren't. So toss your judgements aside and let it fly. Haters gonna hate.
12 Lights DistriKts Dubstep Remix
Download:
Ludacris - Lights [DistriKt's Dubstep Remix]
In addition to remixes, he also incorporates works by other artists that DistriKt personally produced himself. Check out below for some more tracks off the album.
Play:
DistriKt - Piano Dub
02 Friends DistriKts Dubbed Out Remix
Play:
Damian Marley ft. Nas - Friends [DistriKt's Dubbed Out Remix]
Play:
Super & Skout - Stay Illin
Play:
DistriKt - Good Body Gal
I have been pretty stoked the past weeks for the album to drop. Ever since I got a glimpse through the track "Leave" and other works on DistriKt's Soundcloud, I knew that there was nothing but wonderful to come for his future work. DistriKt has a promising career in the world of underground electronic production. I had high expectations before this album dropped, and they were most definitely met. When I explore music and musicians, the main aspect I look for is creativity and uniqueness. And DistriKt has both. This album is a must have if you are a music enthusiast like me.  
In addition to Exploration, DistriKt also has another completed collaboration album with Second Nature (a rapper duo also from West London, consisting of Phaze 1 & Super Dertie, also members of Piff Gang) that will be dropping in the next coming weeks, so be sure to keep your ears peeled.
Download: DistriKt - Exploration