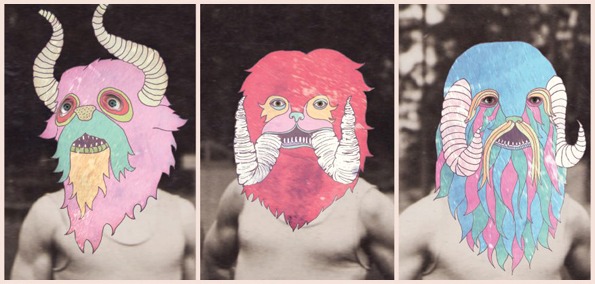 In the last couple of years, Iceland's sextet, Of Monsters and Men have made a name of themselves in the alternative folk scene. To follow their ever so wholesome EP Into the Woods, the band has a full length album under Universal Republic Records set on April 3, 2012. This collection is entitled My Head is an Animal. Of Monsters and Men initially grabbed our attention with "Little Talks". "Little Talks" and along with most of their music, features delightful voice harmonies from Nanna Bryndís Hilmarsdóttir and Ragnar "Raggi" Þórhallsson. Their renditions are supported by the sounds romantic folk instruments and genuine lyrics. Before starting a new tour, Raggi answered some questions in a playful manner via email. Take a peek below.
Stream: 
Of Monsters and Men - Little Talks
EARMILK: This year is going to be so exciting! Tell us what you're doing at the moment?
Raggi Þórhallsson: Other then dying of excitement we're putting the final touches on our debut album "My Head is an Animal" which we plan on releasing world wide on April 3rd. We're also getting ready for our first big tour around North America! Check out our tour dates on our site www.ofmonstersandmen.is
EM: Is there an epic story to how the six of you came together? If not, give us the real history and one that you've always wanted to tell people.
RP: We came together in such an epic way you wouldn't believe it! It all started out with Nanna, she was once all alone against the world. Then she met Brynjar, a young and eager guitarist looking for a second chance of life! Later Raggi, a muscular yet sensitive man with a big heart came along and joined the group. Together the trio fought evil until it was just too much! They knew they needed a fourth member. A man of great strength. So Raggi summoned an old friend of his called Arnar the Eagle and the four of them went on to win an epic battle between good and evil (Músiktilraunir, the nationwide battle of the bands). After the battle had been won many knew who these four soldiers were. They felt as if they could now longer live in the shadows, they were forever known to the public. Therefore they added two new soldiers to keep guard. Árni the Amazing and Kiddi the Brave. And thats how Of Monsters and Men came together.
EM:What is the music scene in Iceland like? How was playing in Airwaves Festival last year?
RP: The music scene is great and keeps on getting better! It was crazy playing Airwaves last year. We played six packed shows. We played on the smallest most paced venues to the biggest once and all in-between. We encourage everyone to go to the Iceland Airwaves Festival. It's always so much fun!

EM: Your music inspirations seem to be from other indie artists, Bon Iver, Arcade Fire, Feist.. What are some artists you are looking forward to this year?

RP: To be honest I haven't really checked out who's releasing new albums this year things have just been so hectic. But last year brought a lot of exciting artists and I'm sure this year will be just as generous.
EM: The fresh tour, where are you most excited to perform?
RP: It's hard to choose. We're so excited about just being able to travel and do what we love but I have to give this one to the people of Philadelphia and Seattle. They've helped us a lot to get to the place we're at know. Bit shout out to KEXP and Radio 104.5!
EM:"Love Love Love", there is a pause in the middle that grabs everyone's attention. The song is about? 
[soundcloud url="http://api.soundcloud.com/tracks/31108474" params="auto_play=false&show_artwork=true&color=000000" width="100%" height="166" iframe="true" /]
RP: It's hard for me to say because it's written by our female singer Nanna. But I know that the lyrics are very personal and based on her own experience. Anyway, it's no fun to say what songs are about! We like keeping it a secret :)
EM: The romantic twist in your songs, what is your fairytale?

RP:  Haha, is there a romantic twist? Well, I guess we're just romantic people.
EM: If you can, describe this upcoming album as a dessert please.
RP: It's a big and moist chocolate cake with rich texture and an aftertaste that just doesn't get old. Served with a cold glass of Icelandic milk!
Music Video for "Little Talks"
3/21 Los Angeles, CA @ Troubadour^
3/22 San Francisco, CA @ The Independent^
3/24 Portland, OR @ Doug Fir Lounge^
3/25 Vancouver, Canada @ 881 Granville Street^
3/26 Seattle, WA @ The Neptune Theatre^
3/29 Minneapolis, MN @ Fine Line Music Cafe^
3/30 Chicago, IL @ Subterranean^
3/31 Columbus, OH @ The LC Pavilion
4/2 Washington, DC @ The Black Cat^
4/2 Philadelphia, PA @ Theatre of the Living Arts^
4/5 Brooklyn, NY @ Music Hall of Williamsburg^
4/6 New York, NY @ Bowery Ballroom^
4/7 Boston, MA @ Brighton Music Hall^
4/9 Rochester, NY @ Club at Water Street Music Hall^
4/10 Albany, NY @ Jillian's^
4/11 Montreal, Canada @ La Sala Rossa^
4/12 Toronto, Canada @ Virgin Mobile Mod Club