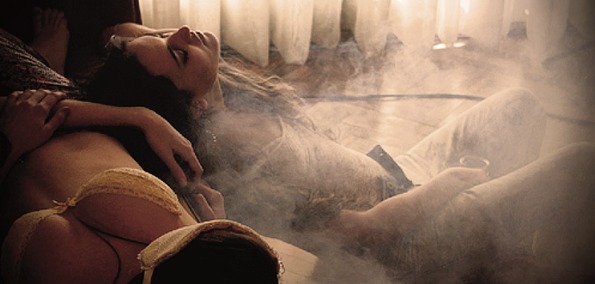 I am genuinely curious how New Yorkers manage to survive and thrive as regular human beings when they're surrounded by so many tempting musical events. After traveling into Brooklyn on Thursday night for Earmilk's own Night Rumours club night, I made my way to Brooklyn Electronic Music Festival (BEMF) on Friday and Saturday, and no amount of coffee can quite revive me today after partying until 4 am three days in a row. By midnight on Saturday, my feet were in so much pain (even in flats) that if I had stopped dancing for even a moment, I would likely have become aware of my body's fatigue and collapsed onto the unforgiving dancefloor, never to be seen again in my Boston home.
Download:
Girl Unit - Wut
For a "festival", BEMF is small in scale, packed with obscure names that even many of the attendees hadn't heard of. Each night sported a few big DJs -- Hudson Mohawke, Four Tet, Matthew Dear and Daedelus being the ones we mentioned to our less-electronic-music-savvy friends to give legitimacy to our evening plans -- but all in all, BEMF is about up-and-comers and local dynamos, and for the most part, random wanderings would likely have proven fruitful. We managed to plan ourselves a pretty tightly packed schedule and avoid the risk of discovery, but all-in-all, BEMF seemed to be a well-curated festival with a lot of cool acts.
Friday began at Music Hall of Williamsburg, where we missed Doldrums' set and started our night with Decades and Party Supplies. Honestly, we weren't really digging it -- being entirely unfamiliar with these names, we were hoping for blood-spattering bass and were instead faced with indie-pop vibes. Increased alcohol consumption was a result, and three or four rum-and-cokes in (don't even ask about my drink totals for the entire weekend), I was having a much better time, but was still relieved when the act we were really there to see, Cubic Zirconia, took the stage.
01 - Yellow Spaceship Pt 2
Download:
Cubic Zirconia - Yellow Spaceship Pt 2
Although we were unable to catch their entire set, what we saw was great, and finally, it felt like we were at the BEMF we had dreamt of. After catching a bit more than half of Cubic Zirconia's delicious ethnic disco sensibilities, we darted to The Cove to pre-empt the crowd for Hudson Mohawke. We sat and rejuvenated our souls during Nick Hook's set before Hud Mo took the stage and killed it for what felt like almost too many hours (but really, it's never too many). He played a huge range of music, ranging from plenty of hip-hop to a few token Rustie drops to a welcome surprise of Toto's "Africa".
Download:
Rustie - City Star
Download:
Toto - Africa
Saturday, we planted ourselves in Public Assembly's front room for pretty much the entirety of the night for Rinsed's party, starting with enjoyable sets by residents Blacky II and Dan Wender. Then, the acts who we were most looking forward to took the stage in a glorious row that I wish I'd been a little less physically exhausted for -- the Fade to Mind showcase featuring Total Freedom, Kingdom, Nguzunguzu, and Girl Unit. This was pretty much my ideal dance party, especially because we managed to carve out our own corner on the dancefloor -- a huge variety of music was played by each DJ but a dark, bass-laden mood tied it all together.
02 Fogs
Download:
Kingdom - Fogs
8-I_See_U_Girl_Unit_Remix
Download: 
Lunice - I See U (Girl Unit Remix)
The night ended with a tag-team DJ set by the Rinsed crew. When we were truly too exhausted to dance anymore -- as in, we thought we were too exhausted 2 to 3 hours ago but continued pushing ourselves until bloody nubs replaced our feet (okay, exaggeration) -- I accidentally called a boy pretty ("no, you're pretty!" is not the best sassy response to someone's compliment) and then we stepped outside for a riveting conversation with two Irishmen (I mention these irrelevant facts because funny characters are a selling point for me in any evening -- the crowd makes the event), and finally, we caught our final cab home. If you weren't aware of BEMF, check it out next year -- to be honest, the price tag was a bit steep for what it was ($45 for a two-night wristband), but with a few rare acts playing and a pretty airtight lineup, my buyer's remorse was erased.