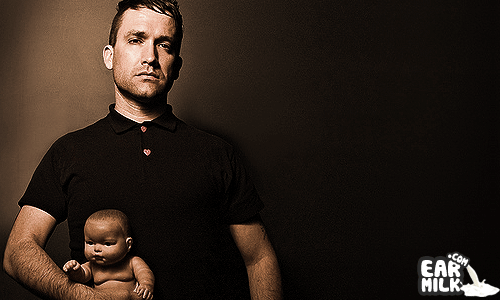 (New member) Angela Seo seems to be the one in-front of the new album, as she clearly portrays self loathing in the new Xiu Xiu Video for "Dear God, I Hate Myself", the title track from their forthcoming album releasing February 23rd via Kill Rock Stars. As a new member of an infamously....*searches for a better word then weird*.... How does one explain Xiu Xiu?
If you've ever read a Bret Easton Ellis book you'll know where Xiu Xiu is coming from. Californian, Moral decay, Experimental, Self Loathing, and Sex.
Xiu Xiu's latest addition Angela Seo is credited on the record with "piano, synth, and drum programming", and seems to have a pretty harsh initiation into the cult of Xiu in this new video where Jamie Stewart boyishly eats a chocolate bar and jests to the highs of the song while Angela induces vomiting over and over again - its pretty spun stuff but then again, thats what we've come to expect and love..
Xiu Xiu has always been a favourite of mine as it lives in a space that few bands occupy and even fewer succeed in - what that space is, is not exactly known to me. Sonics aside, the Xiu Xiu cannon (to me) has been ultra homosexual references (see Fabulous Muscles), vampires (Brian the Vampire), sex & relationships (every cross-section in there of), as well as the ever popular and plastic people of the "valley" (I Luv The Valley OH!)
I've collected 2 tracks from the new album, as well as some of the old favourites as a starter pack for those new comers to the Stewart stage.
VIDEO: Xiu Xiu - Dear God, I Hate Myself
Pre-order at xiuxiu.org. tip via stereogum
06 Dear God I Hate Myself
Download:
Xiu Xiu - Dear God, I Hate Myself
Download:
Xiu Xiu - Gray Death
Download:
Xiu Xiu - I Luv The Valley OH!
06 Fabulous Muscles (Mama Black Widow Version)
Download:
Xiu Xiu - Fabulous Muscles (Mama Black Widow Version)
Download:
Xiu Xiu - Brian The Vampire
Download:
Xiu Xiu - Hello From Eau Claire
Download:
Xiu Xiu - Bishop, CA
11 Ceremony (New Order Cover)
Download:
Xiu Xiu - Ceremony (New Order Cover)
08 I Love The Valley OH! (Xiu Xiu Cover)
Download:
Her Space Holiday - I Love The Valley OH! (Xiu Xiu Cover)
10 Hello From Eau Claire (Xiu Xiu Cover)
Download:
Gold Chains - Hello From Eau Claire (Xiu Xiu Cover)
Xiu Xiu 2010 Tour
03/06 - Atlanta, GA @ Drunken Unicorn #
03/07 - Birmingham, AL @ The Bottletree #
03/10 - Norman, OK @ Opolis Productions #
03/11 - Dallas, TX @ The Cavern #
03/12 - Houston, TX @ The Studio @ Warehouse Live #
03/13 - Austin, TX @ Red 7 #
03/16 - Tucson, AZ @ Solar Culture %
03/17 - San Diego, CA @ The Casbah $
03/18 - Los Angeles, CA @ Echo $
03/19 - Santa Cruz, CA @ The Crepe Place $
03/20 - San Francisco, CA @ Bottom of the Hill $
03/23 - Olympia, WA @ Northern ^^
03/24 - Portland, OR @ Holocene ^^
03/25 - Boise, ID @ Neurolux @
03/26 - Salt Lake City, UT @ Urban Lounge !!
03/27 - Denver, CO @ Hi-Dive !!
03/29 - Lawrence, KS @ Jackpot Saloon !!
03/30 - St. Louis, MO @ Lemp Neighborhood Arts Center !!
03/31 - Iowa City, IA @ The Picador !!
04/01 - Northfield, MN @ The Cave at Carleton College !!
04/02 - Minneapolis, MN @ 7th Street Entry !!
04/03 - Chicago, IL @ Lincoln Hall ##
04/05 - Oberlin, OH @ The Dionysus Discotheque !!
04/07 - Cleveland, OH @ The Spot !!
04/08 - Buffalo, NY @ Mohawk Place ^^
04/09 - New York, NY @ Bowery Ballroom %%
04/10 - Cambridge, MA @ Middle East Downstairs ^^
04/13 - Philadelphia, PA @ First Unitarian Church ^^
04/14 - Washington, DC @ Rock and Roll Hotel ^^
04/15 - Chapel Hill, NC @ Local 506 ^^
04/17 - Detroit, MI @ Museum of Contemporary Art Detroit
# w/ Noveller
% w/ Extra Life, Noveller
$ w/ Tune-Yards, Noveller
^^ w/ Tune-Yards
@ w/ Tune-Yards, Scout Niblet
!! w/ Tune-Yards, Talk Normal
## w/ Tune-Yards, Talk Normal, Zola Jesus
%% w/ Tune-Yards, Zola Jesus