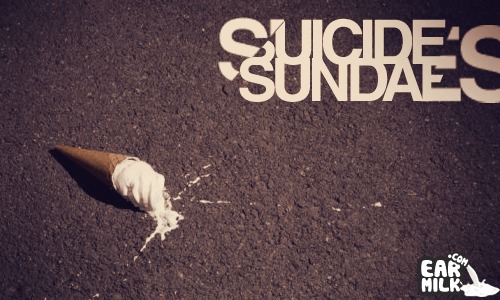 Suicide Sundaes - stop your grinnin' and drop your linen. Every Sunday electblake and jsully of Earmilk will bring you the weeks dirty servings, and some old favorites through a throwdown-throwback to simpler times. A time when bangers were big, remixes were bigger, the bassline bled, and we didn't care about anything as long as came in kicking and left screaming. To hell with sketchy sunday, we want to shove another dragon down the hole.
This week comes in a Neapolitan - We start off with some bangers, a few mashes in the middle, some great vocal centered dance tracks and then we top it off with a classic cherry.
Bangers this week are from Savoy, HAEZER (Welcome back!), The "S", Belzebass, and 16bit. Take extra care with the Belzebass remix of a hardcore(ish) band covering Briney Spears, it may just beat you up and cut your hair to the side.
The 2 Mashups, both classics that I couldn't help myself but drop in. Whats more interesting is the Tigerstrike tracks we have going this week. Xanx is the latest release from indie dance rock electro act Tigerstrike, friends of HAEZER who also hails from South Africa. Thats right, We covered HAEZER a couple of months back and yes, sweet music is coming out of South Africa.
Be sure to checkout the deconstructed Sleepyhead by spenncer, goes great with a late morning...
Congratulations - you survived another double-header, now its time to go the distance...
Download:
Savoy - HateOh8
myspace.com/savoyband
Disappear (DJ Lapse Remix)
Download:
Tigerstrike - Disappear (DJ Lapse Remix)
myspace.com/wearetigerstrike | myspace.com/djlapsecapetown
Download:
HAEZER - Anarchy ! (Preview)
myspace.com/haezer
Download:
Limited Copy - Wagon (THE "S" REMIX)
myspace.com/limitedcopy | myspace.com/thesmaximal
Just Dance (Belzebass Remix)
Download:
Eternal September - Just Dance (Belzebass Remix)
myspace.com/eternalseptembercore | myspace.com/belzebass
Chainsaw Calligraphy (Kanji Kinetic Remix)
Download:
16Bit - Chainsaw Calligraphy (Kanji Kinetic Remix)
myspace.com/16bitmusic | myspace.com/djkanji
Download:
I'm Tirado - IMTIRADO!!
Download:
Tigerstrike - Xanax
myspace.com/wearetigerstrike
Your Body On Me (Crystal Vision Remix)
Download:
Kids at the Bar
- Your Body On Me (Crystal Vision Remix)
myspace.com/kidsatthebar | myspace.com/wearecrystalvision
Download:
Trash Yourself with the Toxic Avenger - Song 2 (Blur cover)
myspace.com/toxavanger
Download:
MAELSTROM - Dance
myspace.com/misterstrom
I Want You D.A.N.C.E. (Justice vs. Jackson 5)
Download:
ComaR - I Want You D.A.N.C.E. (Justice vs. Jackson 5)
myspace.com/comarbootlegs
Download:
Apparatjik - Snow Crystals
myspace.com/apparatjik
When I Grow Up (Dan Lissvik of Studio Remix)
Download:
Fever Ray - When I Grow Up (Dan Lissvik of Studio Remix)
myspace.com/feverray | myspace.com/danlissvik
Starry Eyed (Monsieur Adi Remix)
Download:
Ellie Goulding - Starry Eyed (Monsieur Adi Remix)
myspace.com/elliegoulding | myspace.com/monsieuradi
Sleepyhead (spenncer rmx)
Download:
Passion Pit - Sleepyhead (spenncer rmx)
myspace.com/passionpitjams
Hey Boy Hey Girl (Soulwax _2 Many DJs_ Remix)
Download:
The Chemical Brothers - Hey Boy Hey Girl (Soulwax "2 Many DJs" Remix)
myspace.com/thechemicalbrothers | myspace.com/soulwax