Atlanta is a breeding ground for talented hip hop artists. From Lil Baby to J.I.D, we continuously see artists from the richly cultured city create their own lane in rap music and dominate. While it often takes artists a while to find their sound and progress in the industry, Rubi Rose appears to be an exception.
Despite being born in Kentucky, Rose became deeply enriched in Atlanta's hip hop culture after moving to the city in her teen years. As a model and social media icon, she first appeared in the Migos' "Bad and Boujee" music video back in 2016. A few years later, she decided to try her hand at creating her own music and found it agreed with her. So much so that her breakout hit, "Big Mouth" has already garnered over 14 million views on YouTube despite just being released last year.
Today, Rubi Rose is fresh off the release of her first mixtape For The Streets. The "Big Mouth" rapper has had an amazing year despite the pandemic that halted various parts of the music industry. In an exclusive interview with EARMILK, she shares, "This time of quarantine has given me time to focus on my social media [presence], my music, and staying positive. You decide whether you have good days or bad days so every day I try to make it a good day."  
2020 will be remembered as the year where female hip hop artists continued to rise to the top. While Cardi B was titled "Woman of the Year," despite only releasing one song, other female rappers such as Megan Thee Stallion and Doja Cat consistently dominated the charts. Ten years ago, when someone would mention female rappers, only a few artists would come to mind: Nicki Minaj, Trina, and other musically talented women that had to deal with the misogynistic culture of rap music that constantly pinned women against each other. Today, however, we have several female rappers — Mulatto, City Girls, Tierra Whack, and Chika to name a few— that have created their own space in the industry while respecting the craft of other women in music. Rose has rightly earned her spot on this list of credible female rappers that took their music to a new level this year. In 2020, she garnered features from artists like K Camp and NLE Choppa while also making a memorable appearance in Cardi B's iconic "WAP" music video. But as the year comes to an end, the release of her mixtape For The Streets is truly what has transformed her from a popular Instagram handle to an industry shaker.
On the first track titled "Intro/Cardi B Interlude," Rose does exactly what we expect an artist on their first mixtape to do — talk their shit. "They say success couldn't happen for a bitch overnight" she recites, her alluring and deeply sensual voice serving to prove why she's one to watch. "Now I'm booking' shows, got the whole venue sold out / Bought the Lambo' truck just to stunt and put the doors out." Produced by Jay Uncut, this melodic ballad not only sets the tone for the rest of the project, but introduces Rubi Rose as a seasoned professional, rife with youthful vision and mature delivery.
"In person, I'm a little bit more reserved. I just know how to turn it on for the cameras," she candidly admits. Despite her inclination toward a private life, however, she doesn't hesitate to turn inward when it comes to writing bars. Touching on past relationships on "He In His Feelings," and dedicating songs to just how much she has already accomplished in music with "Back In The Booth", she doesn't shy away from getting personal, showing off her full potential in just eight fiery tracks.
The pandemic was not the only obstacle highlighted this year in the music industry. 2020 also provided several traumatic experiences sparking further conversations on protecting Black women in a society that continues to let them down. "This sh*t is sad and scary," Rose shares in response to the murder of Breonna Taylor, a Black medical worker who was shot and killed by Louisville police officers in March during a botched raid on her apartment. "It's [wrong] how Black women are not taken seriously. It's worth [everyone] taking steps to make some type of difference.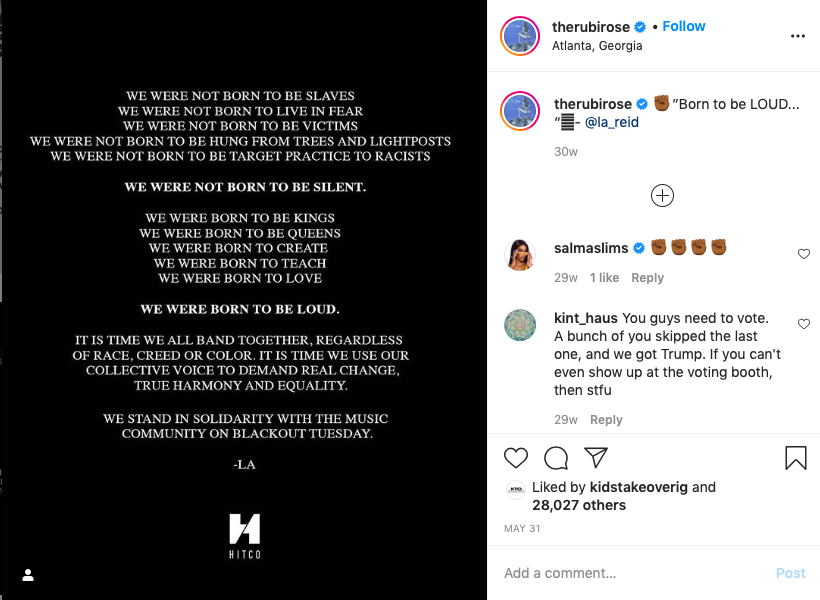 "I have weeks where I feel ugly. It's definitely easy to get insecure about yourself going on Instagram. I just remind myself that God made us beautiful and I wouldn't change anything. I try to post motivational and inspirational things [and] try to spread awareness. Girls always message me that my pictures and posts make them feel confident in who they are. That's something and I'm trying to do my part."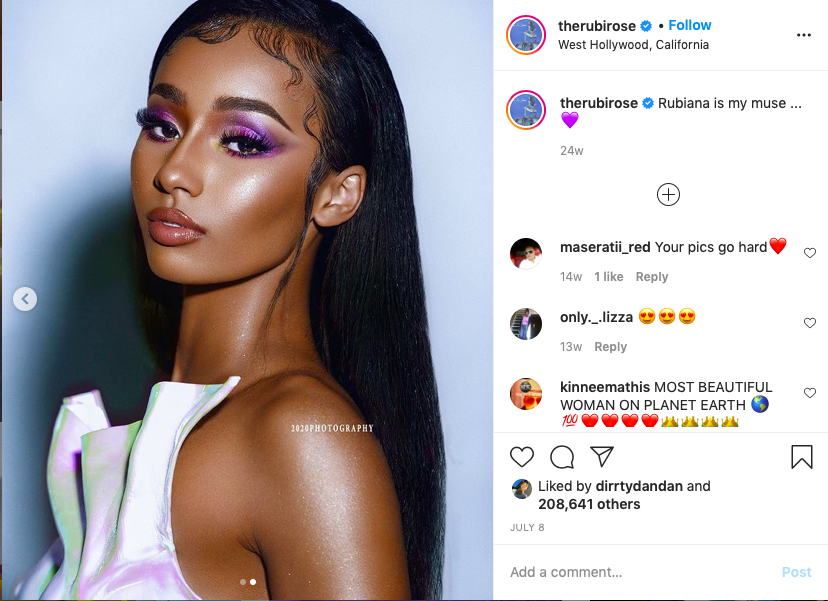 As we praise female rappers like Nicki Minaj, Lil Kim, and Cardi B for all of their success, it is imperative to empower rising women in rap music that have created their own lane and are killing it. Despite being a reserved individual upon meeting her, there is a fire in Rubi Rose that makes her so magnetic. Her unique voice matched with her hustle mentality is the root of what makes For The Streetsa memorable project. Considering her career just began to garner momentum last year, it is wonderful to see all that she has accomplished in just a few years. We look forward to what Rubi Rose has in store for in the future. Listen to For The Streetshere.