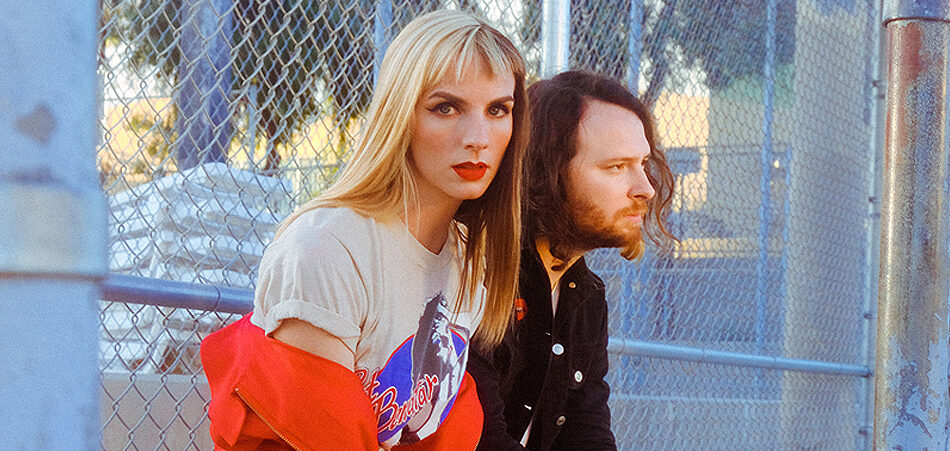 The first pump returns thanks to the glorious fists of Los Angeles-based duo Broken Baby. "My Head's a Television Set" follows the social commentary exhaustion bestowed on "Royal Pigs" but doesn't allow space for a rebuttal, running solely on adrenaline - an act that isn't surprising based on their debut LP released last year. If anything, Amber Bollinger and Alex Dezen prove there is an art to anger.
The track's precisely centered philosophy pulls from punk's ethos. Built around the commentary by Bollinger that we "live inside our phones," the obsessive scrolling is absorbed until we are "spewing it back out," essentially making us all "walking billboards [and] televisions." Bollinger manages to still set off a melodic fuse to her aggressive words that bleed out on each verse. And while any short-fused, questioning adolescent could preach about the ramifications of social media, it would be just that; a messy sermon.
Broken Baby's dismantling comes with a tactful construction and polished chord progression. The simplistic and emotive drive is balanced yet still chaotic. It's enough to rile up a listener and become embedded in their brain without losing that spark. Pushed out from their own anxious delivery, that track and the duo never lose their sense of control. If so, it'll be at their own command.
Snare cracks free fall to a flurry of distortion and constant strums by Dezen that pierce the track's break. The two never take lead on the track, but rather feed off one another's energy for a direct punch. Equipped with a sharp mind and fast paced expulsion, "My Head's a Television Set" sets the tone of a stronger package to come from the LA band.
Broken Baby's tour with Tummyache kicks off next year with stops in Dallas, Austin, and throughout California.
Connect with Broken Baby: Facebook | Twitter | Instagram | Soundcloud | Spotify