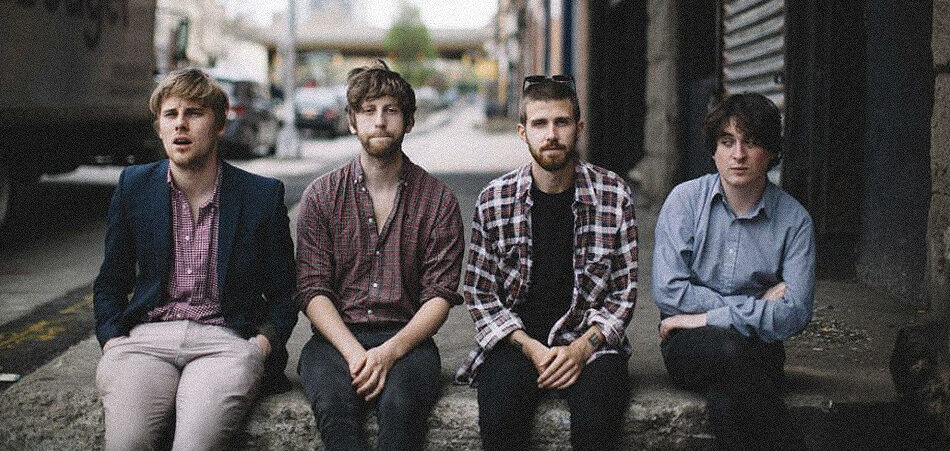 It's been four years since Irish rock band Girl Band released their debut album Holding Hands With Jamie. An entire four years since the quartet shared their boundary-pushing, experimental noise rock with the world. Now, the band return with their sophomore album The Talkies, another exposure to glitchy, abrasive and often absurd rock. Speaking to EARMILK since the release, bassist and album producer Daniel Fox sits down to discuss recording processes, the band's unexpected influence and award nominations.
Unveiling their gritty body of work in the shape of The Talkies, Girl Band project a brash, audacious musicality. With bleached erratic guitars and playful basslines, the band ignite a passion for creating mechanical wizardry. Along with an array of positive reviews and adoring fans, the album continues to prove itself to be another prestigious collection of songs. "I was curious to see what people made of it," Fox admits. "But I think we all generally make music for pretty self-satisfactory reasons, so we try not to think about [it's reception] and just trust our instincts on things to just do whatever we want to do."
"It's cool that it's going down pretty well," he declares. "We were pretty happy with it and thought it was a really good piece of work when we finished it, so it's good to see that reflected in people's reactions."
Cutting their tour short in 2017 and taking a well-needed break, it's apparent that this time out of the industry has worked wonders not only for the band personally, but for their craftsmanship too. In fact, Girl Band's visceral nature and eclectic way of producing ear-splitting sounds is a trait which makes them one of the most exciting bands to come out of Dublin, perhaps ever. Pumping gritty guitar lines with signature clashing melodies isn't something that you might instinctively choose to listen to; but with these Dublin rockers it's a sound which is obsessive. A sound that you want to immerse yourself into because it's just so damn addictive.
Fox explains: "The first record was kind of just where the live set was at the time, and we wanted the record to be like that too - a good representation of what the band was like live. I guess we learned from that process, but at the end of it we knew we had done that idea and we wanted to move forward from that. This one was much more put together with it being an album in mind. So a lot of the sounds self-reference each other between songs and a lot of it is in the same key, stuff like that. The fact that we weren't playing gigs a lot in that time helped with that, really getting into the writing of it."
The main difference between the two albums is that there's a clear growth in them wanting to obliterate the boundaries of what it means to be a rock band in 2019. Whilst Holding Hands With Jamie experiments with sounds to a degree of illogicality, The Talkies presents absurdity with a sense of assertiveness.  "I would hope we have evolved as artists," says Fox. "I think we're always trying to push ourselves, it's kind of the death knoll of a group to get too comfortable and complacent with it, the fun is in the challenge."
Girl Band's releases are incredibly unique, with many of the songs across The Talkies appearing like a stream of consciousness. It's bold yet fragile - perhaps a reflection of the society we're living in today? Or maybe just a take on the tenderness and complexity of the human mind? "Dara does a lot of 'streams of consciousness' and then edits it from there" explains Fox. "He'll have the melody first, so fitting the lyrics to that and then fading meaning after. It all becomes clearer when it's down on the page."
"I would assume [the album] means different things to us individually" he tells. "It was written over a long period of time, with ups and downs with the band and in life in general, so it feels like a kind of personal thing, like really tied to a certain period of my life."
Despite only just releasing their second album, the band have played a huge role in influencing fellow Irish bands including the likes of Fontaines D.C. who have been very vocal about Girl Band paving the way for Irish bands overseas. "We didn't really think of it," Fox says. "At the time you're just trying to do your own thing and make music that you're happy with. So it was definitely surprising when people started citing us. But yeah it's cool, we're totally flattered!"
With an influx of Irish bands absolutely killing it right now, it's hard not to point out the Irish punk "wave" that we seem to be riding over the last 12 months. "It's a little hard to think of it as a wave" states Fox. "There's always been a load of great Irish bands around. It's kinda funny that it's very in the eye of the international press all of a sudden and thus becomes a wave, you know?"
"There's a lot of good stuff around at the moment. My favourite Irish gig I've been to lately was seeing Dundalk legend and songsmith Jinx Lennon do his own particular brand of absurdity. He's been around ages, a real overlooked Irish legend," he continues. "But there's a bunch of bands I really like, we have Silverbacks playing some shows on the EU tour and also Powpig playing with us in Dublin, both of whom are class!"
Heading back out on a short EU and US tour throughout November - including a sold out night at Electric Ballroom in Camden, London - this will be their first full tour back since cutting their 2017 dates short. But as a band, are they looking forward to heading back on the road to perform? "Yeah! We're totally excited, it's been ages and we all really like playing live. A lot of the record is done pretty much live so it's not a huge leap to get it ready to play," says Fox.
With the likes of fellow Irishmen Fontaines D.C. and experimental group Black Midi being shortlisted for this year's Hyundai Mercury Prize, is it time that a hybrid such as Girl Band are nominated for the prize too? "Ha, I don't think we really think about awards and things very much" says Fox. "[But] I really like that Weyes Blood album that came out this year [and] also the Black Midi record, both are really great in very different spheres."
Yet modesty aside, The Talkies is an album that deserves more than just critical recognition, it's an album that challenges all the existing norms of what rock should and can be and places Girl Band amongst the very best. It's a clear statement of their artistic intent and their dedication to produce their finest work regardless of outsider critique. Girl Band are a four-piece breaking down the wall of 'genre' and smashing it into pieces.
Connect with Girl Band: Twitter | SoundCloud | Facebook