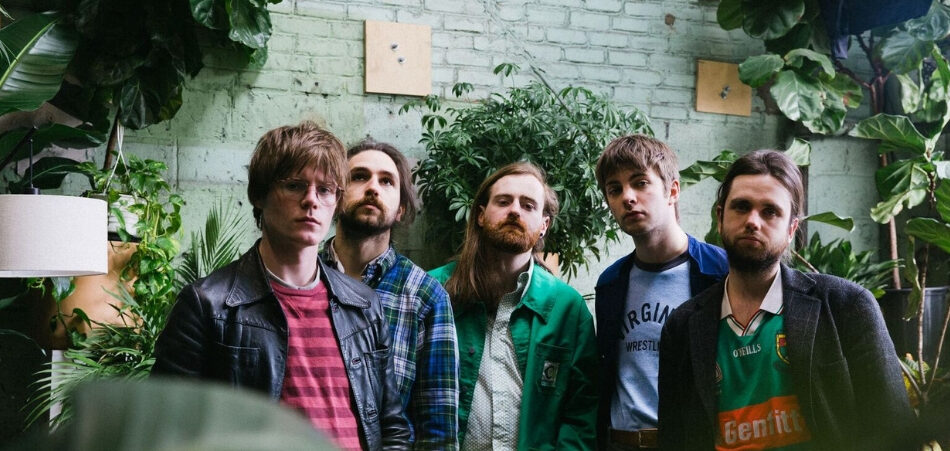 The first few months of 2019 have been a whirlwind for Fontaines D.C. From treating Texas crowds to punk-fuelled riffs at SXSW to performing at the prestigious BBC 6 Music festival, the Dublin-based quintet have been spreading their riotous sounds across the globe. Since the release of "Liberty Belle" in 2017, the band have been crafting their uniquely incredible hybrid of ferocious rock. Whether mocking opportunities overseas on "Boys In The Better Land" or declaring their love for their city on "Dublin City Sky", the boys continue to explore their versatility by diving into rockier musical trajectories before projecting their softer, blues-led sonic abilities.
Their debut album Dogrel, a derogatory term for a verse in a poem considered to be of little literary value, is released on 12 April, via Partisan Records. Highly anticipated and hotly tipped, the album captures the raucous energy of the band, catapulting them into the eyes of many. "It'll be a real test to my self-esteem to remain not nervous in the moments leading up to the release" says frontman Grian Chatten. "Also to have [the album] so highly anticipated, it's nice but sometimes it's something to ignore."
"Compliments can be just as damaging to the ego as insults, so I take absolutely everything with a grain of certainty. That's how I watch my mental health. Confidence can invite and sort of draw your focus of self-evaluation out of your own being and into other people's hands. That's not what I want to do.. I can't be losing track of myself this early on" he laughs.
Releasing Dogrel as an outlet to tell tales of the Irish city, Fontaines D.C. have explored Dublin's stories in the best way they possibly can - with brash guitars and gritty drawls.  "All we've tried to do is reflect our surroundings as much as possible," says Chatten. "We've let ourselves become more cultural with our surroundings. The only change we've really tried to instigate is an internal one, it's the one within ourselves."
With Chatten being the only member to have grown up in Dublin, the record is characterised by an amalgamation of Irish flair. Whilst most bands, whether UK based or not, draw on influence from London's visceral personalities, for Fontaines D.C., trying to steer away from the typical city's influence has been a vital part in providing the foundations for their debut. "For the last couple of decades, Ireland has pretty much been looking over to London for inspiration. It's only beginning to cut the creative umbilical cord now. It's the first time in a while and I think the reason for that is Girl Band. Before that, the way Ireland was represented to us through music was in a very traditional sense, but it was in a sense that didn't really ring true with us. So I think that because Ireland is discovering itself and its own identity again, in a kind of modern life, we'll be looking a little less towards the UK for inspiration."
Chatten's mention of Girl Band isn't surprising, he's brought them up in various interviews previously, and continues to fly the flag for the Dublin rockers. "Girl Band are in my mind, in a strange way, quintessentially Irish... but in a more modern way... a way that's genuinely applicable to Dublin and the Ireland we see around us now and the youth in Ireland in 2019. Girl Band reflect that quite fairly."
Touring with South London based witty rock band Shame saw Fontaines D.C. open to wider audiences. Whilst on tour Chatten discovered that one of the members of Shame's grandmother was best friends with his grandmother for over 40 years. "It was quite a nice connection rooted between us" says Chatten. "Touring with Shame was great because they're the same age as us and read similar books. We just really loved the craic."
So with a successful tour with Shame under their belt, an upcoming tour alongside label mates IDLES in the pipeline, and numerous festival performances lined up for the summer, the lives of the quintet show no signs of slowing down. But then again, why stop something when it's working incredibly well?  
Despite his ambition to become either a poet or a musician, Chatten explains that he probably wouldn't have got this far if he hadn't met the other lads. "I'm not really a singer at all," he quips. "So it was quite difficult for me to get used to hearing my voice like that, but again, I think that's a very valuable lesson for me." In fact recording the album was challenging for Chatten, "I wasn't expecting it to sound so raw". His spoken word-like vocals muttered through his thick Irish twang have also gained him comparison to The Fall's Mark E Smith. Although claiming that it wasn't a stylistic choice "so much as it is a choice to accept myself", Chatten's accent emphasises the words he speaks. It's his outlet for both self-expression and self-belief.
On stage however, Chatten's presence can be likened to that of Ian Curtis. His sharp movement and almost provoking stare sees him capture the essence of the Joy Division front man; "I do see similarities" he confesses. "But I like to believe, and I do believe, that I arrived at my performance style independently. I suppose I take pride in the way I have discovered where I am on stage by myself."
Whether the powerful declaration of "my childhood was small, but I'm gonna be big" sparks your determination to become something more or the lyrics on "Chequeless Reckless" - "a sell-out is someone who becomes a hyprocite in the name of money" - inspires you to become a witty wordsmith, Fontaines D.C. have crafted a punchy, thought-provoking debut. Dogrel is an intelligent record, pieced together by five like-minded individuals with the same goal, to make music that means something.
"There's a definite degree of honestly in the album and there's a lot of genuine people in it" says Chatten. "We really bared into it y'know, so I suppose out of respect, it would be nice to know people are listening to it because there's a real sense of humanity on it. But at the same time if people don't want to listen to it then that's fine. As long as my ma likes it..." And with that, Chatten's mum is the only real critic that matters.
Connect with Fontaines D.C:  Facebook  |  Instagram  |  Twitter