We really do get by with a little help from our friends, but don't worry this doesn't lead to a trip on the yellow submarine, but towards the open invitation of an anti-pop parade led by Sorry Party. Instinctively, there's a sly grin that comes as a result of any apologetic gathering, one which the Los Angeles-based band wear confidently and even more so on their debut album, Saw It Coming, which is officially out on all streaming platforms September 27, fittingly closing an exciting week that held their title track premiering on KROQ's Locals Only.
We each resided in our spaces due to schedule conflicts and were saved by technology. Budding from a genuine friendship, the infectious warmth between each member welcomed the conversation. Ned Durrett paced himself with the mahogany liquid that filled a clear cup. Each thought called for a drink and the meeting of ice cubes clinking against the glass seemed to affirm his lines. Cassie Gaffaney caught my lazy eye throughout the hour as she migrated from room to room catching a breath from her dog, while Chris Clark's sound personality, and the bottom of his drink, swam throughout the screen. Though the ensemble couldn't have been completed without the quick quip of Ethan Arlook, that came and went as he did, hilariously burning Radiohead when I recollected later that night, crying to Thom Yorke's voice. Overall a type of friendship that could only deliver this album and the changes it embodied.
It's a clear indication of a rebirth, acting as the debut since rebranding from Ned and The Dirt, and reads the next chapter with the jubilant glee of a child. Saw it Coming carries a heavy weight for its 9-track composition while finding humility in the motions of life. Double releases such as "New Life" and "When Were You Gonna Tell Me?" echoed these sentiments since April and allowed listeners to hear another version of the band's story.
The sincerity from track to track does go through the motions and follows loss, heartache, and even anger in all its stages, but doesn't dwell. We hear Durrett having an epiphany on "Toothache" — "They tell me if I go straight, I'll feel better, feel better / Get a job, stop chasing fate, I'll feel better, feel better" — but only at the communal backing of his bandmates' shouts, a common theme on and off the stage.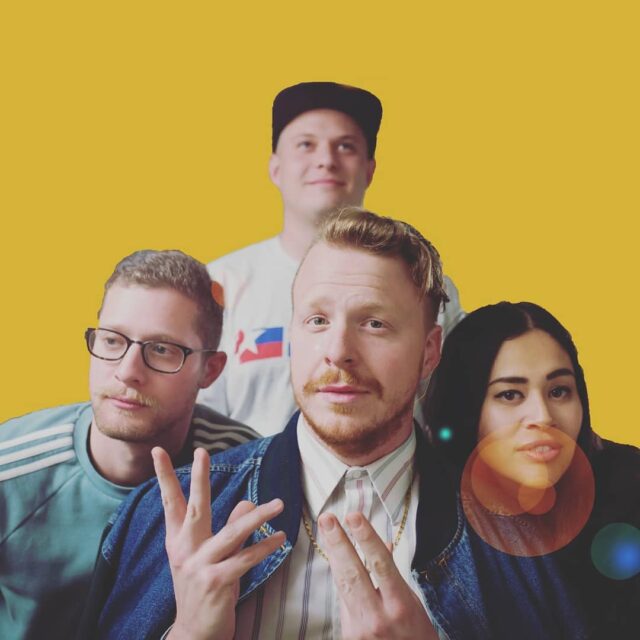 In between being mistaken for an Americana or singer/songwriter unit and hearing the same exhausted line, "[if] you're Ned, then you guys must be the dirt," the shift came at the feet of solidarity. A feeling which Gaffaney expressed she always wanted to be part of the band but didn't want to join 'Ned and The Dirt.' "I wanted to join a whole new chapter and I think that's totally what we've done here and everyone is so excited."
"I think Ned and The Dirt was really good for what it first was, in essence it was a way for the band to still [be] kinda malleable as far as members go," explained Durret. "But this, this band really feels like 'the band.' And everybody is involved and everybody is throwing their hat in the ring for different ideas, and songwriting, and branding, and business decisions, and it's just, at some point we have to respect that and respect where the band is at right now and actually name us."
Durrett broke for a sip of that mahogany drink, as I brought up the album's roots around divorce, and questioned the balance of such intimate, almost invasive lines, publicly, while keeping intact the sound of the band. That balance immediately came at the echoes of Clark's straw, who seemed to be unaware how well that microphone was as it drew a smile on everyone's faces, but allowed Durrett to assess the question.
"That balance is found in kinda taking the scariness away from vulnerability and being vulnerable," said Durrett. "And we are owning the expression and the subject matter and really reaching out to people to say here is what we're about and here is what our songs are about and no-holds-barred.
"That's the whole point, part of the anti-pop parade idea that we're pitching. We're kinda branding ourselves as going against the grain whereas pop music can sometimes be pretty surface level but with the same, you know, ways of hooking you in, ways of making you feel related to and understood, but we wanted to reach people who don't usually feel related to and understood by those kinda songs. And who are longing for more and who are wanting for more of a connection to the band then just like 'oh I went out the other night and I met somebody and we fucked' and we wanted there to be a level of intimacy, like you said that is very familiar and honest and easy to access and all of it."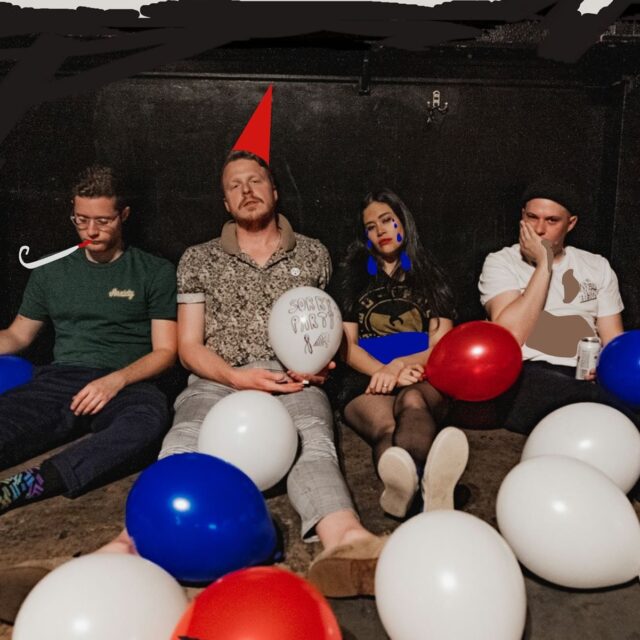 The anti-pop parade allowed for big, sentimental ballads, and in the same hand, a crunchy punch of alt-rock, which were two halves that Saw It Coming carried gracefully. Tracks like "Quiet Sound" catered to a tender notion, whereas "Hit A Wall" wore a scar, one that caused hesitation being added to the album but was encouraged by Clark.
"You know just as like Ned's best friend I just know how much that song eats him up and so I said let's just do it once, we'll record it, and then whatever it gets, we're not gonna do it twice, let's just do like one pass, and let's just be done, right, and so then he took the one pass at it and that's what is on there," said Clark.
Disbelief of it being one take, Clark quickly countered, "One and done." The steel strings and feedback that live and breathe on "Hit A Wall" walk slowly down a two-way street of an unfinished talk and completion. 
"And it was not planned," continued Clark. "It's like we literally just came in on lunch and I said, we all said, it would sound really cool to do a song, like the album would benefit from having a broken down song, or just acoustic and vocals. And then it's like dude you have to do that, like that song rocks. Let's just hit it once and let's just see if it sucks we'll move on and forget the idea… and it didn't suck."
"One of the things is that I hadn't played it in a year, you know, and Chris was like 'do it, you should do that song,'" adds Durrett.
Clark's encouragement spoke more of his friendship with Durrett. As personal as the lines seem to be from Durrett, the bigger picture that is often overlooked are those who aided us through life's tribulations. Saw It Coming continued to take on different meanings throughout the conversation. In that moment, eyes weren't set on the betrayal of a relationship, but the family bond that came from the band. And of course, this encouragement deserved a congratulations. Clark accepted it with his signature smile. "You know, I live to serve."
Sitting perfectly near the end of the album, the most human aspect came to life with "Hit A Wall" and the title track that came to fruition in a similar manner. 
"'Saw it Coming' was like that too though, to be fair, when I wrote it. Like I'm not a mean person, it's really hard for me to be angry towards anybody and that song was like my first ever mean song," recalled Durrett. "The whole idea of 'I hope you hurt,' like that was pretty real and that was true. And in that moment I was feeling it, and had to let it come through, and talk about the thing that both Chris and Cass has helped me out with a lot."
Gaffaney laughed. "I was gonna say I really hope I can help inject some meanness."
Adding to the personal and raw touch, the album saw a touch of "magic" at the caress of Durrett's hometown of Spartanburg, South Carolina where he confidently explained it would be a disservice to go elsewhere. Tracks such as "Back East" continued to affirm that Durrett's "outlook hasn't changed," backed by prominent, and personal favorite bass lines, and thick drumming. And through the emotionally sharp lines it raised more questions of why returning home to record the album was even an option to self-inflict remembrance. Simply put, it just felt right.
"I don't know, there were so many memories in that town and so many songs that are looking back towards that town… and it just felt like there has to be some sort of- because a lot of those songs are looking back there's a little bit of magic in the air, there's a little bit of, I don't even know [if] there's a word to put to it, but I think there's a little bit of fairy dust kinda making these songs in a place where so many find themselves already."
Almost nearing a year since its initial recording with fairy dust and all at Archer Avenue Studio, Clark and Durrett both exhausted an anticipated sigh of relief as release day was in full view.
"Oh my god, finally," said Clark. "You know I'm super proud of this record I want people to listen to it, and kinda what we all touched on, we're ready to record a new record. You know, I'm gunnin' for more… I'm really excited for people to listen to the last song because we haven't liked touched any of the couple last songs—"
"We haven't even played it at shows yet," countered Gaffaney.
"Yeah. Chris kinda alluded to it but we've just been sitting on this record it feels like," continued Durrett. "That's the bad part about the double release schedule it's like we just want so badly to get it out to everybody…so yeah we've been sitting on it for what it feels like forever and we're just so excited to have everyone listen to it and we did envision it as an album. It's exciting to think of people listening to it in full order that we intended it."
Despite the catalyst that crafted the album, the ending seemed to be the first peak for Sorry Party. Broken sentiments might have written certain tracks, but didn't write the band's future. This wasn't a time for mourning, but one of celebration. One where peace was reflectively found and more importantly, reassured with friendship which was evident as each member gushed over adding Gaffaney to the band, to laughing at Durrett constantly sweating during the Blind Covers' segment, and of course,  getting on Arlook's case for his impeccable timing.
"You were close, you said 'like I've definitely heard this song,'" Clark reassured Durrett as he recalled still being upset about not knowing Brooks & Dunn's "Neon Moon."
"They didn't put that part in because it's not as good T.V.," replied Durrett. "Also my father really wanted me to know that he was not disappointed in me and he's very proud."
Sorry Party's album release show is Monday, September 23 at The Hi Hat, presented by KROQ's Locals Only and will be officially released Friday, September 27.
Connect with Sorry Party: Facebook | Twitter | Instagram | Soundcloud | Spotify