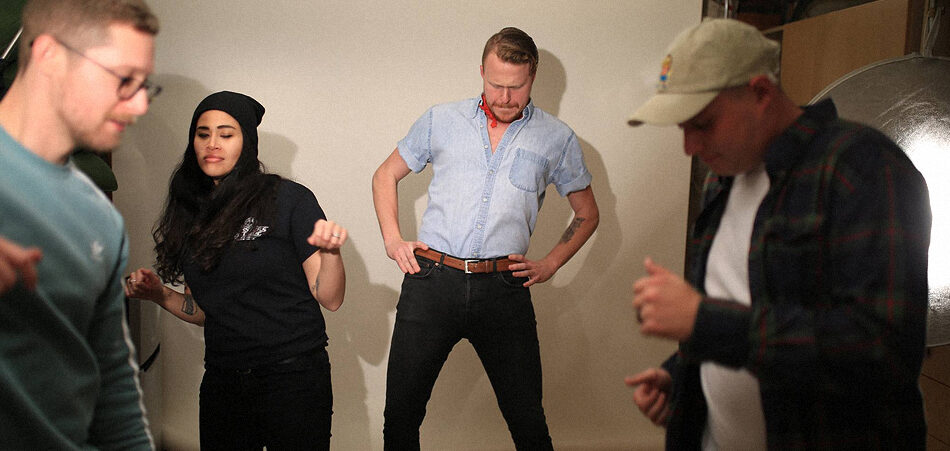 Los Angeles-based band, Sorry Party, have been hard at work pushing out couplets of singles this year since they've re-branded from Ned and the Dirt. Each pair released by the self-proclaimed "anti-pop parade" have adhered to a selective scheme of sound and emotions, rightfully forming a conceptual timeline that appears to be leading up to their debut album. On their latest double release, "Fufti" and "Quiet Sound," Sorry Party's overall tone leans towards sentimental, alternative-rock ballads filled with emotional completion.
Led by frontman Ned Durrett's authentic disarray and vividly penned lines, the first of the double release, "Fufti" (Fix Us From The Inside), is a candid take of numerous attempts at fixing a troublesome relationship. Lines like, "I got too high last night and drove home in the dark / I kissed your eye last night and now I see we're growing apart," bluntly set the scene, pushing past denial into a realm of acceptance.
The track paces itself musically to each line sung by Durrett and welcomes communal backup vocals by the band for a softer finish on the overdriven guitars. A favorite component of this track is the arrangement and break. Past the two-minute mark could've easily wrapped the melodic vigor and deep, gruff of Durrett, but bassist Chris Clark and guitarist Cassie Gaffaney fill in these audible pockets and neatly control the track's momentum.
Dissolving from the tail end of its predecessor, "Quiet Sound," is a literal emulation at first. Bare vocals and warm strings are strummed gently and echo against, what seems to be, an isolated room that is picked up on the production. Distorted guitars then burst for a slower burn towards a contemporary infused, Americana kick that swings past Durrett's vocals back to Ethan Arlook's drumming. It is simply a tender cut yet rough enough to adhere to the band's deconstruction of pop hooks. There's also a wide spreading field that is heard more than "Fufti" but acts as the next step in completing a specific timeline, sensibly tying the tracks together.
Sorry Party will be performing at Los Angeles' Echo Park Rising this year, at Sick City Records, Saturday August 17 at 10 p.m.
Connect with Sorry Party: Facebook | Twitter | Instagram | Soundcloud | Spotify