I can't believe I'm saying this, but in three weeks (August 3rd and 4th), the West Coast's best summer electronic festival HARD Summer returns to SoCal for its 12th installment. Over the past twelve years, HARD Summer has been the go-to festival for electronic acts on the verge of stardom, offering headliner status to tomorrow's superstars and even predicting the musical collision between electronic music and hip-hop.  HARD has given streaming stars a live platform from which to deliver the highest quality electronic music, proving to be a consistent barometer of what's next in music.
This year is no different, as HARD Summer welcomes electronic music's most buzzed about stars — from the booty shaking house beats of legends like Claude VonStroke, Duke Dumont, and Justin Martin to the heavier EDM assaults of Kayzo and GRAVEDGR. Of course, there's still the acts that will be dropping the crowd-pleasing bangers that'll hype up the party with Major Lazer and Kid Cudi rocking the main stages. Add in the sure-to-be mesmerizing bass performance from Alison Wonderland as she continues her domination over the dance industry, fast-rising electro-pop acts like Kasbo or Whethan and this lineup is a treasure trove of dance music bliss.
So, to whet your appetites for what is sure to be a crazy weekend, HARD Events have teamed up with Earmilk to present the next installment in the HARD Summer Mixtape Series, and on this occasion, we have an exclusive mix by none other than GG Magree. 
Hailing from Sydney Australia, GG's energetic performances have delivered on trap, hip-hop, bass house, and everything in between. Having supported the likes of Pharrell, T-Pain, Azealia Banks, Wu-Tang Clan, Naughty By Nature, Die Antwoord, Jauz, and NGHTMRE, GG is rapidly being recognized by the international music scene as the girl that simultaneously goes hard, but keeps it sexy. The mix above perfectly encapsulates that exact attitude, and is arguably the perfect introduction to a HARD summer weekend. So check it out above, and make sure you check the links below for more info on one of the best fests on the west. 
Track List:
Billie Eilish – wish you were gay (GGmagree) 
Illenium (Company Remix) – Free fall  
Skellism – set me free  
Illusion –   bassnector & peekaboo 
Heart – Laxx and GG magree  
Seven lions and Slander – First time  
Grimes – GO 
Black tiger sex machine & Sullivan King – Madness    
Deftons – prince  
Billie Elilish – My boy – (Troy boi edit)  
Closer to porter – Four Colour Zach .  
GG magree. – I wanna loose you  
Madeon – Imperium (blanke Edit) 
Black tiger sex machine – Zombie 
GG magree – Bodies (Lick Remix) –  
Billie Elish – Burry a friend 
Illenium & Said the sky – Sound of where'd you go 0  
Marilyn Manson – Slo Motion (Dirtyphonics remix) 
RL Grime – Vahalla  
Reaper – Tommy  
Hex Cougar – Silence  
Tatu – All the things she said  
Jauz and GG magree – Ghost 
Kayzo – Wasted  
Dj snake and Epic – South Side  
Big wild – Heaven (GGmagree remix) 
Connect with GG Magree: Official Site | Soundcloud | Facebook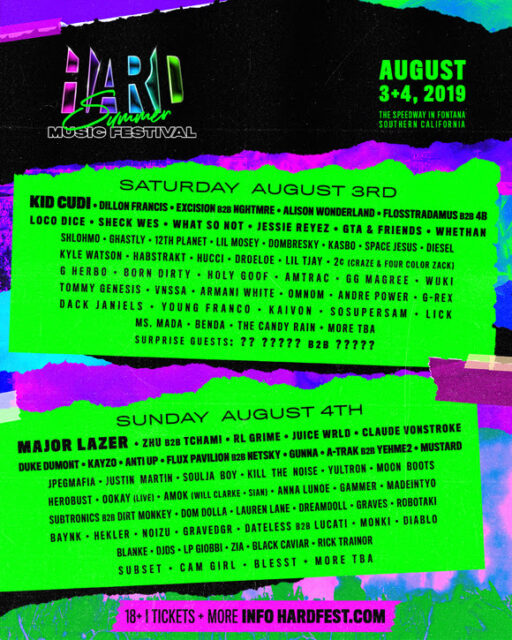 Connect with HARD: Official Site | Facebook | Instagram