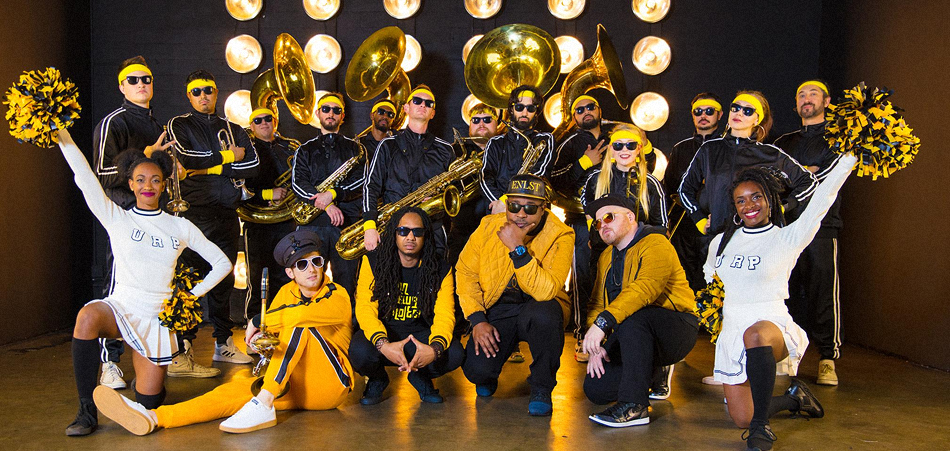 A bleacher-stomping, HoCo dance party hit, The Urban Renewal Project has released their new single entitled "Shake Those Hips". The energetic song features pep-band flair, bouncing sousaphone lines and a throwback sound evocative of The Pharcyde and Outkast. A nod to old school hip-hop, this up-tempo vibrant track is all about kicking back and cutting loose.
Back on the scene and stamping their mark, the sixteen-piece collective, The Urban Renewal Project, are showcasing a live-band hip-hop aesthetic that definitely sets them apart. Between coast-to-coast tour dates with rap legends Camp Lo, and a transpacific festival appearance in Jakarta, Indonesia last year, the group has still found time to record new material. With irresistible rap hooks, powerful horn lines and a large dose of live drums, they strive to create an updated version of hip-hop's golden age.
Long-time collaborator Elmer Demond and his laid-back flows are joined by the unpredictable newcomer Slim da Reazon, as well as the band's once-and-future bassist Dustin Morgan, a.k.a. Yung Jinja, now on mic. The trio rhyme over instrumental grooves crafted by bandleader R.W. Enoch and the group's 13 instrumentalists, while Alex Nester delivers effortless soul, pop and funk vocals to complete the ensemble.
"Shake Those Hips" is a funky, fresh tune just begging to be danced to. Rappers Slim da Reazon, Elmer Demond & Dustin Morgan are leading the squad and their aim is for listeners to show their moves. So get ready to get down with The Urban Renewal Project as you 'shake those hips'.
Connect with The Urban Renewal Project: Facebook | Twitter | Instagram