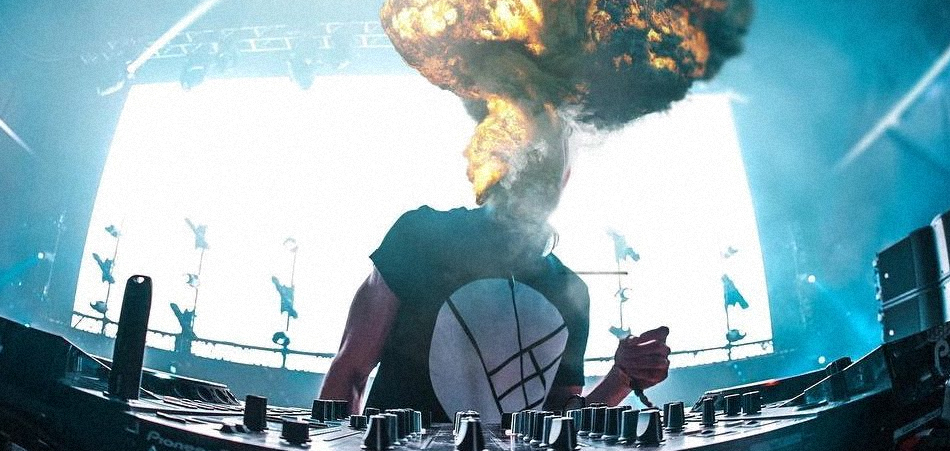 On July 26, over 30,000 festival-goers from around the globe will descend up one of Europe's largest indoor venues for a colossal amount of bass and metal wrenching dubstep music. Rampage will be calling the Antwerp Sportpaleis their second home for a two-day festival offering up a diverse lineup and out-of-this-world production. Atlanta based producer Hayden Kramer will be hitting the decks this year to immerse fans with an insane amount of jaw-dropping bass and destructive sounds.
Before you are encouraged to ride the rail with your fellow bass enthusiasts, we had the opportunity to catch up with Herobust as he prepares to take on the return of this large scale festival occurring on March 29th and 30th. 
EARMILK: As a student, you took a break from producing in College for four years while you pursued your major in biochemistry.  What really inspired you to go back into producing music? Were there any mentors in your life who gave you a little push to pursue your passion?
H: Well, I was thinking I would go into the medical field, as my dad is a heart surgeon and he was a big inspiration for me. However, during that time I was still making music, playing shows and even had a manager. Then in that critical moment, where I could go off to med school and my manager was thinking of going to law school, we both looked at each other and were like, "or we can be successful with this DJ shit"... and now I'm here.
EM:"WTF" became a dub-step anthem evidently praised at Lost Lands Music Festival this past year and not to mention the climax of your tour. Can you break down how you constructed such a dynamic and hard-hitting track?
H: It all started with how I heard the phrase, "what the fuuuuuu", and I wanted to really get to the core of the feeling that is always behind that statement. If you listen to that track, you can find that WTF is in the very DNA of it. From the drops metallic beats following the natural cadence of saying it, to the outlandish sounds that you're hearing. I think it connected with people because it was so easy to connect that feeling to it.
EM: One of my highlights of 2017 was your set at Shambhala Music Festival when you threw it down at the Pagoda Stage. Would you say you adjust your set according to the certain vibe each festival entails?
H: Oh yeah. I think a few people know this, but I don't come with a specific set put together. I have songs that I'm gonna play out, but then the rest is to see where the people tell me they wanna go. You have to maximize the use of energy in a room, because it can't be hitting 10 the whole time, you have to have solid dips that are still engaging. I like to leave myself with some wiggle room to go somewhere wild with the crowd.
EM: Rampage is known as the largest drum and bass festival in the world. As you must be excited to play it, what can your fans expect this year in Belgium? Any unreleased tracks that will be incorporated in your set?
H: Its good to assume that I want to have everyone saying WTF everywhere I go, and for a world-class show, I have to be bringing my best. So everyone should know that I'll have some surprises in my set!
EM: You have been extremely popular in terms of the memes being shared on social media. For example, your bass face with Getter and Ookay during Holy Ship. What is your reaction to these kinds of images trending?
H: I have a very expressive face, and I know that about myself, so most pictures of me performing  I can see ending up as a totem or on a shirt! Haha! I like it though and I like that people can have fun with it. Some people get real creative and that makes me happy!
EM: Where do you see yourself in terms of your production style for 2019? Are there any details you can share with us regarding future releases?
H: I definitely want to make something that lasts. Something that can cut through the never-ending cycle of music releases in EDM. I have a lot of sound experiments that I want to show the world, but I want to do it in a way that moves the genre forward in a positive way.
Catch the latest information from Rampage here, and prepare to get busted on Saturday March 30th when Herobust prepares to release some new neck-breaking dubstep cuts. 
Connect with Herobust: Instagram | Facebook | Twitter | Soundcloud