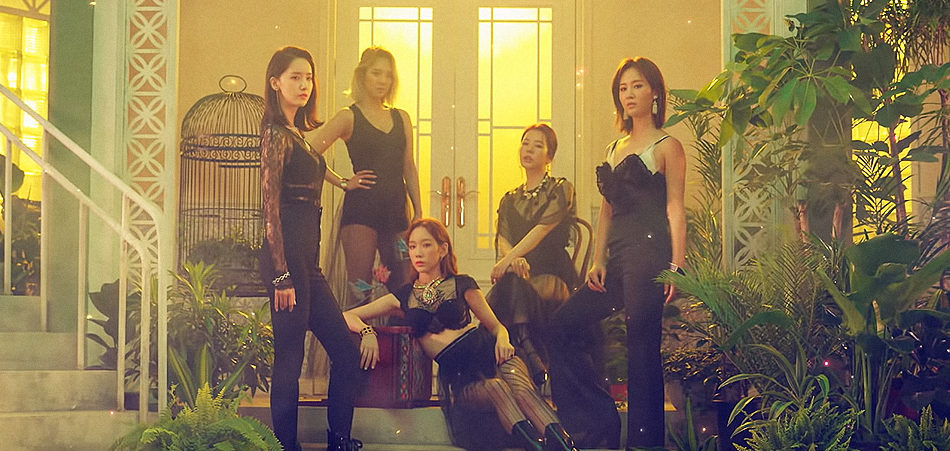 Girls' Generation sub-unit Oh!GG has made the dramatic entrance fans have been waiting for, flexing their K-pop royalty status. The South Korean quintet, comprising Sunny, Taeyeon, YoonA, Yuri, and Hyoyeon, released their long-awaited first digital single "Lil' Touch" on September 5, along with its energetic, sultry visual, and B-side "Fermata."
The upbeat, seductive "Lil' Touch" is a very fitting choice to herald the new unit, as it showcases both the powerful pipes of each member and their cohesiveness as a group. The bouncy bass line and rhythmic claps mix with a flowing guitar on the melody line, and help support vocals that seem to echo like the haunting enticement of a siren call: "just give me a little touch." The theme of the song is also suspiciously apt for Oh!GG's first introduction to fans. It's about waiting for a lover to make the first move — "quickly," they sing. Just as they do in the song, they're currently putting themselves out there in real life, hoping to get some love back.
The groovy slow jam that follows, "Fermata," is a contemplative track with an acoustic backbone, overlaid with dreamy electro zings. The lyrics poetically talk about taking a chance on love — the title, "Fermata," refers to the musical notation that denotes taking a pause of unspecified length.
Girls' Generation in its original nine-member form first debuted under SM Entertainment in 2007, and quickly became one of the most notable girl groups of the time. The most recent release from the group was last year's 10th anniversary album, Holiday Night. In 2015, a year after member Jessica left, however, SM created the first Girls' Generation sub-unit called TTS, which included members Tiffany, Taeyeon, and Seohyun.These members have since gone on to pursue solo careers, leaving the five women of Oh!GG ("oh" meaning five in Korean) to continue to slay.
Connect with Girls' Generation-Oh!GG: Instagram | Twitter |  Facebook