This year's SXSW Music Festival saw more than 3,000 artists sprawled across over 200 different venues around the Austin area. Everything from transformed backyard house parties to traditional music venues outfitted with marketing promotions and company banners from wall to wall. This year, many of the major players we saw in recent years were absent. No more YouTube or even Spotify house were found and the continually falling Hype Machine is fully out of the scene altogether. But the fire of music discovery still burns strong at SXSW as labels, managers and independent artists seek to promote the best in new sounds coming from around the world. Here are just a few of the top acts that hustled their way from stage to stage and caught our eye this year: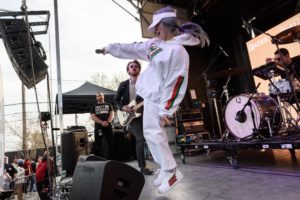 Drawing over-capacity crowds at the highly sought after Pandora Showcase and the FADER FORT, was Billie Eilish. We could try to forget that she's only 16 years old and focus just on the fact that she played a week of nonstop shows, met a slew of sound problems with poise and seasoned professionalism all while knocking the socks off of every fan at each of her performances. But the fact that she did this at such young age is worth noting. I'd label her a promising artist just on age alone because this is a pop musician with limitless vocal range and complete control, making her one of the hottest acts to catch this season. Already named an EARMILK 'Artist to Watch' back in 2017, this artist continues to be on the fast track to stardom. With her unapologetically candid stage presence, matched with a stunning vocal delivery, Billie Eilish is quickly on her way to total industry domination. So just step aside, grab some popcorn and enjoy the Bilie Eilish show!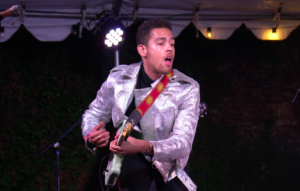 The Peppermint Club was ELECTRIC this night! Originally from Germany, the now Los Angeles-based artist NoMBe lit up the stage at SXSW this year with his high energy guitar playing (accompanied by a full band of bad ass female musicians) and a passionate voice delivering the type of electric soul music that leaves you dancing and cheering for more. Compared to the studio version of his work, NoMBe's live performance are lightyears more electrifying to witness. Jumping, dancing, rolling on the floor and going off into passionate guitar solos, this an artist who's leaving it all on the stage. Off the recent release of his debut album, They Might've Even Loved Me, this performer's charismatic stage presence backed by an overflow of natural talent has him lined up to have a breakout year.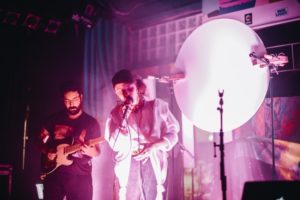 Electronic music boldly made it's way onto 6th Street this year, thanks to the ever heroic Ultra Music Showcase. The legendary music entity known for signing heavyweights like Calvin Harris and Avicii transformed a corner comedy club into a unique dance venue offering up some incredible new artists. One of the bands to really take hold this night was Salt Cathedral. Originally from Colombia, this now New York-based duo delivers a mix of electro-pop melodies, shimmering synths, and playful vocals. Salt Cathedral are inescapably catchy and their pop work is masterfully crafted to keep you on your feet dancing from start to finish. Gentle live vocals layered over live guitar play and fast-moving dance beats made them one of the top performances of the night. 
Photo credit: @ sonic highlark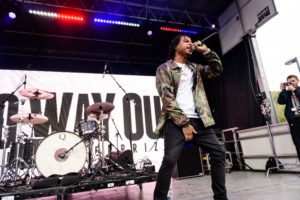 Although SXSW is meant for showcasing all genres of music, electronic music and hip-hop are still niche showcases that tend to be sought after separately. But FADER FORT delivered a wide range of different types of music to choose from with an onslaught of some of the best in new hip-hop artists tearing up the scene. One of the artists, especially, was G Perico. This LA-rapper brings style and bounce to his flow unmatched by anyone else who took the stage that week. His latest album 2 Da Left was a display of this urban poet's ability to paint vivid imagery through his earnest songwriting. An unbreakable rhyme flow spit over a clean production, G Perico is one of the top hip-hop artists on everyone's radar.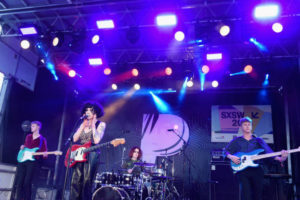 The Pandora Showcase continued to be a highlight for fans and industry folk looking to catch a proper stage setup with clear sound. And thankfully, the Pale Waves set delivered a memorable performance worth noting. This UK goth-pop band delivers sweepingly catchy melodies tied with coming-of-age lyrics that really connect with thier fans. This was one of the few acts I saw that drew a crowd of actual groupies. Most showcases are filled with industry folk researching new artists but people turned out for Pal Waves. Not only did they turn out but there was a group of fans stationed on rooftops across the street with views from the stage cheering and dancing along to every song. If that's any indicator of this band's growing popularity, then make sure you're paying attention!
Talk about an artist that opens up his soul to a crowd. By the time electro-pop artist morgxn is done with you, you've already exchanged the most intimate memories and shared the kinds of emotions that are best saved for drunken late confessions with your best friends. This is an artist who sings from the heart and his pop drenched synths and heavenly vocal delivery will have you mesmerized. He recently signed with Hollywood Records and with that will come the support to bring this talented artist to even greater heights.
7. Mt. Joy
The StubHub showcase on Rainey Street provided the perfect wooden stage backdrop for the Americana Alt -Rock sounds of Mt. Joy. This band is coming off the heels of releasing their self-titled debut album and their live performances this week highlighted the group's unique ability to keep that crisp clear studio sound but still adding some live instrumental flair. Not an easy thing to do at SXSW when most stages were riddled with poor sound, somehow Mt. Joy didn't let that hold them back from delivering a swirl of rich indie rock sound, catchy pop melodies and a bringing a total feel-good jam session to SXSW this year. This is a continuingly evolving band, still relatively young but with a sound that's only getting better and better, so keep them on your radar! 
8. Elohim
Early in the week was the Soundcloud Showcase located right over the freeway at the entrance of all East Austin's unique late-night offerings. While most staged were still pushing out Indie Rock, Pop and Hip-Hop shows, Elohim was holding down the early electronic tunes with a full DJ set of electro-pop tracks and showcase of her kick-ass voice. She stayed engaged with the audience through out her set brining a jolt of electricity that was felt throughout the crowd. 
9. Dermot Kennedy
Peppermint Club managed to create an intimate escape from the madness of SXSW thanks to the voice of Irish singer-songwriter Dermot Kennedy. Each delicate pluck of his guitar was matched up with a range of emotion filled lyrics sung by the dynamic performer throughout this short set. Kennedy managed to silence the busy audience, as they hung attentively to each note. His indie rock style sound is intensely melancholic as it is beautiful. Have you ever cheered and then cried at a majestic sunset, ya, that's kind of like watching a Dermot Kennedy show. 
10. Tank and the Bangas
Showtime Showcase brought the HEAT to Rainey Street this year with Tank and the Bangas. If this New Orleans funk band wanted you to jump, they got you to jump and in a music festival setting filled with "too cool for school" music industry professionals, getting a full crowd to play along is no easy feat but this band's onstage presence was purely memorizing and their energy was intoxicating. If adrenaline filled jazz funk, performed by an ensemble of talented multi-instrumentalists and singers, is what you are looking for then look no further than Tank and Tank and the Bangas.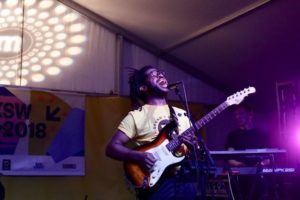 The Alternative R&B artist from Nashville R.LUM.R. was a fan favorite throughout the final days of SXSW. His performance at the M&M/Culture Collide showcase served as a display of this musicians masterful guitar play and vocal control. Heartfelt songwriting can be found in each lyric he sings and R.LUM.R's high hitting falsettos on his single "Frustrated" had the whole audience cheering for more.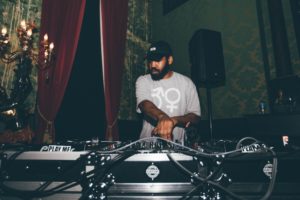 Did you really expect EARMILK to attend SXSW and not hunt down the best possible music filled late night dance party showcasing local musicians dropping chunky house and techno beats? Thankfully, ALL IN and TYFS (Thank you for sweating) brought the party to Austin and Houston DJ 9th Sage brought the jams! With the perfect mix of hip-hop and house, 9th Sage kept the party, for a lack of a better word, LIT AF! Of every showcase we went to this week, this was one showcase that brought the vibes, the music, and the perfect atmosphere. If I had the chance to just go to one venue/party over the course of our 9 days in Austin, I would happily return to this event every time