It's not been that long since EARMILK last caught up with Giraffage, we delved into his debut album 'Too Real' late last year. Since then, as well as touring all over the US, he's upped sticks and moved a thousand miles from his hometown of San Francisco to Austin, Texas.
During his European tour, last month Charlie Yin took a three-stop in England where he played The Jazz Cafe in Camden, then Leeds and Brighton. Just before he completed the Central Europe leg we had the chance to catch up with Giraffage over a sushi class.
It's a bright yet crisp Sunday afternoon in Shoreditch when EARMILK walk north towards Hoxton Square to meet Charlie. Tourists and London dwellers alike are nipping out of the cold sunshine into pop-ups and brunch spots, and we're on our way to a combination of both at Hoxton Square's The Green Room for our sushi lesson accompanied meet and greet with the Californian producer.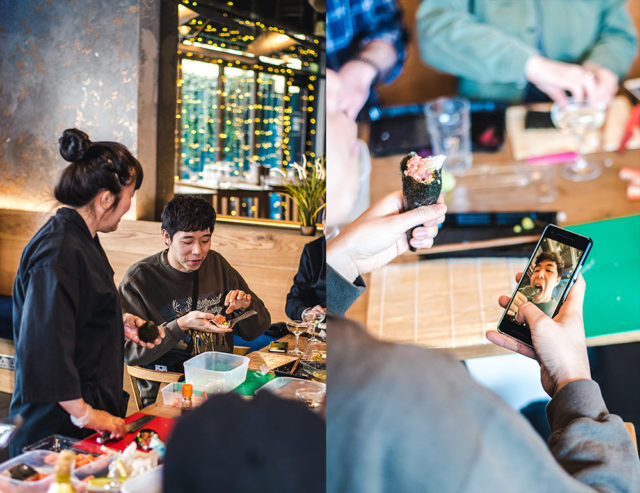 Keiko the self-proclaimed Sushi Queen demonstrated her rightful crown as she guided us through three different sushi rolls. Keiko explained how California rolls got their names and dished out lots of handy tips while showing us how to perfectly slice avocado and cucumber.
Though born to Taiwanese parents, the cuisine of Japan across the East China Sea easily takes a top spot for Charlie. "Japanese food is probably one of my favourite food, followed closely by Taiwanese food," Charlie notes as we take a seat with him after the class to we find out more on his long-awaited Europe visit.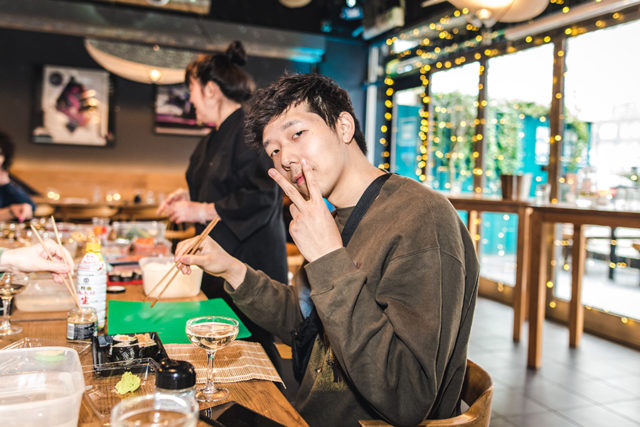 EARMILK: How has your trip through Europe been?
Giraffage: Brussels was a highlight, it was in the Botanique which has a dome, right next to the gardens. Everyone was super excited to be there and dancing really hard. The first gig in Finland was kind of weird to be honest because the venue that I played was a sit-down venue. But it was cool, everyone was very attentive and they were there for the music.
E: What's new with this leg of shows?
G: This time around I'm playing only original songs and remixes. I started taking piano classes a year ago, so I've been incorporating a midi keyboard and playing along to my songs.
E: Have remixes always been a big part of your shows?
G: A lot of my success as Giffarage was based off remixes I've done for other people, so it makes sense to play some remixes. I like remixing songs that have a nostalgic quality to them. I had a remix of Mapel 'Don't Wait', one of Soulja Boy, a remix of 'Music Sounds Better With You' by Stardust. 
E: Has your Europe tour developed on the road?
G: It has. I started off not playing the keyboard the first few shows because I had a DJ to bank on to follow along with my songs. He had to go home due to a family emergency, so as of three or four shows ago I got a keyboard. I picked one up at a music store in London. 
E: What made you choose your support act for these shows Hotel Garuda?
G: They're friends of mine, I've been following them for a while. I really like their music and they'd never been to Europe before, and I like touring with my friends so I thought it was a good fit.  
E: So, your album 'Too Real' chronicles a creative slug?
G: Yeah, I was going through a lot during that period of time, a lot of writer's block as well and not knowing what direction I wanted to take my music. It's a little bit of a departure from my previous sounds. I was listening to really different music, going back and revisiting music from high school, versus my last EP when I was listening to a lot of dance music. It's a lot more indie rock influenced than it is dance music. 
E: Have you now found a way to keep your creative juices flowing?
G: When I am in a creative rut, I kind of don't worry about making music and focus on getting enough music into my system and hopefully getting inspired by that so I can make music.
E: Who's inspiring you at the moment then?
G: Right now, Daniel Avery from London. As well as a lot of old stuff, Japanese bands like YMO. I try to listen to listen as much different music as I can.
Photographer: Rob Jones