Contrary to popular belief, Las Vegas is not just a place to find overpriced drinks, boob t-shirts, post-college douchebaggery, and casino subterfuge. It is also a hub for great music.
Yes, Vegas is known for its inclination to shell out exorbitant amounts of money to DJs at nightclubs, but it also holds home to Life Is Beautiful, a groundbreaking music festival featuring a litany of talent across the genre gamut. To help you navigate the festival's impressive 2017 lineup, we have compiled a list of ten artists you simply cannot miss.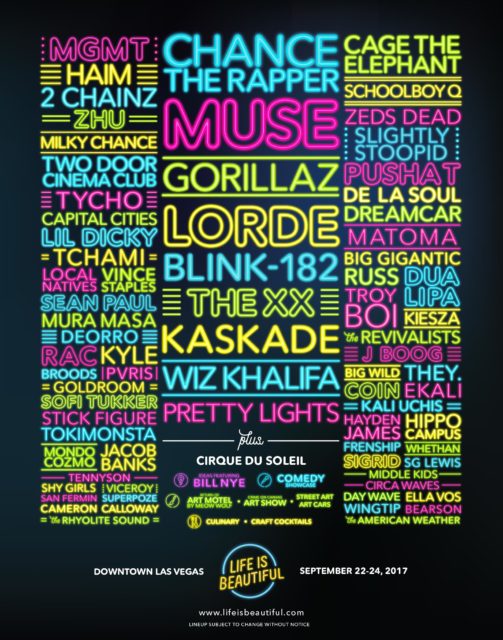 1. Big Gigantic
Albeit unintentionally, Big Gigantic's name directly correlates to their larger-than-life stage presence. A multi-instrumentalist duo that have been a staple in electronic music for years, they incorporate the saxophone into their sets to jaw-dropping effect. Anyone who has been to one of their patented Rowdytown performances at Red Rocks can attest that Big Gigantic is an act you must see live to truly appreciate their music. They dropped their sixth studio album Brighter Future in 2016, and with its eclectic list of collaborators including Logic, Cherub, GRiZ and Waka Flocka Flame, the record is a microcosm of Life Is Beautiful's diverse lineup.
2. Vince Staples
One of hip-hop's brightest young stars, Vince Staples has had a monster year. His critically-acclaimed sophomore album Big Fish Theory saw him evolve into an innovative, multifaceted artist mature beyond his years. In 2017 alone, he worked with Kendrick Lamar, Damon Albarn of Gorillaz, ASAP Rocky and Flume, among many other notable musicians.
3. SG Lewis
Liverpool's SG Lewis is one of my favorite producers at the moment. Boasting a beautifully languid, inimitable sound, he has done well to carve a place for himself in an electronic landscape that is oversaturated with frenetic club music. Pharrell even referred to him as "a white boy with soul" after playing his track "Warm" on his OTHERtone radio show. Talk about a co-sign.
4. Matoma
The sun-kissed sonics of tropical house pioneer Matoma will serve as a welcomed pick-me-up for those poor souls suffering from a blackjack-induced melancholia. The Spotify favorite is perhaps best known for his bouncy reworking of The Notorious B.I.G.'s 2007 classic "Want That Old Thing Back," which is an ideal example of his unique ability to fuse hip-hop vocals with tropical house.
5. TroyBoi 
Experimental trap producer TroyBoi is your favorite producer's favorite producer. The London beatsmith rose to prominence a few years back through a series of inventive singles like the wonky "Do You?," which features his signature "My Style" sound and downright silly production that no one has been able to emulate. One of the most forward-thinking producers in electronic music, he released his debut album Left Is Right in August 2017. PSA: don't sleep on his track "Look At Me (feat. Ice Cube)." The production is next-level and Cube goes off.
6. Dua Lipa 
Pop music's heir apparent Dua Lipa has proved herself a force to be reckoned with. Since the release of her debut studio album and a massive collaboration with EDM posterboy Martin Garrix, the 22-year-old singer, songwriter and model burst onto the scene in 2017 and quickly became one of the biggest mainstream successes of the year. My twin sister couldn't stop gushing about her, and after urging me to get familiar, I checked out the video for her chart-topping single "New Rules" and instantly became a fan. Dua is dynamic, gifted, genuine, and flaunting some serious pipes.
7. TOKiMONSTA
Los Angeles-born DJ and producer TOKiMONSTA is one of the leading ladies of electronic music, and for good reason. I caught her set at Electric Forest 2015 when she was relatively unheralded, and she – for lack of a better term – killed it. Her sound, which is highlighted by a funky blend of future bass and kinetic trap beats, has propelled her to huge collaborations with Anderson .Paak, Kool Keith, and Yuna, among other high-profile artists. Oh yeah, she also conquered an extremely rare, potentially fatal brain disease that completely decimated her aural senses, only to recover and produce a full-length album due out in October 2017. Needless to say, Lune Rouge will be a must-listen.
8. Hayden James
Hayden James is a diamond in the rough in this loaded lineup. Perhaps best known for his breakthrough 2014 single "Something About You," which received a seminal remix from ODESZA, the Australian deep house producer and Future Classic artist remains vastly underrated. His live sets aren't rowdy; you won't hear him telling you to "get your effin' hands up." They are chock full of buoyant vocals and groovy house music, perfect for an early sunshine set to get your feet moving.
9. Andrew McMahon in the Wilderness 
Andrew McMahon in the Wilderness is the moniker of singer/songwriter Andrew McMahon, whose voice echoed throughout my early 2000's emo days as a member of Something Corporate and Jack's Mannequin. His first single under his new alias, a contemplative homage to his newborn daughter called "Cecilia and the Satellite," is nothing short of breathtaking.
10. MGMT
No blurb necessary here. If you don't know who MGMT is, shame on you.
Connect with Life Is Beautiful: Website | Facebook | Twitter | Instagram