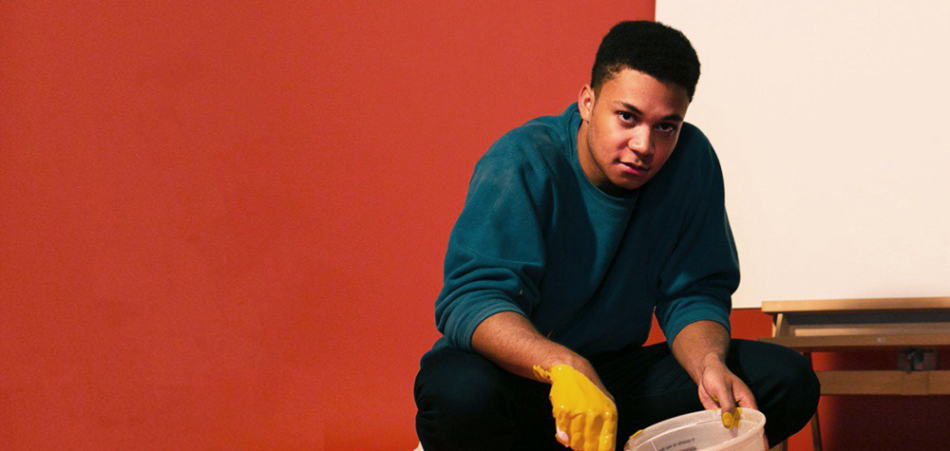 Chris McClenney is a name that you might have seen through his affiliation with THE collective Soulection, in the production credits for your favorite artist, or in association with a favorite remix. McClenney has made a name for himself behind the boards, but he is now ready to introduce you to Chris McClenney the singer/songwriter. This might be his best introduction yet.
McClenney has crafted an eleven track EP titled Portrait In Two that was written, produced, and performed entirely himself. We had a chance to ask Chris a few questions about his new EP, his plans for 2017, as well as his influences. See what he had to say below.
EARMILK: You've worked with quite a few artists as a producer and/or songwriter and have create many (I mean many) amazing remixes. How do you find the balance between being an artist behind the boards (or scene) and the artist in front of the mic?
Chris McClenney: By constantly challenging myself to learn more about who I am as an artist and human being. I've found myself growing in ways artistically that I always saw for my future-self but found difficult to enact when I first started making music. I just needed time, patience, and a healthy amount of confidence. Some artists chase after remixes or features, but that's not what makes me happy or be the best musician I can be. While I've remixed a fair share of tunes, I've found I've experienced the most success and fulfillment when I'm just focusing on making the best tunes I can when I'm making them. That's how I made some of my favorite songs like "Pearl", or "Sober Thoughts (Remix)", or "Vanessa's Tune", or a lot of the upcoming material on "Portrait in Two". I love these new songs so much because I was completely myself. I definitely have to separate myself as Chris the producer, Chris the artist, or Chris the engineer, at times, and its challenging for sure, but I try to make sure I stay in a healthy zone and not cross the threshold of doubt. I just think about "Chris the creative", and that's what keeps me focused and happy. I've been fortunate to produce for and work with other artists because of that. There'll come a time where I relinquish more of the duties for sure, but for now, maintaining that balance is about just being the best me I can and creating, depending on what the situation calls for. 
EARMILK: How did you come up with the title for your new EP, Portrait in Two?
Chris McClenney: Duality is a big theme in my life, and that reflects in this project. It's about me establishing myself as not just a producer, but an artist and singer-songwriter. The latter part of me is new to many. It's also about transitioning from self-doubt into full confidence as an artist. There's a psychological aspect regarding the left and right-brain concept, and also a major themes of self-love and finding true love with your significant other. That explains the "two" piece. This project is my self-portrait, but also something I feel (and hope) that many people could see themselves in too. I like to look at it as somewhat universal because I was so honest, so I truly hope it's relatable to people listening! Also, it's kind of like a Double EP. There's a first half and second half, each of which have a purposefully unique sound. So, there are many reasons for "Portrait in Two".
EARMILK: This will be your first solo project. Why now? What made you decide that 2017 was the year to finally release your debut?
Chris McClenney: It is, for sure. 2017, because I was getting grey hairs and realized if I waited any longer, my fanbase would be 45. It was time to introduce the world to Chris McClenney, the artist, but after I'd begun honing the skillset I want people to know me for. I look as this project as really the beginning of what I see for my music career. "Portrait in Two" is about setting the stage for people to get to know me. If I get them in the door, the main event truly comes next. That's how I view this. I'm very proud of "Portrait in Two". I've already begun material for the next thing, which I'm even more excited about.
EARMILK: From the singles, there seems to be a mix of R&B, Jazz, Hip-Hop, and Funk influences. Did you grow up listening to a wide variety of music? Any artists in particular?
Chris McClenney: Earth, Wind and Fire, Maxwell, Erykah Badu, Incubus, Red Hot Chili Peppers, Rage, Herbie Hancock, Kanye West, Stevie, Justin Timberlake, D'Angelo, Michael Jackson. Timbaland and Pharrell's many productions. I grew up listening to a huge range, and in my late teens, my palette grew and I got into Jazz, and electronic music. Artists that have had a huge impact on me are Herbie Hancock, Kendrick Lamar, D'Angelo, Frank Ocean, Parliament-Funkadelic, Incubus, Justin Timberlake, Earth, Wind and Fire, Miles Davis.
EARMILK: Can we expect to see Chris McClenney performing "Portrait in Two" in cities near us soon?
Chris McClenney: You can, for sure. In fact, I'll be performing live at the Blue Note in New York City this Saturday, 1/14. You can still get tickets! I'll be traveling this year performing Portrait in Two very soon. Just you wait!
Chris McClenney's Portrait In Two can be streamed on Spotify and Apple Music.
Connect with Chris McClenney: Soundcloud | Facebook | Twitter