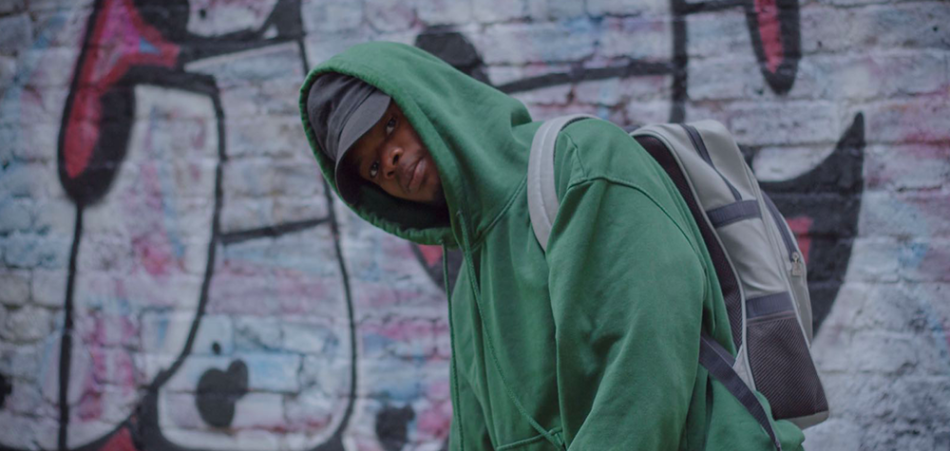 From his most recent bouncy collaboration with Naji to the first release on his official Soundcloud, soulful instrumentalist ROM consistently cultivates a dynamic and distinctive sound. The 20-year-old RnB artist defies boundaries of genre by infusing electronic elements with seductive bass lines to create music with depth and fresh ingenuity.
ROM has spent most of his life molding into the multi-instrumentalist that he is today. Before the age of thirteen, he had already started making beats and tinkering with the guitar, violin, bass guitar, and drums. As he sonically matured while growing up in his hometown of Birmingham, UK, ROM's initial sparks of inspiration were from pop RnB of the 2000s, and in the black churches of his childhood. He elaborates, "The music in black churches is usually super complex and intense but really beautiful at the same time. I also grew up in an era where commercial music was actually quite awesome! Craig David, Ja Rule and Ashanti,  Amerie, and Usher were killing it. A lot of early 2000s RnB and jazz [music] was the biggest part of my childhood. As for my hometown...... not so much, it's so quiet around here you could hear an ant scream!" 
In the incubator of Birmingham, ROM has always been cooking up something big. He has been "seriously pursuing music as a full-time career for about five years now," and the sky's the limit; he's performed shows all over the world, released an EP as part of Soulection's White Label series, shared countless singles, mixes, and collaborations with thousands of fans, and doesn't plan to stop anytime soon.
[soundcloud url="https://api.soundcloud.com/playlists/206998524" params="auto_play=false&hide_related=false&show_comments=true&show_user=true&show_reposts=false&visual=true" width="100%" height="450" iframe="true" /]
A large catalyst for ROM's ascension as an upcoming player in the RnB world was admittedly one of his hardest decisions to make. The artist shares that leaving university was when shit got real; it was the moment when he had to evaluate where his music was going and what he was willing to sacrifice to pursue his talent. "I actually made the decision during my second semester at university that I wanted to drop out and do music full time. I just wasn't happy and I've never really been an academic person. I decided to stick through the whole of the first year then made it official in July 2015. That is when the real grind began. It was such a big risk, all sense of security kind of gone, I'm on my own, I had no job, no money, barely any contacts and my music wasn't where it is now so it was a little scary but I don't regret my decision at all. Sometimes you gotta jump and do things that scare you or make you uncomfortable so you can progress." 
In these focused five years, ROM's growth as an artist has given more depth to the meaning of his name. The capital letters of "ROM" mirror his larger than life musical personality, and have multiple origins that chronicle his evolution. The first and perhaps most obvious origin is ROM as a shortened nickname for his real name, Rommel Donald. He later interpreted the nickname as an acronym for "Read Only Memory," explaining, "When a R.O.M. is programmed with something, it's either extremely difficult or totally impossible to change. I believe I was programmed to make music and spread good vibes." He further explains that he dropped the punctuation between each letter when he released the Soulection White Label EP, for searchability reasons. Thus, ROM was born.
Whether it's happy tears, smiles, laughter, or lovin and groovin, ROM's larger than life personality and humor on social media inspires powerful emotional reactions from his listeners. He wears his heart on his sleeve in both the production of his beats and in the seductive honesty of his lyrics. ROM is always translating this impassioned, feel good aura into the energy of his live shows, explaining, "If you listen to my music, you know I'm all about those smooth RnB vibes, feel good and something to make you smile but bringing it back in a new form."
ROM looks toward major players in the underground RnB scene to cultivate the "new form" he's referencing. The independent record labels Soulection and Huh What & Where gave his sound a focused direction; he elaborates on his numerous modern influences,"I feel like these labels captured what I wanted perfectly. I still remember saying 'I finally found what I've been looking for' when I first found them on the Internet. In terms of individuals, IAMNOBODI & Monte Booker because their drum games are crazy and the vibes are beautiful. They're also good friends of mine. In terms of overall production, Evil Needle, Statik Selektah, Timbaland, Tom Misch, Pomo & The Neptunes are near enough what I'm aiming for.  They capture these perfect vibes, some more percussive than others and make you feel good, make you want to dance, make you want to get hype, make you wanna ask out that girl you've been eyeing up for a while, etc."
[soundcloud url="https://api.soundcloud.com/tracks/292537400" params="auto_play=false&hide_related=false&show_comments=true&show_user=true&show_reposts=false&visual=true" width="100%" height="450" iframe="true" /]
Fostering this unique blend of electronic melodies and RnB grooves, ROM has experienced a few ah-hah moments when pursuing his talent became more than just distant dream. His most powerful motivation has been his connection to fans from all over the world, and watching them fall in love with his music on an electrifying level. "Probably the biggest moment so far was when I got to close the Soulection London show at Electric Brixton to a full venue and managed to get everyone super hype within seconds of me coming on. Either that or somehow making it to both Japan and Korea this year and performing to completely full rooms! What an amazing feeling to know your music has travelled so far."
Beyond his growing fanbase of over 30,000 Soundcloud followers, the reach of ROM's music has connected him with other artists for some amazing collaborations like those with naji, Wade, and DEFFIE. Moving forward, ROM hopes to collaborate with artists like Pomo, Big Sean & Jhene Aiko (Twenty88), Kaytranada, Anderson .Paak, and countless others who share the same feel-good atmosphere at their shows and connect with ROM's vision. 
On the wave ROM's riding right now, who's to say he won't achieve all of these collaborations and more in 2017. He hypes up the upcoming year with a few predictions, "2017 has an amazing EP, more tours and a lot more singles, big improvements, fire collabs, cool placements, happiness, sugar, love, hugs, tears, good vibes and much much much more. I guess you'll just have to stick around and see what happens!"
We'll have our headphones in and the volume up when the next ROM project drops. Here's to another big year for the artist.
[soundcloud url="https://api.soundcloud.com/playlists/199176740" params="auto_play=false&hide_related=false&show_comments=true&show_user=true&show_reposts=false&visual=true" width="100%" height="450" iframe="true" /]
Connect with ROM: Facebook | Soundcloud | Instagram | Twitter