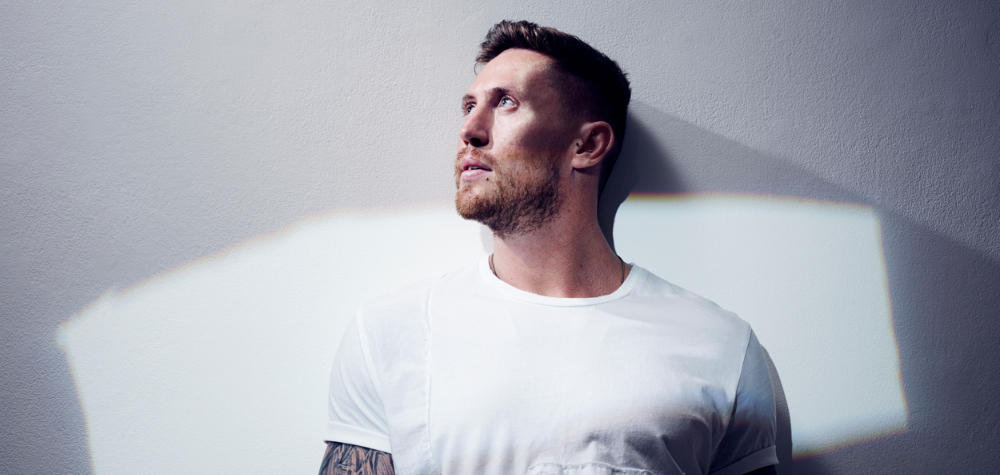 Ever since Hot Since 82 and his venerated label Knee Deep In Sound announced their innovative 8-track album series over the summer as a way to allow artists in 8 tracks to explore their music in an unrestricted way that is often missing from the industry, we've been eagerly waiting to see how the concept would play out. When describing the concept, Hot Since 82 said,
"8-track gives the opportunity for artists I love and believe in to exhibit their production skills, create a mini masterpiece and take the listener on an all encompassing journey in to their musical mind. A lot can be done in 8 tracks!"
When it was announced that northern England-based producer Cristoph would have the inaugural release of the series this coming October, we at EARMILK knew that 8-track could be the start of a new epoch in the industry and wanted to hear from Cristoph about his take on the series, his upcoming 8-track release, playing with Knee Deep In Sound, and where he goes from here.
In describing his beginnings with Knee Deep in Sound, Cristoph elaborates that,
"As soon as I found out Hot Since 82 was setting up his own label I gave myself a 2-year window to get signed to the label."
To get there, Cristoph took the offensive and produced "Let It Go," peaking Hot Since 82's interest and then followed up with "Transmittance," another hit with the label. While not entirely sure why Hot Since 82 and Knee Deep In Sound entrusted him with the coveted first 8-track release, what does fully come across is appreciation in being chosen.
"It's an absolute honour to be the first artist in this series. It's really hard to put in to words…I'm just truly grateful that the crew believed in me and gave me the opportunity."
This isn't abnormal for Cristoph either, whose positive demeanor and appreciation of working with Knee Deep In Sound came through in describing his experience playing the Knee Deep In Sound stage at Nocturnal Wonderland this past August in Southern California, saying that "the experience of playing in America was great. I loved every minute of it. To be on the lineup with some of the world's greatest DJ's was an honour. I stayed the whole day and night and the Knee Deep in Sound stage was amazing, the atmosphere was electric."
After having a turbulent previous year and when he admittedly started to fall out of love with the industry, Cristoph was looking for a way to return his drive for producing, and 8-track was it. When he was brought on, Knee Deep In Sound made it "apparent that this project as a whole was something different to everything else out there" as the artist is in full control of the direction of their music and the narrative they are trying to achieve with their release, something that is generally missing from longer projects. In describing his own 8-track album evolution,
"My 8-track became a real personal project for me and I tried to unify it by taking the listener on a journey not only in the continuous mix as a whole but also each track individually. Even the track names have a specific explanation all being linked to feelings I have had while breaking out in the industry."
When producing the album, his inspiration was immediate and a good sign this project would bring the artistic fulfillment he was searching. The album itself is a testament to Cristoph's journey. In describing the flow of the album,
"The track order was all to do with my idea of how I wanted the project to go on a journey. For me taking people on a journey is such an important component of how I write music, how I play my sets and basically underground dance music as a whole. So I wanted the tracks to flow this way so the listener went on a trip."
The label's dedication to preserving this was immediately felt when the label made the decision to send out the album in such a way that it could only be listened to in its entirety: no skipping tracks, no listening out of order. This was the first and only time I've seen this, but hopefully it won't be the last. In Cristoph's own words, this decision was vital.
"For me, taking people on a journey is such an important component of how I write music, how I play my sets, and basically underground dance music as a whole."
The 8-track series essential concept's difference from conventional studio albums has already created interest from other big artists in the industry, hopefully resulting in their own 8-track additions but also more full length albums overall.
Cristoph's 8-track, like much of his music, combines elements of techno and house music with the result not quite what is normally described as "tech house." This is pretty unique in an industry that often puts up impenetrable walls between such genres that usually operate with different tempos or structural placement of its basic elements. For Cristoph, as a fan of those "darker, weird sounds," he's much more concerned with the quality of the music he's writing, not which genre box it will have to be forced into.
"A lot of people seem to get caught up in what the 'rules' seem to tell us…There's quite a lot of negativity that surrounds this whole genre and sub-genre debate. If you enjoy it then does it really matter?"
As Cristoph notes, "you don't have to keep everything within one specific sound to make good music," an essential truth in light of all the dance and indie music being produced that doesn't fit a singular genre or doesn't even have its own sub-genre definition yet. Music is meant to be innovative, not static.
With his 8-track tour just announced last week, Cristoph's excitement comes through.
"I'm buzzing to be starting my 8-track European tour and to be heading to so many incredible cities. Some of these have been my favourite spots to play in Europe over the past couple of years and the new ones are places I've dreamt of visiting and experiencing as a DJ ever since I started this journey. I literally cannot wait to get on the road!"
While on the road, he won't be slowing down his look towards his future as he continues to write new music and prepares for the launch of his own parties back home in the UK, with the first one starting in his hometown of Newcastle. His plans don't end there though, but for now, he'll keep them to himself.
You can get your pre-order Cristoph's 8-track here and instantly get your hands on the mix!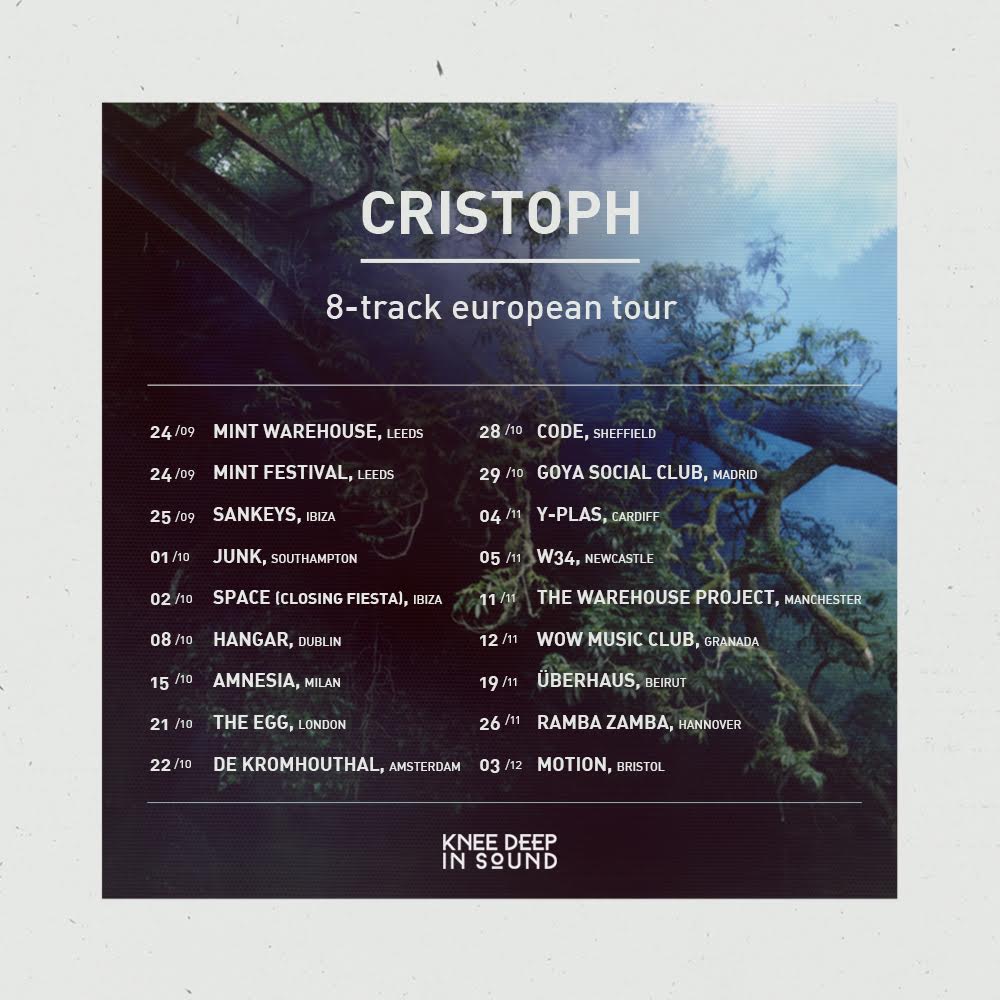 Connect with Cristoph: Facebook | SoundCloud | Twitter
Connect with Knee Deep In Sound: Facebook | SoundCloud | Twitter