In an incredibly saturated electronic music scene it's always great to find artists that really have a sincere message behind every song. For 29 year old, London based producer William Phillips, better known in electronic music as Tourist, dance music is not about repeating the same formula of songwriting to make as many people as possible dance in front of the main stage at a festival; It's about evoking emotions. Seeing as Phillips is both a very well respected house and garage producer, and a grammy winning songwriter, it's fair to say that he has a very good ear for chords, structures and melodies that create the feeling he's aiming for.
After releasing his debut LP, U, on his own label Monday Records on May 6th and setting out on the UK leg of his post-release tour, EARMILK got a chance to sit down with the laid back beatmaker as he prepared his sold out show at London's famous XOYO night club.

"My goal when I write music is really just to make myself feel something. It's a strange, oblique idea, but it's actually quite simple. I think if I'm writing and I don't feel like crying, or dancing around my studio or whatever the feeling might be when I listen to it, it's probably not very good."
[soundcloud url="https://api.soundcloud.com/tracks/243051362" params="color=ff5500&auto_play=false&hide_related=false&show_comments=true&show_user=true&show_reposts=false" width="100%" height="166" iframe="true" /]
Phillips talks with an openness and energy that leaves me no doubt that the emotion in his writing is sincere, taking his time to make sure that everything he says truly reflects his feelings about the music. That sincerity has never been as evident as on his new record. U is as well produced as we've learned to expect from Tourist, with beautiful chord progressions, immaculate beats and an incredible attention to sonic details, but most of all the record is highly personal. From the beautiful, soaring synth melody on the title track and the blissful melodies and chord progressions on "Run", to the ambient, heartfelt album closer "For Sarah", Tourist displays a great ability to put his emotion into music. It's this emotion and honesty that makes U more than just a really well produced hour of dance music.
"I think half the job of making electronic music is to make something that is clear and cohesive, but also very alive and warm, really just as human as possible. I think if you listen to some of my earlier EPs, like Tonight, they're a lot darker, because I was probably in a darker place subconsciously at the time."
[soundcloud url="https://api.soundcloud.com/tracks/251189312" params="color=ff5500&auto_play=false&hide_related=false&show_comments=true&show_user=true&show_reposts=false" width="100%" height="166" iframe="true" /]
As if it wasn't evident enough from listening through his album about ten times over the last few days, over the course of our conversation it becomes clear to me that Tourist really is great at translating genuine emotions into chord progressions and melodies. It was probably this ability that lead to what is certainly his most well known contribution to pop music, the defining gospel-esque chords on Sam Smith's "Stay With Me", a contribution that won Phillips a Grammy award for song of the year. However, winning what is arguably the most prestigious accolade in songwriting doesn't seem to make too much of a difference to Phillips himself:
"I find it ridiculous, really, that I have a Grammy. Obviously it's a great compliment in this industry, but it doesn't mean anything, it doesn't make me a better songwriter, I mean The Muppets won a Grammy. It is a nice way of decorating my bathroom though."
Three hours after our conversation, I'm at the back of XOYO's main room, feeling the excitement in the air as I observe the people enter the venue. It's not your usual crowd of club-goers, out for a night of dancing without a care for who's playing; These people are here purely for the music. As Tourist enters the stage, accompanied by the majestic, ambient synth drones of U's title track, he really shows that he's able to project the passion and sincerity I observed earlier onto his audience. Over the course of his hour long set, Phillips takes us down a range of different musical an paths, with the entire crowd hanging on to every note he taps out on his synthesizer. The energy Tourist displays on stage live is really something to be envied by most other DJ's.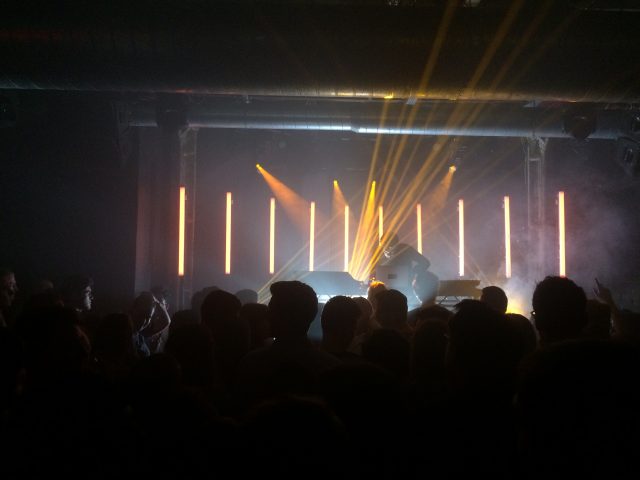 Phillips, like many other UK electronic acts, has been introduced to the American dance music scene as something of an outsider. To a man raised on DJ Shadow, Röyksopp and UK garage, the US EDM scene certainly comes across a little different to his own perception of electronic music:
"I feel like EDM is almost like the Americanisation of dance music, which is not a bad thing, I just don't really feel like I compete with that. I think, when it comes to good electronic music, the US is far more discerning than the UK gives it credit for. I love playing in the US, I love it because it's a beautiful place, and I love it because maybe I'm an antidote to EDM for people."
And he certainly is: Tourist's music has a tendency to evoke very different reactions from crowds compared to a lot of dance music, being warm, emotional and human, while still being close enough to the mainstream dance music aesthetic to be listenable to the average EDM fan. For any house or garage enthusiast, or any EDM fan who wants to further expand the range of music they listen to, I highly recommend giving Tourist's new album, U, a listen, or catching a live show that is sure to be filled with an energy that makes you think about what electronic music is really about.
Connect with Tourist: Soundcloud | Facebook | Twitter
[soundcloud url="https://api.soundcloud.com/tracks/172237396" params="auto_play=false&hide_related=false&show_comments=true&show_user=true&show_reposts=false&visual=true" width="100%" height="450" iframe="true" /]