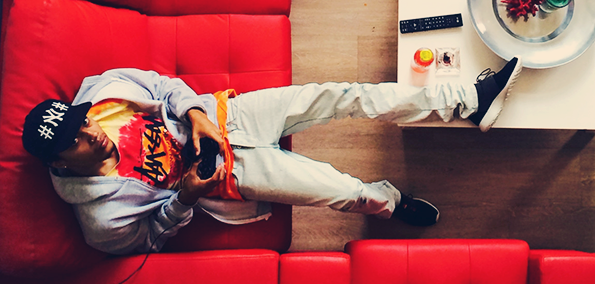 Los Angeles based label 6J Recordings had a very strong year in 2013, and they closed it out in emphatic style when they released 3 projects simultaneously towards the end of the year. The three projects in question came from soulful crooner Johnny Rain, funk-pop new boy Art Boy Sin and young, hungry emcee LaShaun Ellis. Every single project was carefully put together, with the right beat selection, song construction and artist placements picked with the utmost care and attention, making them three of the most solid releases that the back end of the year saw.
Today, LA native LaShaun Ellis released the video for one of my own personal favourites taken from his debut project, the LaShaun Ellis LP, entitled "Whatever You Want". The sun drenched visuals were directed by Topshelf Junior, and swiftly switch between sun kissed scenes in the streets, to the more darker side in the subway, and even has a short clips that coincide with his lyrics, for example the clip of NBA legend Spudd Webb, fits well with his lyric "the lil' dude had to let these niggas know". The track features a beat that wouldn't sound out of place on Chance The Rapper's Acid Rap, yet LaShaun still manages to carve out his own style, with both a laid back flow paired with clear delivery, it's easy to see why many are tipping the young emcee for big things in 2014.
You can peep the visuals for "Whatever You Want" below, and if you like what you're hearing you can download his debut album the LaShaun Ellis LP for FREE from here.
http://youtu.be/v8mS9YHFNAg
LaShaun Ellis
LaShaun Ellis LP
6J Recordings
22nd November, 2013