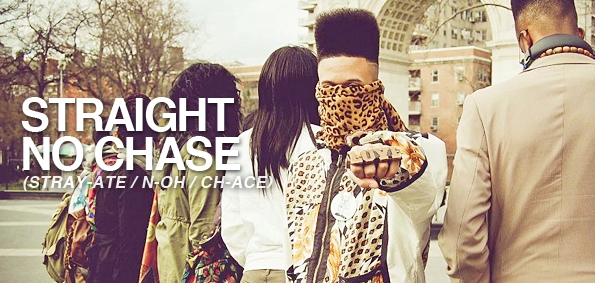 Welcome back for this week's edition of Straight No Chase, your one-stop shop source for all things hip-hop here on EARMILK. This comprehensive weekly feature aims to share hip-hop based content we may have missed during the past week, while also highlighting memorable content we did cover. In addition to the recap of our best hip-hop posts, SNC also includes a Video of the Week, Project of the Week, and staff-selected noteworthy upcoming releases.
As any hip-hop head worth their salt knows, these days music floods the blogosphere by the millisecond. Consequently, the landscape of hip-hop is forever changing. There are countless rappers, both established and up-and-coming, as well as renowned and budding producers and beatsmiths dropping their fair share of dope music for the listening masses. It is our mission to mine the interweb for both audio and visual gems, delivering them straight to you for your auditory consumption. But enough with the jaw jacking: let's cut straight to the chase
---
STRAIGHT KILLER, NO FILLER
The LOX – "Nosetaliga"  (Freestyle)
A good ole fashioned freestyle is hard to find these days, but Jadakiss, Styles P and Sheek Louch can do no wrong, especially over a Nottz beat. Spitting over "Nosetaliga," which originally appeared on Pusha T's well-received My Name Is My Name, The LOX wastes no time in revealing their free-styling skills, while speaking on everything from hustling to hip hop (" You ain't buy my album, you tryin to download/ so excuse me if my heart is Alaska weather cold") in a captivating manner.  If you haven't picked up their new EP, The Trinity, you're sleeping on some good music.
World's Fair  -  "Spanish Robin Williams" 
(Feat. Bilal & Christian Tiger School)
These atypical collaborations prove how versatile hip hop can be. Over some catchy synths supplied by South African duo Christian Tiger School and a toe tapping hook from neo soul icon Bilal, World's Fair members Prince SAMO and Nasty Nigel speak on the tribulations that arise with that special someone. World's Fair have had an impressive year. Though they might draw some comparisons with Pro Era in regards to their size and sound, the Queen's collective are slowly distinguishing themselves from the rest of the herd. Besides having a fantastic title, "Spanish Robin Williams" is an awe inspiring jam that'll keep you moving through this cold December winter.
Ragz Originale – "Anime Black"
When I first play, I thought I was vibing with a British Saul Williams. Mixing in some Kanye West-esque sounds, "Anime Black" has Ragz Originale speaking on an interesting duality between slavery and ownership amidst a menacing electronic beat. Bass heavy sounds are frequent on this track, which has Originale making some powerful statements ("As if it aint already being black/ Will Smith black? Nah I mean this black") through the use of repetition. Be sure to check out his new album, With You Now, for more dopeness.
Rakim – "Madiba"
Nelson Mandela's legacy will never be forgotten. From removing the apartheid in South Africa to spending more than 27 years in jail, everyone on this planet can learn something from his struggles. But while everyone was mourning his loss, legendary emcee Rakim took his feelings to the studio and did what he does best. "Madiba" is the 4 and a half minute tribute to Mandela that reveals his hardships over this head nodding boom bap instrumental. Driven by a series of powerful string sounds and a chilling chop of Mandela quotes on the hook, "Madiba" could very well be one of the greatest tribute song ever made.
Pell – "Imaginary Friends"
The last couple of years have been jam packed with cloud rap sounding tracks, but New Orleans native Pell rhymes in a manner that allows him to standout from the rest. With it's well employed hi hats, "Imaginary Friends" reveals his fluid ability without coming across as sounding to spacey. But perhaps the best part of the track comes during the ultra smooth beat change up at the 3 minute mark. Check it out and expect some new heat from Pell in the upcoming year when his next project drops.
Oddisee – "Invisible Walls"
If you see a release from Mellow Music Group, you know it'll be fantastic even before you hit play. Oddisee, one of the more recognized artists on the label, has been putting out track after track; "Invisible Walls" is another future classic for old fans and new listeners to enjoy.  Speaking on his personal plight and his inner demons, the track plays like a confessional as the emcee absolutely kills it over a mellow beat. Expect to hear more from the label on their upcoming compilation album,  Mandala Vol. 1, Polysonic Flows, which drops on January 28.
ON THE ROCKS: WEEKLY RECAP
Here's a recap of some of the best hip-hop covered this past week on EARMILK. Take a couple of minutes to stroll down memory lane and revisit a few of tracks brought to you earlier in the week. For those who may have been snoozing at the wheel, here's your chance to play catch up:
VIDEO OF THE WEEK
R. Kelly - "Cookies"
The accolade for this weeks 'Video Of The Week', goes to a man who has graced our ears for well over twenty years now, Robert Sylvester Kelly. Better known by his alias, R Kelly, the legendary R&B figure has had a long and distinguished career to date, and when it comes to videos, he certainly knows how to visually please us.
 For a start, there was the "Trapped In The Closet" series of videos that showed R Kellz at his story telling best, something that has been lacking lately. This week, following the release of his 13th studio album Black Panties, we got treated to some brand new visuals from Kellz, with the video for "Cookie". The sexually charged video sees R Kelly in his super sized mansion surrounded by scantily clad honeys all dancing and gyrating all over the place as he bowls around with swagger and grace.
This video is proof, if we ever needed it, that R. Kelly is STILL the unchallenged king of R&B. Sure, the likes of Trey Songz and The Weeknd have all tried to top that sex appeal that R Kelly started off back in the 90's, but "Cookies" is testament to the fact that Kellz is still the man when it comes to the ladies. R Kelly's latest album, Black Panties, is available to buy now.
OFFICIAL WEBSITE | TWITTER | iTunes

PROJECT OF THE WEEK
This week's Project of the Week needs no real introduction it's Casey Veggies and Rockie Fresh coming together for Fresh Veggies. The two long-time friends have produced great works together before, and their solo careers have held great successes in 2013. To close out the year, the two have released a massive mixtape that is sure not to be missed. Featuring eight tracks and two interludes, the artists highlight why their names are to watch for in 2014.
 The LA and Illinois natives have been in the spotlight for some time now, but these tracks combine their flow, swagger, and style into a nice bundle that will please all of those stuck at home, whether that be winter break from college or from the weather. The mixtape is out for free now.
Check out "Circle," which also features Hit Boy, as well as Lunice produced "Fresh Veggies" below. 
-Casey_Veggies_Rockie_Fresh-Circle_Feat_Hit-Boy_Prod_By_Hit-Boy_Haze_Banga--EM1213
Download:
Casey Veggies & Rockie Fresh - Circle (Feat. Hit-Boy) [Prod. By Hit-Boy & Haze Banga]
-Casey_Veggies_Rockie_Fresh-Fresh_Veggies_Prod_By_Lunice--EM1213
Download:
Casey Veggies & Rockie Fresh - Fresh Veggies [Prod. By Lunice]
---
Casey Veggies &
Rockie Fresh
Fresh Veggies
---
RECENT RELEASES
Touring with Macklemore & Ryan Lewis has given Talib Kweli some new ideas and motivation. His next album, Gravitas, is his first independent project since the beginning of his career. This exciting news for fans, because it means he is without the limitations of a major label. Known for his socially conscious lyrics, Kweli will now have the freedom to discuss topics that he would normally avoid. Get ready to hear an unfiltered version of your favorite emcee, without any pandering to radio listeners, but a true underground album. This is technically assuming that he will want to talk about these issues, but we have no reason to think otherwise. 
Talib Kweli
Gravitas
Independent Release
December 10, 2013
---
Grand Hustles' versatile solider, B.o.B, is gearing to make a return to the mixtape circuit, with the release of Underground Luxury. Since his initial introduction, the Atlien's singing, lyricism, and ear for production has impressed listeners and critics alike. He was able to weave social commentary into his songs without necessarily sounding too preachy or sappy, it just worked. Even when he went full on pop, he was able to retain his underground fan base, which is a testament to his body of work. Hopefully, we are treated with a collection of his talents on this one. If he wants us to come away happy, B.o.B. should be singing, playing the piano, and rapping.
B.o.B
Underground Luxury
Atlantic Records
December 17, 2013
---