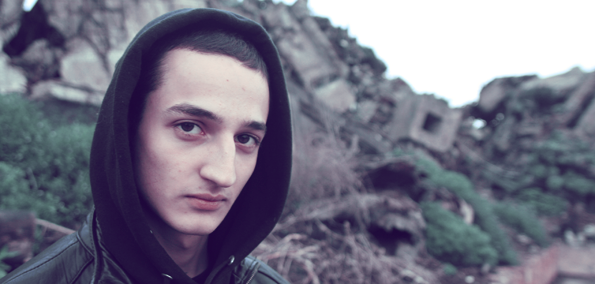 With one week left on his Event Horizon tour EARMILK caught up with producer/DJ MiMOSA for a quick chat before he hit the road. The always down-to-earth Tigran Mkhitaryan, known for delivering sounds from down-tempo hip-hop infused beats to absolute dancefloor igniters, shared his unfiltered thoughts on everything from maintaining musical integrity during a live set and the much-hyped 'trap movement', to marijuana legalization and self revelations.
MiMOSA will wrap up his tour Saturday, December 14th at the Fillmore Auditorium in Denver and soon join Reptar and Earphunk in Atlanta for Buckhead Ball New Years Eve 2014. For remaining tour dates and to stream MiMOSA's Event Horizon Tour DJ Mix, click here.
EARMILK: Thanks for doing that mini-mix for us, I really liked it. There was a track on there that I was curious about, the "Chase the Devil" remix. Is that a new track that you're coming out with?  
MiMOSA: No that's just something that I did a long time ago actually. I went to Europe like 6 months ago and when I was out there, there were a lot of people playing tunes that I had never heard before. They were doing stuff that was similar to that, but with different flavors. I was like, I'm going to hop in the studio and do something like that with my own thing to it. I've been playing that track a lot. It's cool. It's different than anything I've ever done. I don't know if I'll put it out for release but I decided I would toss it in to the mix. It would be played a couple of times and then be forgotten.
EM: What's your set going to be like tonight? Kind of like that mix? Playing with Moby his sets are a lot different from what he's known for.
M: Oh yeah. For me I really don't care. I just want to be real. I feel like when we got booked for the show people were hiring me to do my thing. I don't think anybody wants me to conform to what the sound is going to be like, trying to blend in to that. I'm here to do me, you know? I think that's what interests people about me so I'm not going to come into any environment and compromise my thing.
EM: It's a compromise of integrity right? I think there are artists now that are doing that. I wanted to talk to you about trap music. I saw you at Best Buy Theater a while ago and that was when trap music was starting to blow up. Everyone was like "Oh an 808 and a high-hat. I'll throw it in and call it trap!" What are your thoughts on the movement and do you think people are using that too lightly?
M: Well I don't know what my thoughts are on the movement, but I can speak for myself. You know personally I grew up on hip-hop. If you listen to my first production, all of that shit sort of has some sort of hip-hop influence. You know my releases and what not, I was putting in samples. So to me when trap came around that term trap wasn't even the thing. I don't want to say nobody was doing it because some kids were producing the music, but it wasn't a thing yet. It wasn't a fad.
So when I put out this mix, it might have been the Future Trill mix or one before that. I put this mix out, it wasn't like dance. I was making a mix for the house, for you to listen to in your car and to have a good time. They weren't club tunes. It was all 808 oriented so when I made it and used all these off kilter beats and doing the whole like trap thing people were like "oh well we don't know how to classify this music because it's not the dubstep sound. What is it? It's trap." I feel like if you are doing anything people will try to pigeon hole you and put you in to a box because they want to be like, "Hey everybody, this is what that music is." But for me I make music from like down-tempo weird stuff to some hard trap shit to chop. I just make music. I don't like to sit down and try and make a tune. I sit down and whatever happens happens. It's a very natural process. If it wasn't I wouldn't do it. I don't sit down and try to make beats for raver kids to rage to. That's not my goal.
EM: Cause you smoke a lot of weed.
M: Hahaha, I'm a little more introspective.
EM: I feel like from songs that are super sexy sounding to like "SWRV". You can go both ways on a set, you can put on your heavy moving route or you can go your melodic route. How do you know? Do you do it based on the vibe of the crowd and the setting or do you do it like when you're playing live?
M: You know when I'm playing now I don't even think about what the audience is experiencing. I make music to express the emotion that I am going through and try to channel that through the music. I feel like if I'm getting some sort of fulfillment or release from the energy that I'm putting out. If it's bringing some sort of resolution or some sort of good thing then people are going to connect with it. If it's a good vibe then people are going to pick up on it naturally. I don't think about what they are going to feel like. I try and please myself and do something that I know that I am going to enjoy doing. And at the end if I'm having fun they're going to have fun too from all the energy. So I don't really concern myself with that you know?
EM: As a musician you shouldn't. Do you think that people sacrifice themselves for that?
M: Oh all the time.
EM: And do you think you have a good team behind you that is making you not do that?
M: I just have a level head. I don't have a team behind me. I have a team, but they're not telling me about the music. Nobody is putting me in check every decision is coming from within me and having self-realizations. Nobody is giving me advice. There is no book that I can read to like guide me through the way. It's all intuition and it's all coming from the heart. Have a good head, do your best, and the universe will kind of line shit up for you.
EM: On that note, has any piece of advice ever stuck with you? Not even just about music. What's the best piece of advice that you have received?
M: I grew up with a single mom. She was working all day. Growing up with no dad and a single mom who is working all the time you're stuck alone with no role model. There's no one to look to. I was listening to rap music so I was listening to these rap dudes. What I learned from them and just watching peoples careers and observing the science of that world, you just have to keep a level head and stay true to what you started out doing all that for and just keep grinding at it. I feel like everything else kind of works out from that. If you do it for the right reasons and you're putting in the work it's actually going to work out if you're about it.
EM: You used to produce on Fruity Loops right?
M: Yeah when I was maybe like 14.
EM: What do you use now?
M: So when I started making music. When I was living in LA as like a preteen I didn't know anything about music or whatsoever. I was listening to Tupac, Snoop Dogg, you know like straight west coast.
EM: No East Coast? No Biggie?
M: A little bit of biggie. Like some southern shit like UGK and I was just fully hip-hop. My mom met this guy up north in San Francisco who worked for NASA. He was like a straight dude. We were like hood people and she met this straight guy who worked for NASA. She was like, "I want to marry this dude." So we go up there before the marriage and we move in with this guy.  He's a computer scientist so I had all this access to NASA gear that he could borrow for an unlimited time and bring it back whenever. So one day I was like, "Yo?! Can you borrow me a computer and get me fruity loops?" And he was like, "You know what I could probably do that." And he would drive me over to get a desktop and I had the program and I just started making jingles. I started messing with Reason and was just burning CD's and going out and playing for fun in these shitty situations.
I was doing it for free. I wasn't trying to get out there I was just showing up at a party, I was there anyways. I was like "Yo, I'll play some tunes. Let's have a party!" So it just kind of started like that. Then once I was playing a little more and I turned 17 people started hitting me up saying they would pay me for gigs. I knew nothing about doing any business so like I was doing that for a couple years. I eventually saved up enough money to move out. I moved to Oakland with a good friend, Tommy from Beats Antique. Yeah, I moved there and I was able to set up a tiny little studio and make more beats. The shows started progressing and then I moved to LA and started touring around and then it all just kind of fell in to place. I don't know how it happened.
EM: You used to live in Brooklyn right? Where are you based now because I know you had like the Sexy Time project and Sleepyhead.
M: So I was living in Brooklyn for like the last year and a half, two years. About 3 months ago I moved back to LA. So I'm there now and I plan on staying there. I'm a west coast cat. I wanted to have the East coast experience and moving out here it's just like a second home. I adore it out here. The culture out there is a little different and you know being a pot smoker. I can walk around the streets smoking 10 blunts and no one will say a word to me. Here in my apartment in Brooklyn I would smoke the tiniest bit of bud. I wouldn't have any weed in the house and I'd smoke it and then my neighbor would be like "I'm going to call the cops, I saw weed in your house." And I'm like, "Woah!"
EM: So you support marijuana legalization obviously.
M: Absolutely
EM: I got a bud question. If you could name your own strand, what would you name it?
M: It would be the Spirit Plant. I feel like it would connect you to the spirit world and help you talk to God and like. It's a medicine, it helps you calm down and helps you forget about things. I don't see anything wrong with it. They're discovering all sort of medical ways to use it and help alleviate pain. And there's real shit like curing epilepsy. So they found this chemical CBD inside of marijuana that's non psychoactive so it doesn't get you high but it cures epilepsy. It's for children, they put it in gummy worms. For like serve cases where children were having hundreds of seizures a day they basically went to all sorts of doctors with no hope. These guys approached them with a new chemical that wasn't approved by the FDA. They had a couple of cases where people wanted to try it and it worked out in all of the cases. The main doctor on CNN said that it was definitely something that we should consider. So yeah, I'm a big advocate for the legalization, I don't see any reason why it shouldn't.
EM: Are you a big reader?
M: No but I read people. I learn from situations.
EM: Are you a spiritual person?
M: Yeah, very much so. I don't practice any religion. I just believe in intuition and I believe in the universe and following your heart and doing what's best. That's taken me to good places so far. I'm an immigrant Armenian kid that was born in the opposite side of the world. I came out here with a single mom. I was homeless for two years of my childhood. I grew up, bought my own computer, and moved out. I'm self-made.
EM: The American dream in sense, kind of?
M: Yeah, kind of. You know, I'm very passionate about what I do and I feel like I've come a long way and that I've still got a long way to go. I got a lot of energy.
EM: Are you passionate about any artist right now?
M: I'm passionate about my own art. I'm passionate about music in general. There's no electric artists that I will sit down and listen to. I can feel a guys beats, but I honestly don't spend the time to check that shit out.
EM: What are you currently working on?
M: I'm releasing this new album that you guys should definitely check out, some new soul and vibes in that format you know? That pop format, there is nothing wrong with that. You've got all these people trying to hate on it but it's just another way to make it easy, it's another outlet. I'm just expressing myself and having fun and living life and taking care of my family in the process. If I can make money having fun and take care of my family then I'm all about it.
EM: Is your mom proud of you, does she like your music?
M: Yeah, she's fucking stoked. I mean we come from nothing; she was working in a shoe store. She thought that I was like some kind of fucked up kid who was smoking weed in the backroom listening to weird music. Who would have thought I would be touring all across the world and making money and supporting her? She doubted me all the time. Until you start making then money, then it's like okay anything you want.
EM:  Well let's talk about the new upcoming tour, the name behind, and what we can expect on it.
M: So the tour is basically like a self-realization of a pivotal point of my life where I'm at right now. Like I said my music is always self-expression and the feelings that I'm having and the translation of that. I'm 25, I've been doing this for a while but I'm not in a position to go back to college and take on a new career. This is a life path that I have chosen and it is basically from this point on me realizing that. I mean I've always taken it seriously, but now it's time to step up my game.
This is my craft and my life. So the name of it, "Horizon" is basically the point of no return. In a black hole the point of no return, where no other element or nothing can effect it. You are just balanced and go through with that destiny. So that's the concept of it and I just feel like that's where I'm at in my life and that's the concept that I wanted to project on to people. I wanted to be like, Yo I'm not a kid anymore. I'm not the same 17 year old kid that was making beats back in the day. This is my pivotal point. I'm a 25 year old man now like I'm out here doing it. So it's just my marker for me personally in my life to look back and say that I did that on that horizon and know what that means. I thought it would be cool to do a tour with that. But besides that the real reason, to be honest, was to postpone my album. So basically what's happening with that is the album is pretty much done. Right now I'm just waiting on making the right collaborations happen with the right hip-hop artists that I believe in personally, that I admire. I'm just trying to line up all the right people. I don't want to just pay somebody and be like yo you sell tickets you've been on the radio get on this beat. I don't want to do that. I have a track with Bun B and he's not that well known to be completely blunt. But in the hip-hop community he is very well known and extremely respected.