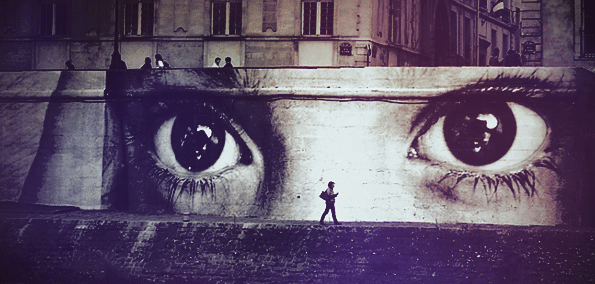 I'm no A&R rep, but I think it's pretty safe to say that finding a distinct style that borders on the weird can be one method to catch attention. In the case of Ceiling Demons, their bizarre music definitely caught my eye. 
It's hard to begin describing their music, especially when it comes to "Every Step is Moving Me Up." It's beat and lyrics are positive, but their aesthetic brings us back to reality, and quickly reminds us that they are called Ceiling Demons for a reason. They remind a lot of SBTRKT, and in a lot of ways could be raps answer to the electronic producer. Their positivity in their message, combined with them standing in black across a backdrop of the sunny sky and the deep blue sea, evokes a strange chill; they've created a fascinating juxtaposition here, and it's startlingly creepy. 
This, by the way, is a good thing. The group have a bizarre sense of style, and music that both stresses talent and creativity, surprisingly not that easy to find all of the time. They may not have the biggest budget in the entire world to push through all of their oddities into a video, but it wasn't really necessary for "Every Step is Moving Me Up." Their song speaks for itself, as it always should. 
[soundcloud url="https://api.soundcloud.com/tracks/124247737" params="color=ff6600&auto_play=false&show_artwork=true" width="100%" height="166" iframe="true" /]
Their debut album, Dual Sides, will be out on the 18th of December via Bandcamp. 
Ceiling Demons
Every Step is Moving Me Up
Self- Released
December 11, 2013