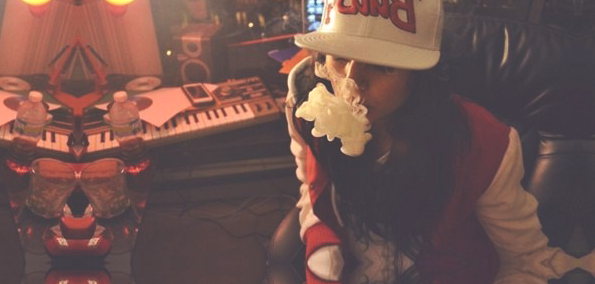 It seems to me that nowadays hip hop has been slowly taken away from the fundamentals it was born with. A lot of rappers in the current scene don't tend to embrace the storytelling aspect of the genre which appealed to many people, and instead choose to the 'turnt up' way of life, with money, women and possessions becoming more of a staple in their tracks. Don't get me wrong, I love an ignorant banger from 2 Chainz as much as the next guy, but when you listen to someone that brings back that original hip hop vibe, you have to sit up and take note. Artists such as Joey Bada$$ and Kendrick Lamar are two artists that have been praised for bringing hip hop full circle, whilst over in the UK the hip hop scene has been rather lacking in recent times.
Now however, that is all about to change, and there's one person who I personally think will be the breath of fresh air that the scene needs. Manchester native D'Lyfa Reily has been around for a hot minute, and would probably fly under a lot of people's radars until now. He doesn't have a fancy promo team, he doesn't bombard you with his music to the point where they block him out completely, and he most certainly doesn't rap about cars and money. One thing he DOES do incredibly well, is engage you in every word that he says. He picks the smoothest hip hop beats to rap over, with those delightful boom bap flavours giving him a great canvas on which to paint his picture. "One Of Them Ones" is a perfect example of D'Lyfa's work, as he describes his own style within hip hop whilst also giving sound advice about chasing your dreams. He does all this in the short space of two minutes, which leaves you almost begging for the song to carry on. The video is kept nice and simple, a testament to the way in which D'Lyfa conducts himself, as he stands in a Manchester alleyway throwing down cards with the lyrics to the track inscribed on them.
D'Lyfa is something of a prominent figure in the Manchester hip hop scene, and alongside his fellow Mosh Team members Shotty Horroh, Briggzy and Wordz amongst others, they have been gaining recognition up and down the country for their music. "One Of Them Ones" is taken from D'Lyfa's latest project Cloud Rhyme, which you can stream and download over on his Bandcamp, where you can also find his previous EP Sewing Seeds. This definitely isn't the last we've heard from this talented wordsmith, be sure to keep your eyes and ears locked on EARMILK for all the new material from D'Lyfa.