Underground emcees MED and Blu first linked up with prolific producer Madlib on The Burgundy EP that dropped earlier this year. In an all California affair, these three artist come together with with singer Mayer Hawthorne for the new single "The Buzz." Madlib's production creates a soulful vibe that his collaborators are used, allowing them to put their best foot forward. He knows just when to let the sample breathe, throw in that dusty drum loop and we have another Madlib banger. The rappers sound like they were itching to get on this beat when they heard it, while Mayer adds his own passionate vocals for the hook. While we are still waiting on the official release of that UCLA Blu and Madlib project, this new release makes its necessity so much more apparent.
"The Buzz" will be dropping on November 26th via Band Ya Head/Fats Beats and comes packaged as the A-side of a 12-inch single with Dâm-Funk's "Peroxide" on the flip side. Thankfully, instrumentals will be included along with a cappella tracks and a bonus beat. 
[soundcloud url="https://api.soundcloud.com/tracks/118635073" width="100%" height="166" iframe="true" /]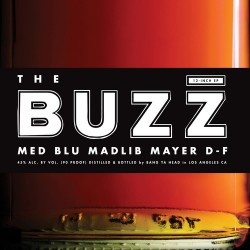 MED & Blu Feat. Mayer Hawthorne (Prod. Madlib)
"The Buzz"
Bang Ya Head/Fat Beats
11/26/2013