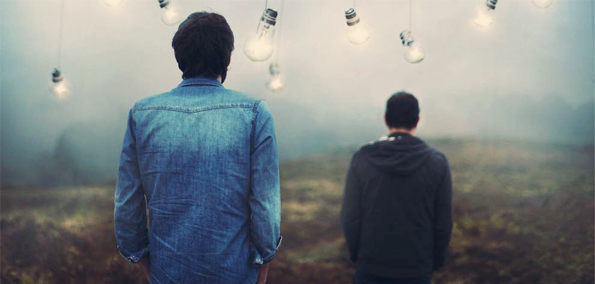 What if The Flaming Lips secluded themselves in a cabin within the woods while recording Yoshimi Battles the Pink Robots, more specifically the most popular track on the album "Do You Realize??". While something along the lines is not out of the question for Wayne Conyne and friends, to date they have yet to do so. If they where to take on the process it would probably provide some ground to their songs that seem to be continually heading in the opposite direction, with no indication of coming back to this planet anytime soon. However, if the fan base ever wondered what said sound would be like, they can look no further than Fossil Collective's mellow and soulful take at a song that defined a decade (or at least half-decade). 

Fossil Collective is made up of two parts of Vib Gyor, David Fendick and Jonny Hooker, who depart from the alternative cues that their previous band was known for and provide sweet, wholesome folk. For their take at "Do You Realize??" they keep things consistent, keeping within the bounds of their known style. Who would have thought that extracting the quirkiness from The Flaming Lips hit could amount to a stand alone show stopper?  In reflecting the cover is simple, dual-acoustic guitars expressing the deep lyrical emotion of the track with layered vocals and mellow chants to follow suit, where the charm shines through within its accessible tone.
Fossil Collective actually released a cover video of a similar version of the track in September, which is very raw and is apparently what the song sounds like when they cover it live. 
Be sure to pick up a download of the cover either through the player above or directly from Fossil Collective's SoundCloud, linked below.