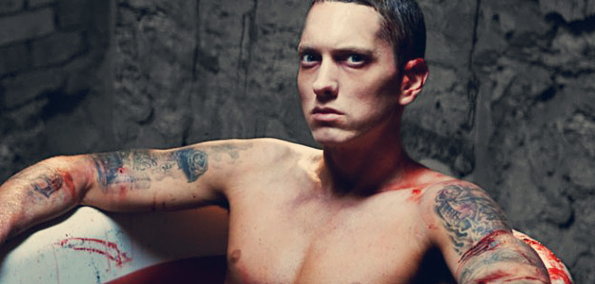 Marshall Mathers teams up with Rihanna once again for his latest single, "The Monster". A far cry from the polarizing "Rap God," the new, melodic offering off The Marshall Mathers LP 2 finds Eminem just a little more laid back than usual. The title and feature from Rihanna might bring up some memories of "Love The Way You Lie" – but it's nowhere near as haunting. "The Monster" plays more for radio (not that Mathers needs to) so we can probably expect this one to chart internationall . There's never been a doubt that Em is still a leader in the game when it comes to lyricism and witty delivery, and his retrospective storytelling on "The Monster" further solidifies that fact.
Still, as a huge fan of Em's, I'm not too sure about naming his forthcoming album the sequel to its classic predecessor – so far, has any track really hit home the way that album did? Still hopeful for the rest of the album. Check out the single below.
The Marshall Mathers LP 2 drops November 5.