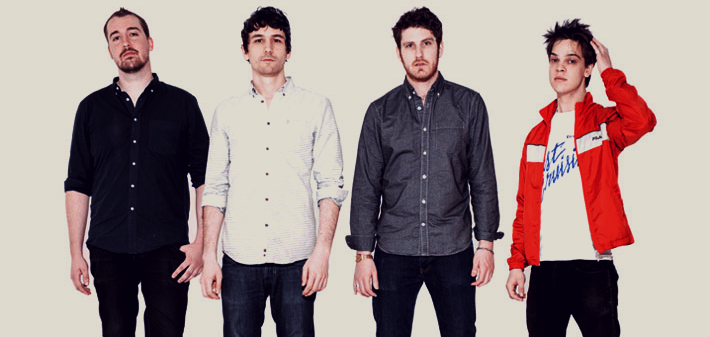 Black Light Dinner Party–aside from being a pretty awesome band name–is the kind of event we'd like to be invited to. So it's appropriate that the NYC quartet's music sounds kind of like this white tie rave we're envisioning. It's upscale electronic pop, classy to the core but makes you want to hit the dance floor.
The group (comprised of singer Jack Côté, Zach Lipkins on drums, Joel Friedman on keys, and Dan Stevens on bass) first formed when Jack's mom was sick, with the intention of making music that she would enjoy. She eventually passed away, and given the circumstances, they never tried to exploit the attention and instead remained relatively out of the spotlight.
But a cult following quickly formed online, leading to impromptu performances with some of music's elite (Icona Pop, St. Lucia and Penguin Prison)–and now they're standing out like white under a black light.
Their debut album Sons & Lovers comes out on September 24, but you can get a sneak peek at what's in store as we're premiering the title-track today. "Sons & Lovers" starts out almost whimsical for a hot second before a drumbeat and synthesizer crash the party--vocals join in the fanfare. The staccato flute chimes in and we're thinking we might stay awhile. The song is like a Cut Copy track's more mellow, older brother who's just cool because he doesn't try too hard. If it were an old-school movie character it would be Danny Zuko. It's just that slick.
So we cordially invite you join the sophisticated synthesized soiree and stream below. And don't forget to grab your glow sticks and strap on your cummerbunds and RSVP to BLDP.
[soundcloud url="http://api.soundcloud.com/tracks/106703760" params="" width=" 100%" height="166" iframe="true" /]
 EARMILK INTERVIEW: Black Light Dinner Party
EARMILK: When did you know you had a good thing going?
Black Light Dinner Party: The four of us were making electronic music independently, back in Boston. We became close and would bounce tracks off each other and listen to new ideas. We had been collaborating here and there, but when we wrote Older Together, it became real.
EM: How did you land on your band name?
BLDP: We were in the kitchen oddly enough when it came up, though I don't think that was the main influence. Someone special floated it out there, it resonated with us and we ran with it.
EM: We know fans will be excited for you to finally be releasing an album. Could you tell us a little about how it came together and your typical creative process?
BLDP: We have maybe 60, 70 more songs written. They are sitting in a Dropbox. Each of us write and produce all the time, so we're always adding to it. We'll often take a chorus from an old song here, and lyrics or a lead line from a different song and create something new. This album was written over 3 years and 3 cities, so that kind of communication was integral.
EM: What do you want people to take away from it?
BLDP: We hope people enjoy it. We've put everything into it. It's very dense, and very dark. We want people to get into it and appreciate it for what it is.
EM: Has your elusivity helped or hurt you?
BLDP: Probably both. We never tried to be secretive about the band. When we started it might have been weird to be fully transparent, given the circumstances. It's refreshing now to be open about this stuff and interact with people again.
EM: What fuels your fire?
BLDP: For Dan it's the outdoors, and Joel – visual art and urban life. We all listen to a lot of the same stuff though. Jai Paul, Todd Terje, Talking Heads. Though this album was a lot of Flying Lotus and Friendly Fires.
EM: Big fans of all those artists too. We're also really into the remix projects you're doing with Young Wonder right now. Do you have a dream collaboration?
BLDP: We think the world of Young Wonder, they have a sound all their own. Our dream collaboration would be something with Stevie Wonder. Jack sings a mean "Living for the City".
EM: What's in store for the next year?
BLDP: A lot of new music. We're touring the US with Wildcat Wildcat next month.
EM: On a given Saturday you'd be…
BLDP: Jack would be skateboarding around NYC, Dan would be fishing, Joel making techno and Zach reading a book. Ray Kurzweil probably.
EM: Can't live without…
BLDP: Iced coffee, green tea, Makers Mark, butter (Jack is French).
EM: Tell us something funny that happened recently.
BLDP: We played a festival in Maine last month. It rained vigorously and things got messy. I'm not sure how it happened, but we ended up dancing knee deep in mud with strangers until 4am.