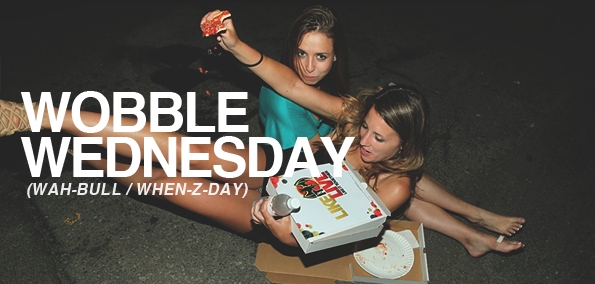 I went really sub heavy this week. Not heavy grit bass, but that low-end wobble people "wouldn't realize was dubstep if they didn't know any better" (pffft…okay). Of course there's something for everybody, but there are a few specifics I'd like everybody to check out. First off, Jacques Greene's new track, "On Your Side" feat. How To Dress Well, is an absolute future masterpiece. It has a groovy bassline and a moving beat. Next up on the list is Flux Pavilion's remix of Danny Byrd's "Bad Boy". It's one of those tunes that has way too much power for how simple it seems. The transition into moombahton makes it a pretty useful tool, as well.
If you're looking for something a little heavier, check out Spag Heddy's "Ai Carambass". It has that filthy vibe that destroys the dancefloor with ease, not to mention the free download. If you're daring enough to venture into drumstep territory, VolkStroker's "Future" takes the nostalgia of chiptunes and places it in the clutches of dnb's evil twin.
All of the tunes under UK BASS are super dope, but if I had two choose one I'd give it to Killawatt & Thelem for their new record featuring "Kaba" and "Point Of No return". Crazy tracks with enough bass to get your mangled kite out of that tree. The other few Killawatt tracks have a very similar sound, making them great for a mix.
Quick side note: I found a video of Beardyman's new Beardytron 5000 MKII, which is basically the modern day looping supersetup that allows him to "take one sound and create an entire musical structure." For those of you interested in production and playing live, this one's for you. It's 20 minutes, so get comfortable.
FUTURE
Pretty crazy tune. Raggamuffin is "a style of dancehall reggae music that started in the 80s which blends a DJ half-singing and half-rapping rhythm into a hip hop flavor." Not sure how true this one holds to that definition, but it's definitely a banger nonetheless.
Here's the one I mentioned in the intro. Seriously beautiful track.
Synthy bass tune that does great things with breathy noise samples.
New EP from one of my favorite budding future producers, MyMind. Great music for lounge gigs or chilled-out patio parties. Give this three-track name-your-price bushel of gold a listen.
UK BASS
Emphasis on the sub with a rolling bassline.
These next few Killawatt tracks are extremely sub heavy and require a proper sound system or set of cans to reach their potential.
First grime track I've had in a while. Serious UKF banger right here.
Soothing, massaging bass with flowing vocals. Simply beautiful.
FILTH
Very few collaborations maintain noticeable levels of each artists' style, but this Seven Lions x Minnesota x Mimi Page tune brings the best out of both of them. Very airy and melodic with just enough kick.
Heavy bouncy Radiohead remix by Alpha Data.
Think glitch hop + filth + moombah. I was going to put I under MOOMBAHTON, but it's too filthy for that.
Glitchy filth. Not as bouncy as the others, but it definitely makes use of the staccato rhythms.
Just plain old hardcore dubstep that seems to be more noise than anything else. Damn kids and their fart music.
DRUM 'N' BASS
This one is a combination of liquid dnb and ragga.
Extremely catchy with perfect bounce and melodic riffs.
Think Chiptunes + Drumstep. Like Mortal Combat on six 5 Hour Energies.
These next three come from a homie representing some of the finest in UK drum 'n' bass. I'm very picky when it comes to new dnb, but this guy knows exactly what's on the up & up today. Check these next six tracks out (two per link)!
Stream:
Mako & Villem // Mako - Whatever Whatever // I Use To Be Like You - Warm Communications
Stream:
Sun Chase // Detail - Nathennia // Green Rain - Utopia Music
Stream:
Kuantum - Wasteland // Majora - IM:Ltd
Now, I know I'm white. Not just caucasian white, but straight up, burn-no-tan, Jewish white. But when I listen to Ragga/Jungle it makes me feel a little less "Oh...selector?" and lot more "BOH! SELEKTA!"
TRAP/JUKE/MOOMBAH
Banger, banger, banger. This one's useful for those 140-110 transitions.
African tribal sounds, complete with hand drums and vocals. The full EP came out yesterday, so be sure to grab it!
Unintelligible vocals with with a chill trap back. Reminds me of winter for some reason.
 MIX OF THE WEEK
Chill trap mix with a bunch of Trap v1.0 throwbacks.