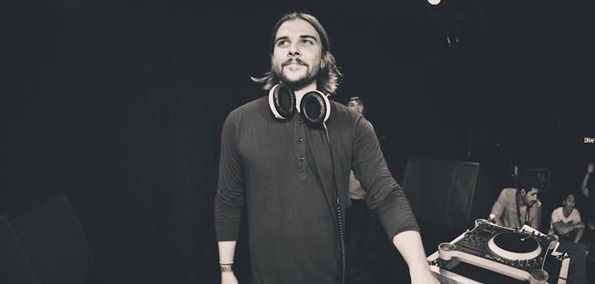 Everybody knows the sign of a successful artist is how often they release new music. A perfect example is bass music aficionado and OWSLA member, Seven Lions. In 2011, he broke into the electronic music scene with his contest-winning remix of Above & Beyond's "You Got To Go" and hasn't stopped since. His newest track, a collaboration with producer Minnesota and singer Mimi Page, proves that his reach spans further than just dubstep bangers. "Fevers" is a testament to the never-ending hopes of bridging the gap between bold drops and progressive melodies. We met up with Seven Lions at EDC New York to get a few words about how the past couple years have treated him.
[soundcloud url="http://api.soundcloud.com/tracks/93001983" params="" width=" 100%" height="166" iframe="true" /]
Earmilk: Where did you play last night?
Seven Lions: 1:30am at Avalon then flew directly in right after, then I fly to Orlando at 9pm tonight 
EM: so no downtime? 
SL: Noo, 3 shows in 24 hours. 
EM: Does it get exhausting? 
SL: Well I don't do it very often, and when I do I do it all at the same time so then I can go home have a break and work on music.
EM: Being from the US and from the West Coast, how do you feel about NY? 
SL: I like it, I haven't been able to spend a lot of time out here though, the longest I've stayed was like 2 days during that snowstorm when that happened. It was cool, I like walking around, just wasn't prepared for the weather .
EM: New York is a lot different than LA!
EM: Your background is very diverse, if you had to pick which area do you feel is most you, dubstep, trance, etc. What do you most enjoy playing? 
SL: I most enjoy listening to metal, however, I most enjoy playing kind of everything. I like playing everything but I won't play stuff unless I like it. I'm not just gonna play a song that's a banger because I think the crowd will react well, I only play what I really like. I mean, I play some cheesy chants and then I'll play some more heavy things like dubstep, I play psy trance too, I like psytrance. 
EM: You're very diverse in what you play and produce and whatnot- so that being said: feeding off of the energy of the crowd, what kind of crowd do you like? Do you like clubs, do you like festivals, what energy do you get from both and what do you prefer?
SL: oh man, that's tough. The crowd at clubs is much more intimate, and idk there is definitely something to be said about that, it definitely also depends on the club. I mean I definitely like playing festivals- the crowd size, the rush of playing for over thousands of people is such a rush. It's a lot of fun especially if they all know your songs, that's the thing about a club, generally when people go see you at a club they know the songs and are singing along- depending on the club, but I don't play a lot of just random clubs.
EM: You've accomplished so much at such a young age, what has been the most memorable moment of your career thus far?
SL: I guess, probably winning the Above & Beyond remix competition. That was the coolest thing ever, I'll always remember that because it was so unexpected. When I look back at it now, I was at work and checking to see the blog every morning to see if they announced it and then I read it and I was like there is no way I just don't believe it and I just remember thinking this is gonna change my life, but I didn't know how much it was going to change my life. I had no idea it would be like that, I thought hey maybe I'd get to play at some of the clubs around town and my friends will be stoked, I didn't know it was going to be what it is now. So when I look back on that moment its something crazy. 
EM: are you excited for today (playing EDC NY)?
SL: Yeah, I haven't even been out there yet. 
EM: Did that above and beyond contest start you into mixing trance stuff—
SL: we did a remix of satellite and then that allowed me to get in touch with Myon & Shane 54 and they asked me to remix the Velvetine song – it started to get the ball rolling to work with really really cool artists. It definitely did open it all up for sure. 
EM: who were your greatest inspirations in music growing up?
SL: Above and beyond, didn't really listen to a lot of electronic music- I listented to the tiesto in search of sunrise remixes but I listened to mostly metal, like Swedish metal. 
EM: So now you're doing a lot of work with OWSLA hows that going? 
SL: Its good theyre fucking awesome, they're such a good team they have so much support, played at Avalon last night and sonny and kill the noise and all the dudes came out and its nice to be a part of that because it almost feels like you're in a band in a way.
EM: We wish you the best, and you have our support, enjoy EDC, and we appreciate your time!