Just around the corner, Outlook Origins returns once more at The Garden Resort, Tisno in Croatia this month from the 27th July-1st August. Announced by the legendary Outlook Festival umbrella in 2020, Outlook Origins is the perfect combination of a quality music event, holiday, daytime beach sessions, unmissable boat parties as well as a night programme all in one week, celebrating the best in D&B, dubstep, reggae, grime, UKG, hip-hop and beyond.
Taking place on one of Europe's most beloved festival sites, the resort makes for the finest festival setting with its own private bay, the garden, which hosts an amazing beachfront with daytime sessions, and three impressive stages that are set to take the party deep into the night. For those partying until dawn, the famous Barbarellas Discotheque will host Outlook's after-parties until the sun comes up.
As Outlook Origins gear up for thousands of festival sun seekers to descend on the site this year, we highlight the finest names in bass music from D&B and jungle pioneer Goldie, to garage titan Interplanetary Criminal that should be a non negotiable for every raver's itinerary on the island this month.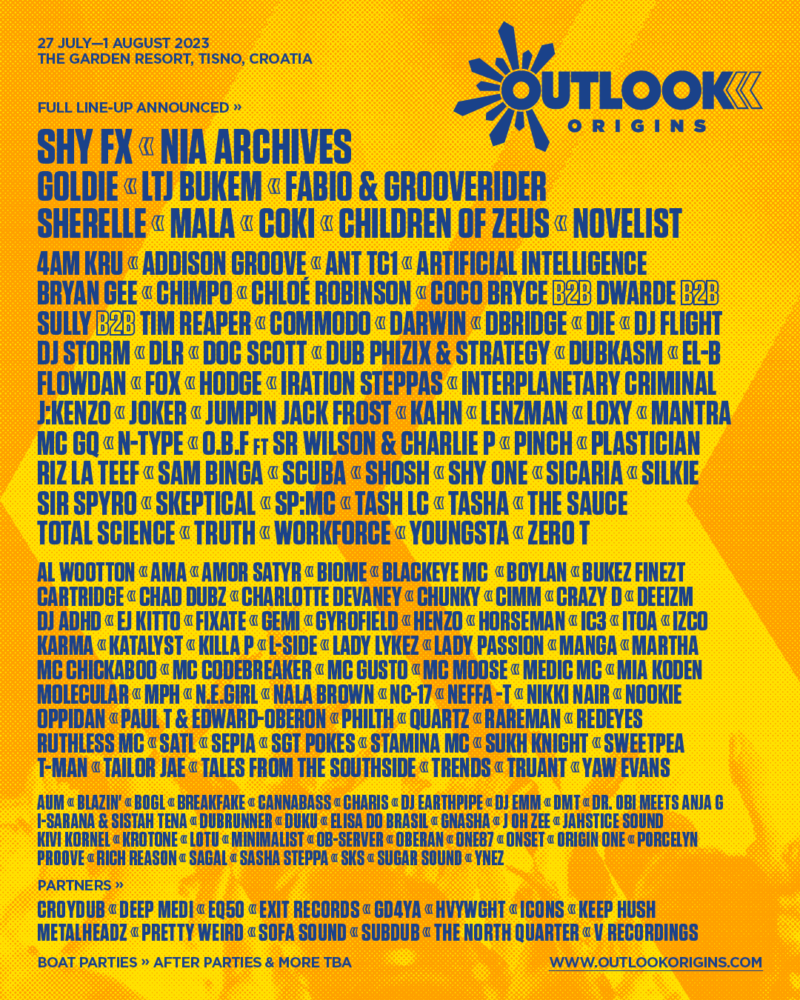 With a notorious stage takeover taking place on Thursday 27th July, Metalheadz label head Goldie will host a label takeover with sets from himself as well as Doc Scott b2b Ant TC1, Nookie, Quartz and more. Meanwhile, he'll also take his label party out to sea with a Metalheadz party on the 28th July. Needing little introduction, Goldie is one of D&B and jungle's most important and visible figures on the scene since his breakout in the 90s. One of his many successes for himself and his peers was album Timeless, becoming one of the few jungle releases to go beyond the underground and reach a wider audience. Truly lighting the way for fellow mainstays as well as rising talent, further into his reign Goldie continues to champion the finest talent coming through via his Metalheadz label and those set to witness him in the flesh at Outlook can expect a sonic journey through jungle, D&B, soul, hip-hop and everything in-between.

Continuing the legendary theme, dBridge AKA Darren White gets ready to celebrate 20 years of his label Exit Records alongside Skeptical, Tasha and more. Known for his rise in the 90s and a part of innovative D&B outfit Bad Company, dBridge continued his reputation as a tastemaker pushing the culture forward with the launch of his label Exit Records, committed to uplifting young producers and DJs on the scene. Continuing to traverse the bass scene, exploring multiple genres with his old school approach and production flair that sets him apart, his appearance at Outlook will make for a very special moment.
Next up, Pretty Weird head honcho Chloé Robinson FKA Barely Legal goes back to back with partner in crime DJ ADHD for her Pretty Weird takeover on the Friday after party of the festival. Hosting a stellar line up from 12AM until the early hours of 6AM, Chloé also enlists the likes of Addison Groove, Joker, Nikki Nair and Sam Binga b2b Chimpo for the ultimate takeover. Initially known for her genre bending DJ sets, Chloé Robinson soon threw herself into production during the pandemic and hasn't looked back since. Her debut "Steamin'", with partner DJ ADHD on her own label saw a huge response, making for an undeniable club stepper, dipping her toe into techno realms and receiving DJ love from Four Tet, Peggy Gou, Floating Points, Skrillex, TSHA, and more. Not one to be missed, this b2b set is sure to kick Friday night off to a flying start. 
Meanwhile, a one to watch right now, South London based DJ-producer Mia Koden steps up for a b2b with Tailor Jae for the 15 years of Croydub takeover. Initially growing up in Ghana and Nigeria where she was heavily influenced by her parents musical catalogue of the African continent and beyond, Mia soon immersed herself into sound systems spanning reggae, dubstep and D&B during her formative years back in the UK. Since acquiring two rusty Technic 1210's in her teens, Mia has only continued to thrive by creating and championing underground electronic music whilst demonstrating a broad palette with endless amount of records from around the world. Sure to be a firm favourite at the festival this year, Mia now brings a breadth of skill having made some serious waves within the highly acclaimed 140bpm duo Sicaria Sound whilst her next chapter as Mia Koden embraces genre bending sets packed with multiple frequencies and speeds.
Shining in the spotlight on Sunday, the leader in the new wave of junglists, Nia Archives graces the 23 Degrees takeover. Having catapulted on the scene in recent years, Nia has become unstoppable. A multi talented artist as a DJ, producer, singer-songwriter and visual artist, Nia Archives is responsible for anthems like "Forbidden Feelingz", "Baiana", "Headz Gone West", "Conveniency" and others that have given jungle music a fresh lease of life. Her unique approach to music as seen her receive a nomination for a BRIT Award, opening for Beyoncé on the leg of her UK tour whilst taking her sound state side for a slot at Coachella. A true performer with unmatched style.
Gracing the same takeover on the Sunday is one of the undergrounds most prolific success stories, Interplanetary Criminal. Landing one of the biggest electronic tracks of the decade with "B.O.T.A" alongside Eliza Rose, the single climbed to the no.1 spot in the Official UK Chart, soundtracking thousands of TikTok's, making for a DJ and radio gem favourite, and becoming an undeniable summer anthem. His Outlook performance follows a huge achievement playing b2b with Skream in Arcadia at Glastonbury that demonstrated his versatile ear behind the decks. Outlook festival goers are sure to welcome the DJ's palette for garage, two step, grime, breaks and beyond basking in the Croatian heat.
Only skimming the surface of talent that are set to play Outlook Origins this year, this handful of class acts from rising talent to household names is more than enough to entice festival lovers for another round of festival fun before the summer is up. Standing out amongst its peers, Outlook Origins takes things back to where it all began for the festival and celebrates the artists, labels, parties and genres that have been integral in driving the scene forward. There are still tickets available for those wanting to experience the unique party for themselves, all ticket options and festival info can be found on the Outlook Origins website 
Connect with Outlook Origins: Facebook | Twitter | Instagram